Description
Boxing Science to launch our BRAND NEW conditioning programme "HIIT: for Boxing and MMA"
This program has been developed by SCIENTIFIC research and + 10,000 hours of experience, now accessible at your fingertips! These methods will push you to the MAX, challenge you psychologically, and transform your fitness levels.
Boxing and MMA are very demanding and complex sports…. therefore our conditioning programme doesn't just work off straight forward work:rest ratio model……
We switch up the intervals to work through the gears, challenge speed, adaptability and mental toughness under fatigue.
The series of challenging and effective sessions are structured into a progressive, detailed plan to help improve high-intensity performance and taper for fight night.
BATTLE OF THE FITTEST
Physical conditioning has always been a huge priority for boxers. Whether it's Muhammad Ali's long road runs, Mike Tyson's skipping workouts or Manny Pacquiao's Track sessions, the greats have always put in the hard graft in search for supreme fitness.
In fact, ask any boxer and they'll tell you how important physical fitness is for successful performance. It's important to be able to work at high-intensities, last the distance and perform to your full boxing potential, from the first round to the 12th.
Over recent years, the growth in popularity of high-intensity interval training (HIIT) has challenged the traditional methods of long-steady runs in the view to build endurance.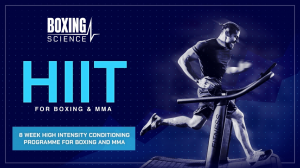 IN THIS PROGRAM YOU WILL RECEIVE …
8-Week HIIT Program for Boxing and MMA
"Conditioning for Combat Sports" Video Workshop by Dr Alan Ruddock
Fitness Test + Spreadsheet to Monitor Progress
PLUS: BRAND NEW OUTDOOR EDITION –

Ideal for Track, Road and Pitch-Based Sessions