A Week with Boxing Science: Todd Davidson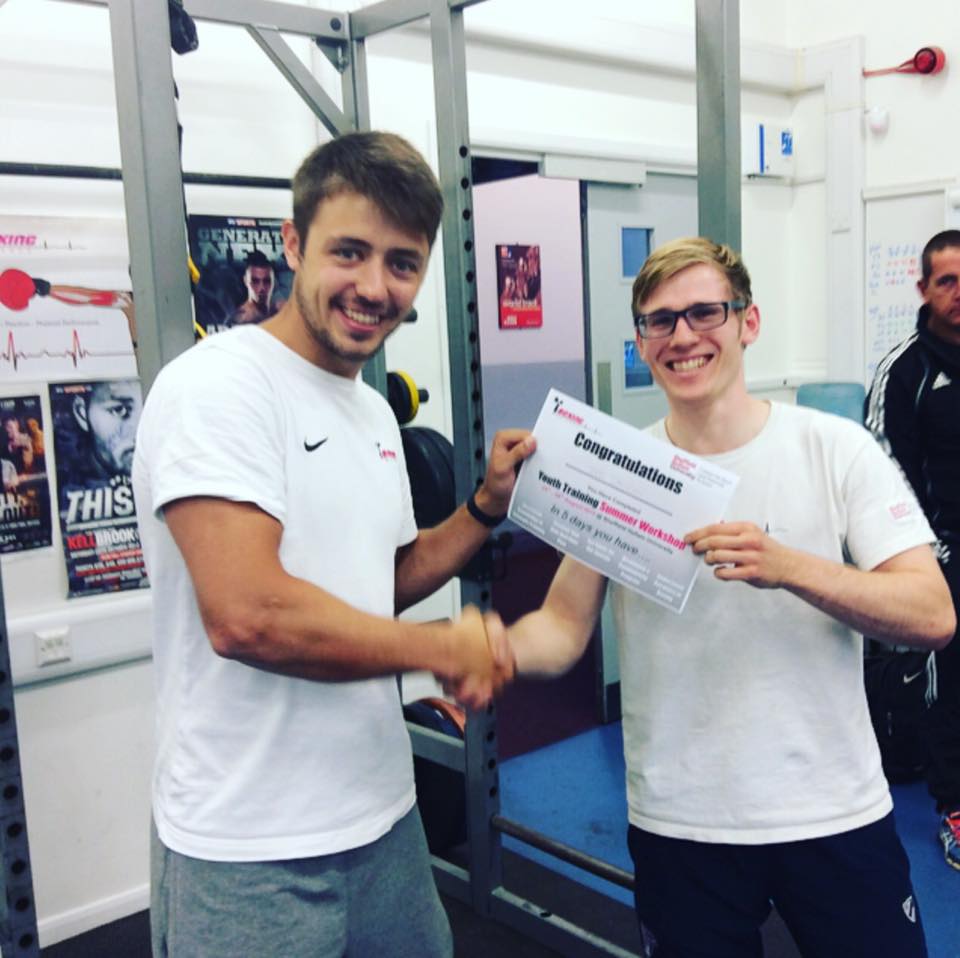 When Boxing Science launched last year, we wanted to engage with the boxing community when sharing our knowledge of sport science with athletes and coaches. We feel that we are currently achieving this through our online content and are motivated in delivering practical workshops in the near future.
However, we was surprised with the amount of interest we have received from people with a background in sport science. We have several requests from aspiring young coaches wanting to spend time learning from the program we run at Sheffield Hallam University.
Recently, we have had the pleasure of Todd Davidson visiting us and contributing towards the Summer Youth Training Workshop. The Durham University graduate, now starting masters studies at Middlesex, has written up his reflections from his experiences when being immersed in a world-class program.
Hard Work.. Education – Part 1
The best athletes work harder and plan better than their competitors and only the mentally fittest athletes are able to give 100% all the time.
The Summer Youth Training Workshop was blessed to have a group of young boxers with a fantastic attitude, refusing to complain despite completing their running conditioning session in the pouring down rain. During the conditioning sessions Alan showed the boxers how to design their conditioning outside of the boxing gym, and without the luxury or expense of 'The Curve'.
Planning your training programs with the finest attention to detail, and being prepared for any given situation, be it a Sheffield downpour or being able to train effectively without the use of top-of-the-range equipment, is an absolute must. You have a plan A, B, C in the ring…so plan your physical preparation too.
To make a program effective, it isn't a matter of just choosing a the right exercise. Boxers and coaches should consider the timing, intensity, volume and progression of each training modality.
Hours and hours of research, education and coaching experience are required when creating and assessing a successful training program. The Boxing Science program have definitely got this in place, and the young boxers left better equipped to structure their own training effectively.
Support Team
People may become sceptical when talking to Alan and Danny, as they often say that there are not many establishments in the world doing what Boxing Science are currently doing.
See the facilities and resources that boxing science has at its disposal for yourself and there is simply no questioning it.
During the week long Boxing Youth Program the boxers were lucky enough to have sessions with a Physiologist, a Psychologist, a Nutritionist, a boxing coach and a Strength and Conditioning coach. Not to mention Q&A sessions with professional and top class amateur boxers.
How many boxers, professional or amateur, can boast access to professionals from all these fields?
The loneliest place is in the ring, and it's even lonelier when you're out of shape and the other guy is much fitter, faster and stronger than you.
Whilst none of the support team can throw punches for the boxer, they can help control everything that underpins performance in the ring. Having an expert support team can help design interventions that get the boxer making weight comfortably, physically and mentally strong, and recover in time for optimal performance come fight night.
Above all, having a team like this around you leaves as little as possible to guess work, and the last place you want to be left guessing is the ring.
Hard Work. Education – Part 2
As a coach delivering a testing battery, presenting and translating what the results mean in real time to the boxer is absolutely essential.
For boxers who say they are in the best shape of their life…without the data to prove that…how do you know this isn't just a cliché?
Numerous qualities underpin successful performance in the ring. Strength, speed and punch power are just some of the qualities Boxing Science's comprehensive test battery covers. Having tested over 70 boxers, Boxing Science's test battery not only allows the boxers to see exactly how they fare compared to others, it also has allowed Danny and Alan to produce cutting-edge research that informs the programs delivered to the boxers.
For example, finding a significant correlation with punch force and lean mass of the trunk has meant an even larger emphasis is placed on core exercises, and relating these to boxing. Even during the Boxing Youth Program an entire workshop was dedicated to educating the young boxers on the importance of the core work and which exercises to do. Find out more about core training here.
In a sport that is so unpredictable the last thing you want to do is enter the ring leaving the result down to luck or chance. Whilst technical skill will always be top of the pyramid, especially in boxing, effective strength and conditioning allows you to take your opponent to a higher intensity that they are not used to, likely promoting an accumulation of fatigue and not being able execute their skill or tactics effectively.
The testing battery will determine how fit, fast and strong you are… before you leave anything to chance, get in the ring and realise it is too late!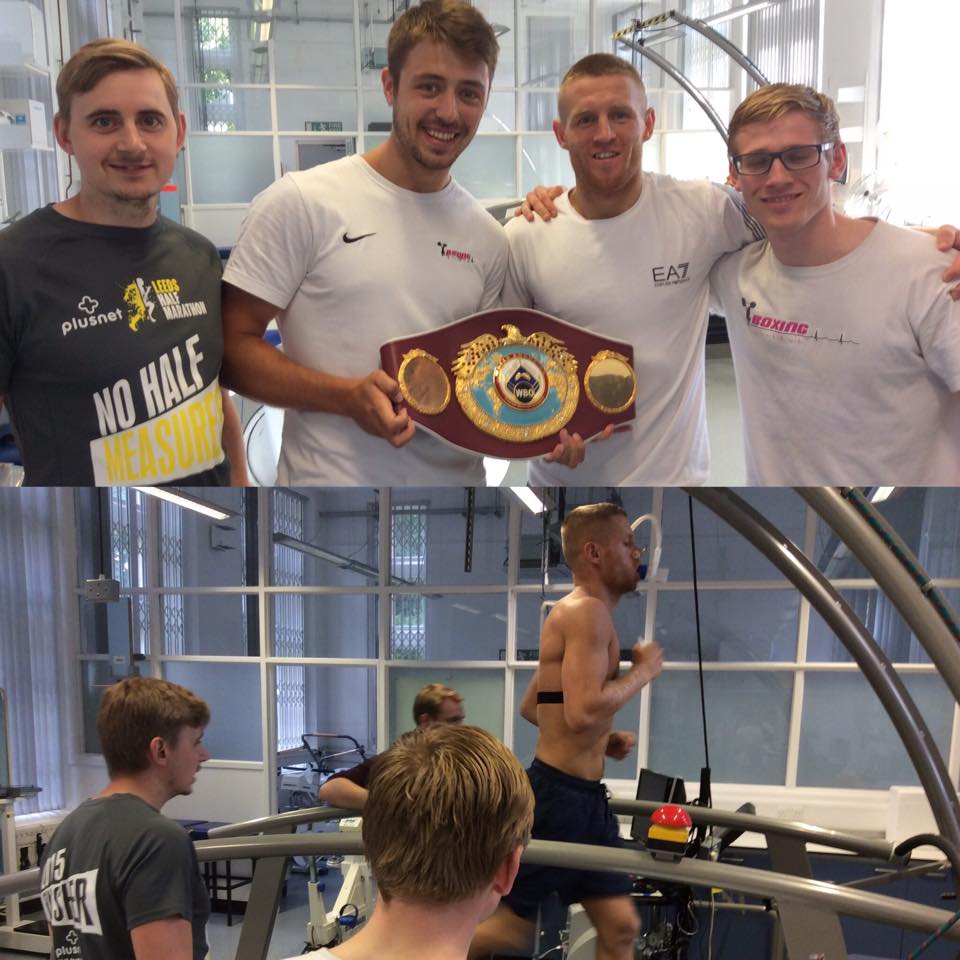 Todd helped out during our testing battery with WBO World Lightweight Champion Terry Flanagan. Check out the highlights here.
Getting it right vs. less wrong
Everyone wants to know what the Mayweather's of this world are doing to dominate the boxing world.
Having visited Top Rank and the Mayweather Boxing Club Alan Ruddock's description of what is going on at the best boxing gyms in the world, no one else is doing it right… just less wrong.
If you want to be the best boxer, it makes sense to hire the best boxing coach. Yet when it comes to being the strongest, best conditioned boxer… not many have thought to bring a top class strength and conditioning coach on board.
How many boxing gyms do exercises until they can do no more, for the sake of it, or because it happened to work for the boxers of yesteryear, with no actual evidence to base it on? No attention given to how it fits into a long term plan, no emphasis on recovery, and nothing on the finer points of making weight comfortably and being mentally prepared to face an opponent.
As I have mentioned many times already in this piece, Boxing is an unpredictable sport you wouldn't want to leave anything to guesswork, and at Boxing Science nothing is.
Every session delivered to the boxers is structured, research-based and purposeful. The data they have collected on boxers, with tests including strength, speed, estimated punch force and many more, mean Danny is instantly able to show a boxer exactly where his level of strength and conditioning at. This allows to set goals with a boxer to work on the areas they need to improve on, and to develop their strengths into super strengths.
Boxing Science Thanks Todd
Boxing Science would like to give Todd a massive thanks for his efforts the week he spent with us. Having travelled from Durham and stayed in Sheffield all week to help with the youth program was a massive commitment, and from his reflections we happily presume he enjoyed and benefited from the experience. He was great in the sessions, coached well and full of enthusiasm. Keep up this level of commitment and dedication he'll go along way
Boxing Science CPD
Late 2015 and early 2016, Boxing Science will be structuring CPD style courses for boxing and S&C coaches. We would like to hear from anyone that is interested and to what you would like to learn from the course. Please get in touch with Danny Wilson at D.Wilson@shu.ac.uk.