Description
Do you want to increase fitness and dominate high-intensities?
Do you want to take part in challenging but highly beneficial conditioning sessions?
Do you want to eliminate the guesswork in your training and follow a set conditioning program developed by experts?
This program is perfect for any amateur or professional athlete wanting to improve high-intensity fitness whilst eliminating the guesswork, following a set structure to ensure progress, avoid overtraining and peak for fight night.
Boxing – The Battle of Will and the Skill
"Champions are made from something they have deep inside them – a desire, a dream, a vision. They have to have last-minute stamina, they have to be a little faster, they have to have the skill and the will. But the will must be stronger than the skill"
– MUHAMMAD ALI – 
Physical conditioning has always been a priority for boxers. Whether its Muhammad Ali's long road runs, Mike Tyson's skipping workouts or Manny Pacquiao's track sessions, the greats have always grafted in search of supreme fitness.
In fact, ask any boxer and they'll tell you how important physical fitness is for successful performance. It's important to be able to work at high intensities, last the distance and perform to your full boxing potential, from the first round to the 12th.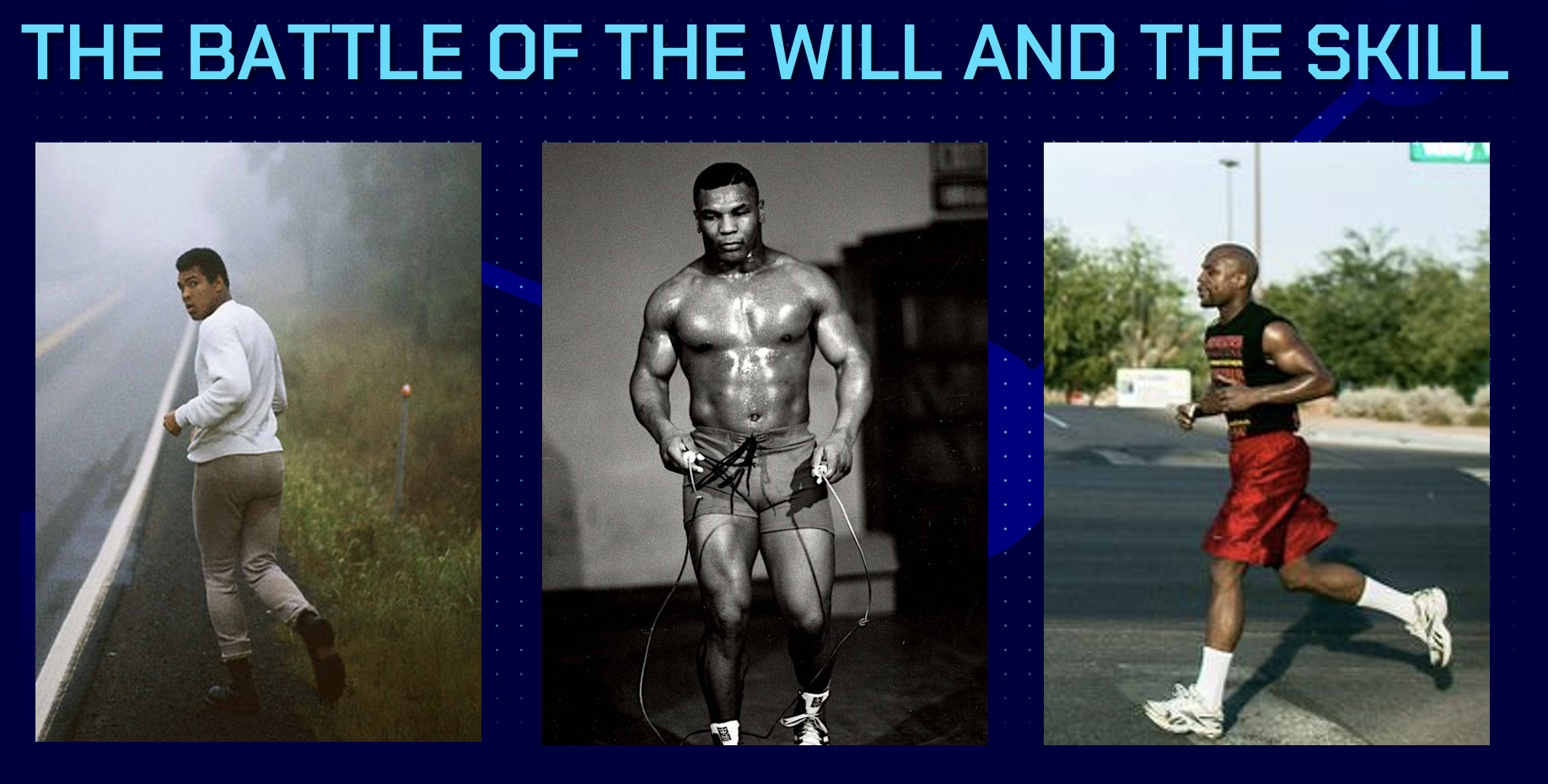 THE FUTURE OF BOXING FITNESS
In recent years, the growth in popularity of high-intensity interval training (HIIT) has challenged traditional methods of long-steady runs to build endurance.
Long Road Runs vs HIIT Training has been a debated subject over the past several years due to the growth of sport science in Boxing.
Boxing is a high-intensity intermittent-impact sport that forces athletes into the red zone (> 90% maximum heart rate) whilst being exposed to high blood lactate values (>10 mmol/L). This means that boxers should look to develop the ability to perform at high intensities.
As an athlete, we want you to become red zone dominant and be able to control muscular acidosis. This exposure to high-intensities will help you be prepared for anything in the ring come fight night, and to become comfortable with the uncomfortable.
In this handbook, the Boxing Science co-founders Danny Wilson and Dr Alan Ruddock break down the science behind boxing and the physiological demands of boxing that define our need for high-intensity conditioning.
WORLD LEVEL FITNESS
This program is ideal for anyone looking to get in shape for amateur and professional boxing. The methods shared in this program are used with our professional boxers preparing for domestic, European and world title fights – and the athletes have definitely seen the benefit.
We have seen 10-30% improvements on a range of physical performance markers that are related to high-intensity fitness. 
This means that our athletes can perform high-intensities for longer without effecting fatigue, technical performance and concentration. 
Essentially, they are now comfortable with the uncomfortable.
This program makes our methods non-exclusive to these professionals, but accessible to amateur and recreational athlete looking to challenge theirselves during training and improve their fitness levels.