Description
Do you want to increase fitness and dominate high-intensities?
Do you want to optimise your physical potential, enhance your boxing-specific fitness, and dominate the ring with unrelenting power and endurance?
Do you want to eliminate the guesswork in your training and follow a set conditioning program developed by experts?
Look no further! Our revolutionary program is specifically designed to harness the full potential of the assault bike, propelling your boxing career to new levels of excellence.
Introducing the Boxing Science 10-Week Assault Bike Conditioning Program: Your Ultimate Path to Peak Boxing Fitness!
The Assault Bike
The Assault Bike, otherwise known as an Air Bike or Fan Bike, is a versatile and challenging piece of exercise equipment. It consists of  a sturdy frame with a large fan wheel at the the front and handles for the users grip. It is a small piece of an equipment, easy to move and relatively affordable, making it a popular feature in gyms and fitness facilities.
At Boxing Science, we're big believers in treadmill and curve treadmill running to condition fighters. This is the easiest and most effective way to optimise physiological adaptations.
However, there running may not be suitable for every combat athlete due to movement limitations, high-training loads and sub-optimal running mechanics. This may limit the intensity achieved during sprint / repeated-sprint protocols which may under-stimulate physiological adaptations. Furthermore, high-speed running exposes athletes to high-impact forces, whist movement limitations causing compensatory patterns. Both of the issues raised may may lead to increased injury risk during high-speed running.
The Assault Bike offers an effective alternative as it provides sufficient stimulus to promote optimal adaptations whilst also reducing impact forces / compensatory patterns.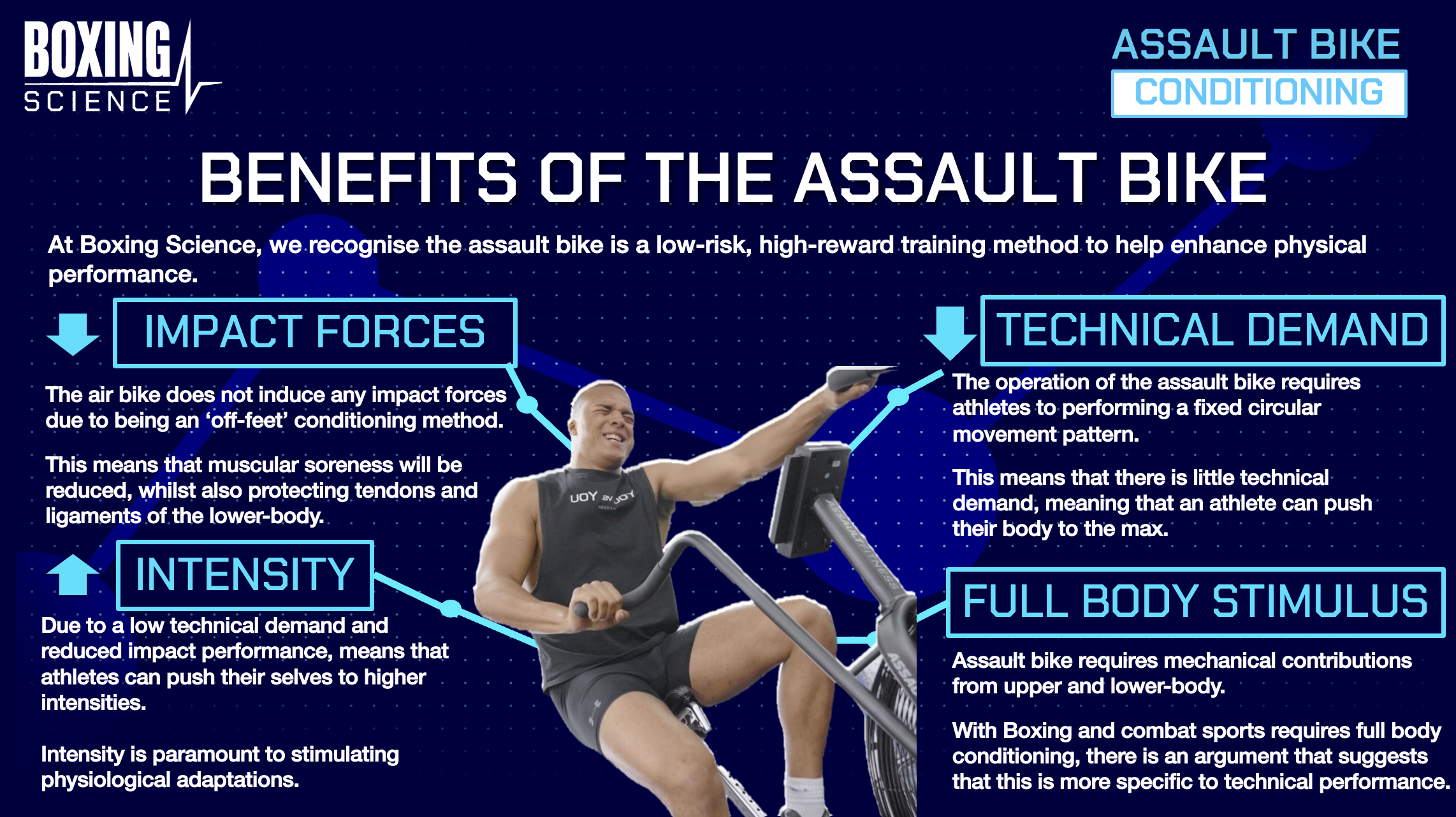 What does this program entail?
This e-book includes an intense 10-week conditioning program that utilises the assault bike. You will receive 3 workouts per week, with each session volume and intensity carefully structured to ensure progressive overload to help optimise fitness adaptations. These workouts have been formulated through evidence based practice and practical applications with amateur and professional fighters.
The 10-week program is split into three phases to target multiple physical adaptations
Not only do we provide you with 30 fantastic sessions, but we also provide in-depth information around the science behind boxing, benefits of assault bike conditioning and a detailed guide on how to perform this program.
Who is this program for?
This program can be suitable for all competitive levels of boxing, whether you're training for a world championship or a white collar fight.
Professional and amateur boxers
Professional and amateur combat athletes
Recreational athletes
Essentially, the Assault Bike Conditioning program is ideal for anyone looking for a physical and psychological challenge whilst unlocking their true fitness potential.