THE SCIENCE BEHIND USYK VS JOSHUA – THE REMATCH
Wanting help in deciding who will win the rematch between Usyk vs Joshua?
Like most mega-fights, this one is littered with questions, doubts, and of course, certainties.
What will Usyk weigh? What tactics will AJ use? Will the heat be a factor?
Obviously, we can't answer the questions with certainties but we can make some predictions based on the SCIENCE behind Usyk vs Joshua – The Rematch.
In this article, we'll discuss:
Joshua vs Usyk punch stats based on Compubox and our Boxing Science analysis
Key successes from the first fight and potential tactics for the rematch
AJ's weight
Usyk's weight
Saudi Arabia's temperature and humidity and how it may or may not affect preparations and performance.
We'll also offer our Boxing Science prediction.
We're just days away from the much-anticipated rematch between Oleksandr Usyk and Anthony Joshua, as the two monstrous heavyweights battle for a second time on August 20th.
The Ukrainian master boxer, hurt and outpointed AJ, in their epic battle in September 2021, and there are major question marks over whether the brit can regain his heavyweight titles in the rematch.
The same two men face off but in a very different situation, swapping the Tottenham Hotspur stadium for the Jeddah dome, AJ has a new training team whilst Usyk's country have their own battles.
These are just a few of the many intangible factors that can sway a fight of this magnitude. It's impossible to assess the psychological and technical aspects of the fight, however we can gain a detailed insight and potential performance indicators by breaking down the SCIENCE.
JOSHUA VS USYK – PUNCH STATS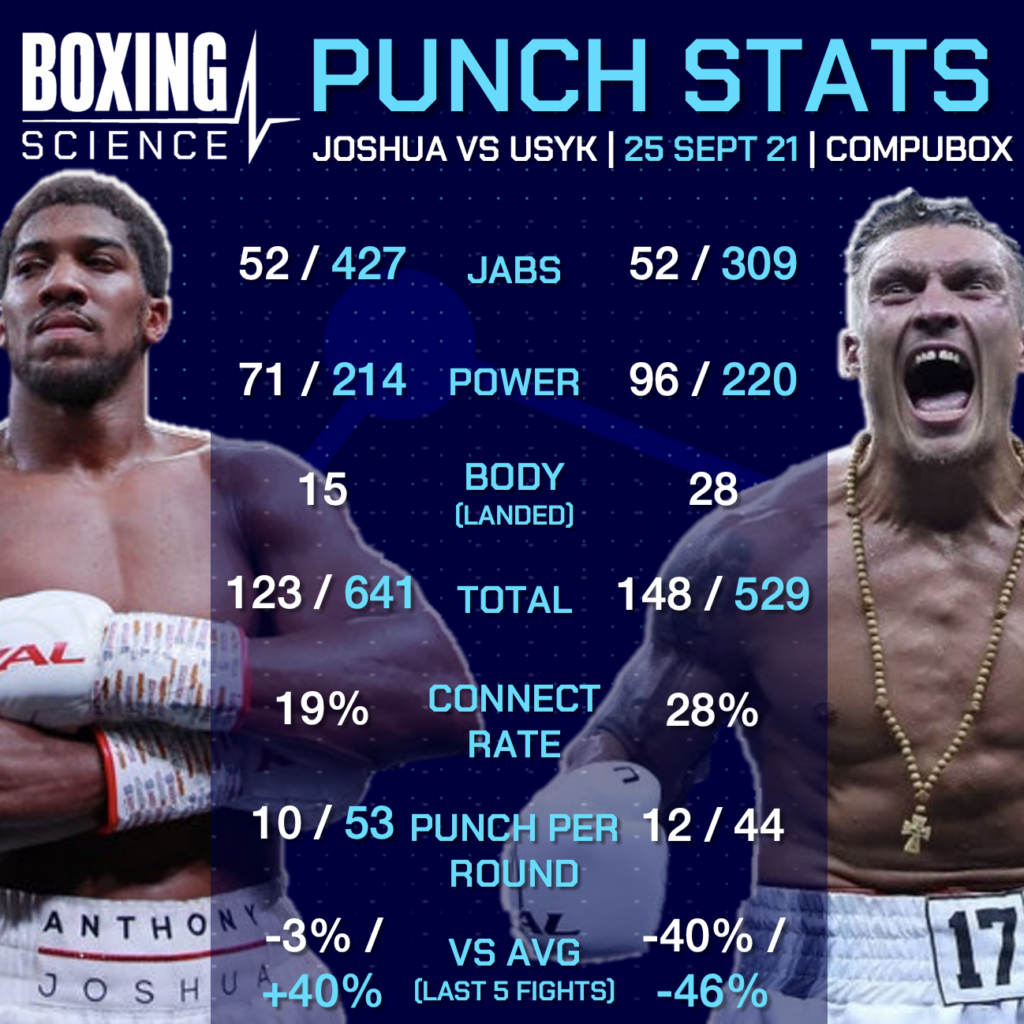 The beauty of rematches is that we don't have to make assumptions and theories on what is going to happen in a fight as we have a wealth of data and analysis to go from in the fighters' first encounter.
It's even better when you have 12 rounds of footage of two of the best fighters in world boxing to go from.
The first thing to mention here is that this fight was a technical chess match contested at a high pace. To put this into perspective, the third fight between Tyson Fury and Deontay WIlder in October 2021 accumulated into a combined punch total of 740. This was an all-out war, however, Joshua vs Usyk 1 was competed at a much higher pace with 1164 accumulative punches thrown.
WHY WAS JOSHUA SO FATIGUED AT THE END OF THE FIGHT?
Anthony Joshua seemed to be extremely exhausted when the bell rang at the end of the 12th round. A lot of critics have questioned his gas tank over several years, but we believe that his fitness helped him in this fight as he was able to achieve a much higher punch output than in previous fights.
Usyk made Joshua work at an extremely high pace compared to his previous fights. AJ threw 40% more punches than his average in previous title fights. The majority of these punches were jabs, throwing a massive 427. This is between 2.5 to 3 times more jabs than he has thrown in previous contests, however, he frequently missed, only landing 12%.
This is probably due to AJ's use of tactical 'pawing' of the lead hand in an attempt to gauge his range. This is often a tactic used when boxing a southpaw, but this was probably intensified with Usyk constantly feinting and moving his feet in and out of range.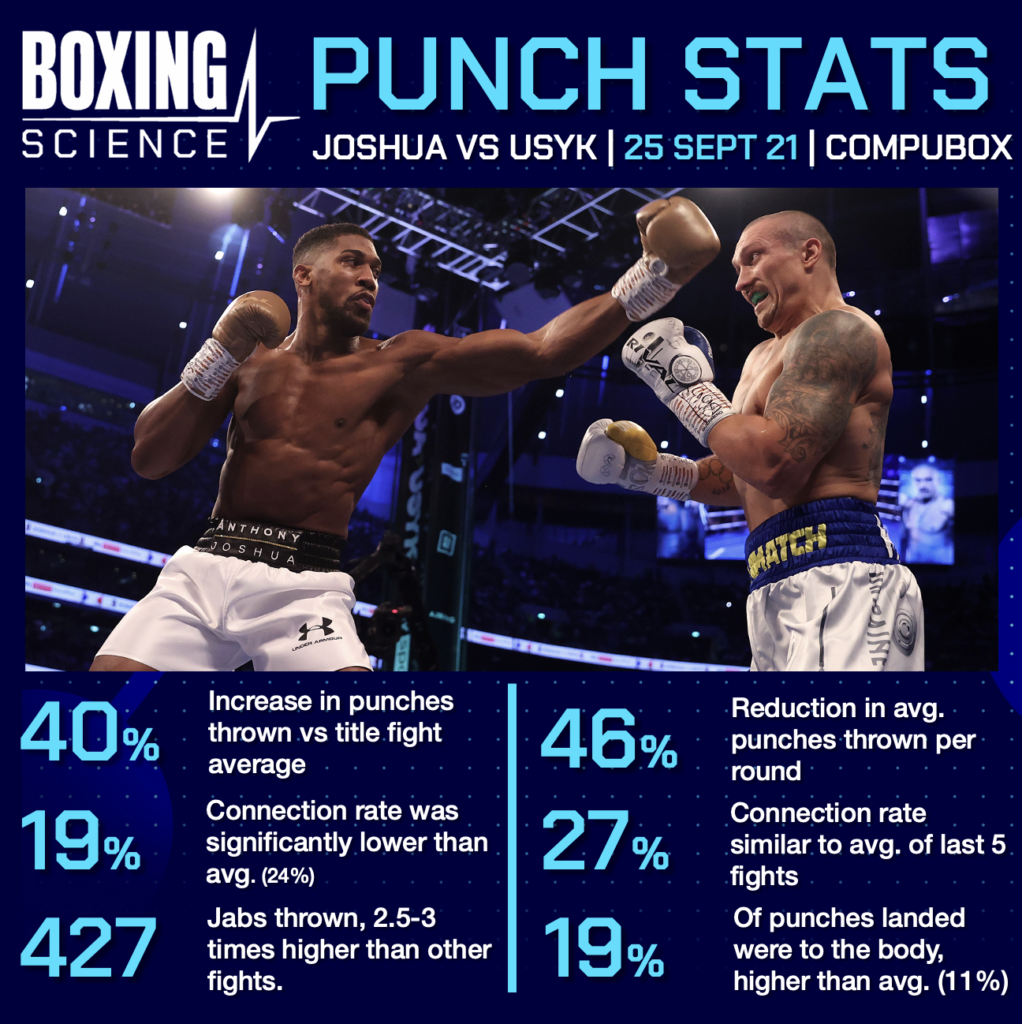 ECONOMICAL USYK?
Usyk has always been known for his efficient and flowing movement; however many of the boxing fraternity questioned whether the former Undisputed Cruiserweight champion could take his assets to the glamour division and test the heavyweights.
Despite Usyk dethroning the unified champion, it is still unknown whether Usyk has taken his phenomenal pace up to the heavyweight division.
This reason why we can still question this is that Usyk threw 40% fewer punches in the first fight with Joshua in comparison to the average set in his previous five outings at heavyweight. This may be because he was being efficient and pacing himself correctly, but also could be an indication that he struggles to maintain the pace we're more used to seeing in his Cruiserweight days.
It looks like Usyk has gained extra body mass since the first fight, which leaves us questioning whether he will be able to produce the same output as the first fight.
A bigger Usyk may work in Anthony Joshua's favour.
KEY SUCCESS FOR USYK
What were the key's to success for Usyk in the first fight?
As mentioned previously, he made AJ work at an unprecedented pace (40% above average) whilst also making him miss more than his previous contests with a connection rate of just 19%. This was due to his feints, footwork and array of punches.
He also looked to fatigue AJ with body punches, with a 19% success rate to the body.
Usyk looked to do this early, throwing at an increased rate from rounds 1-3.
Overall, Usyk's body punches were thrown with incredible accuracy. He threw and landed five rear uppercuts to the body whilst also landing 56% of straight backhands thrown to the body (24 landed).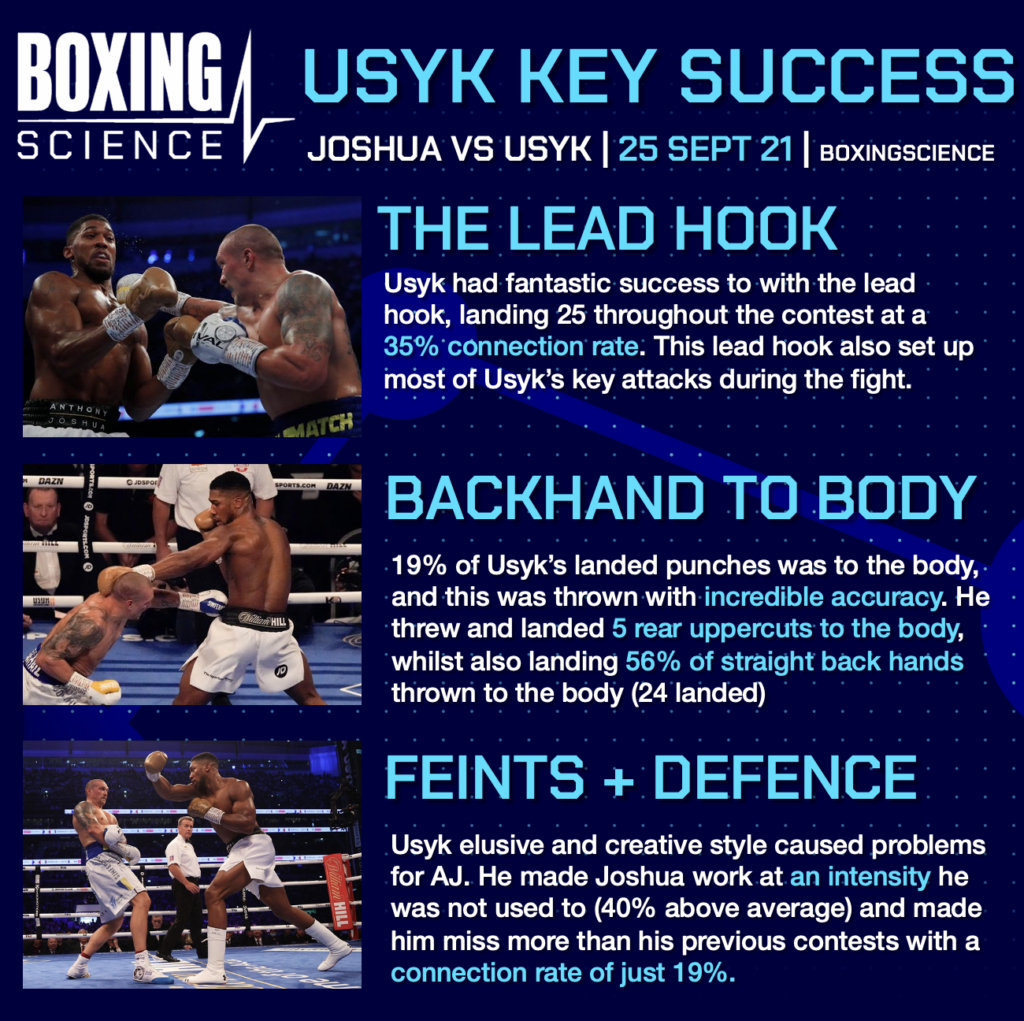 KEY SUCCESS FOR JOSHUA
Despite tasting defeat for the second time, Joshua could hold his head high by testing himself with one of the generation's most elite boxers. The scorecards were close and Joshua did have success in the fight.
There is plenty to build on and implement in the rematch on August 20th.
The backhand was AJ's best punch of the fight, landing 52 of the 137 thrown – with a connection rate of 38%. Interestingly, AJ had success throwing backhand to the body with a 45% connection rate.
AJ also seemed to make Usyk uncomfortable on a few occasions following the connection of the backhand. These were not thrown with the ferocity we're used to seeing with AJ, so if he looks to load up on these backhands more, we could see a bigger response from Usyk.
The most successful punch was the right uppercut to the body, landing 62% of the 13 thrown during the contest.
Clearly AJ can land to the body with more ease than head shots. However, AJ only threw 10% of his punches to the body during the first fight.
Usyk is very elusive with fantastic head movement making him hard to land head shots on. The body is a bigger target and harder to move, making it an obvious tactic to land with more success. Furthermore, body punches can potentially fatigue Usyk, reducing the master boxer's ability to utilise his superior footwork and engine.
It seems that this was an oversight by AJ in the first fight, and potentially could be a game changer in the rematch given the high success rate but very little thrown during the first fight.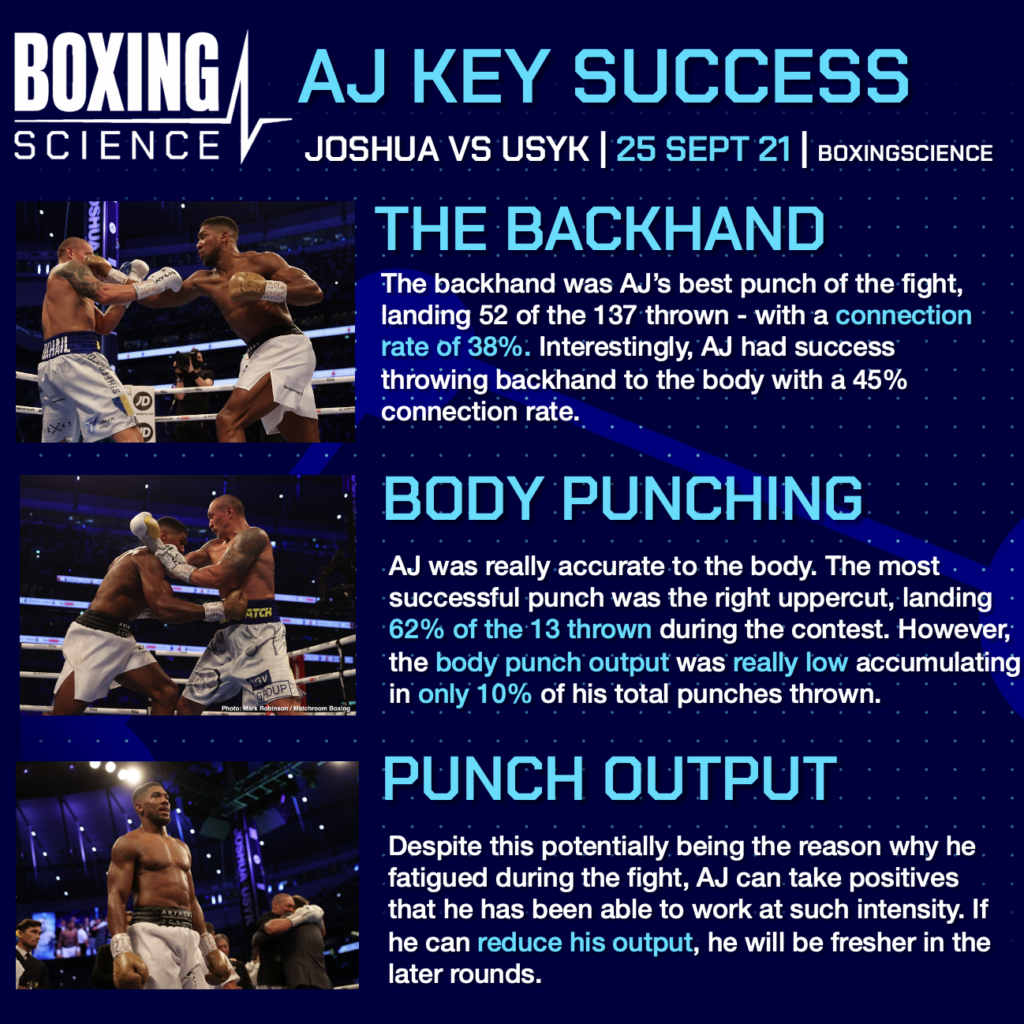 PACING STRATEGIES
Joshua vs Usyk was performed at a really high pace. However, we gain a deeper insight when we look the output by each boxer round by round.
Joshua had a conservative start, then had a spike in output in the middle rounds, above his average output for most of the fight, causing fatigue in the later rounds.
Usyk on the other hand managed to control the pace much better. The Ukrainian was very efficient during the fight staying below his average output. Low spikes in punch output, however, each output increase was followed by a reduced output the following round.
Pacing strategies are important for heavyweights as the energy cost of their punches are incredibly high. If a heavyweight increases their intensity too much early on they'll be forced to 'repay' this energy cost at some point and the only way to do this is to reduce punch output whilst battling fatigue, this has technical and tactical implications as well as psychological as opponents sense fatigue and gaps in defence.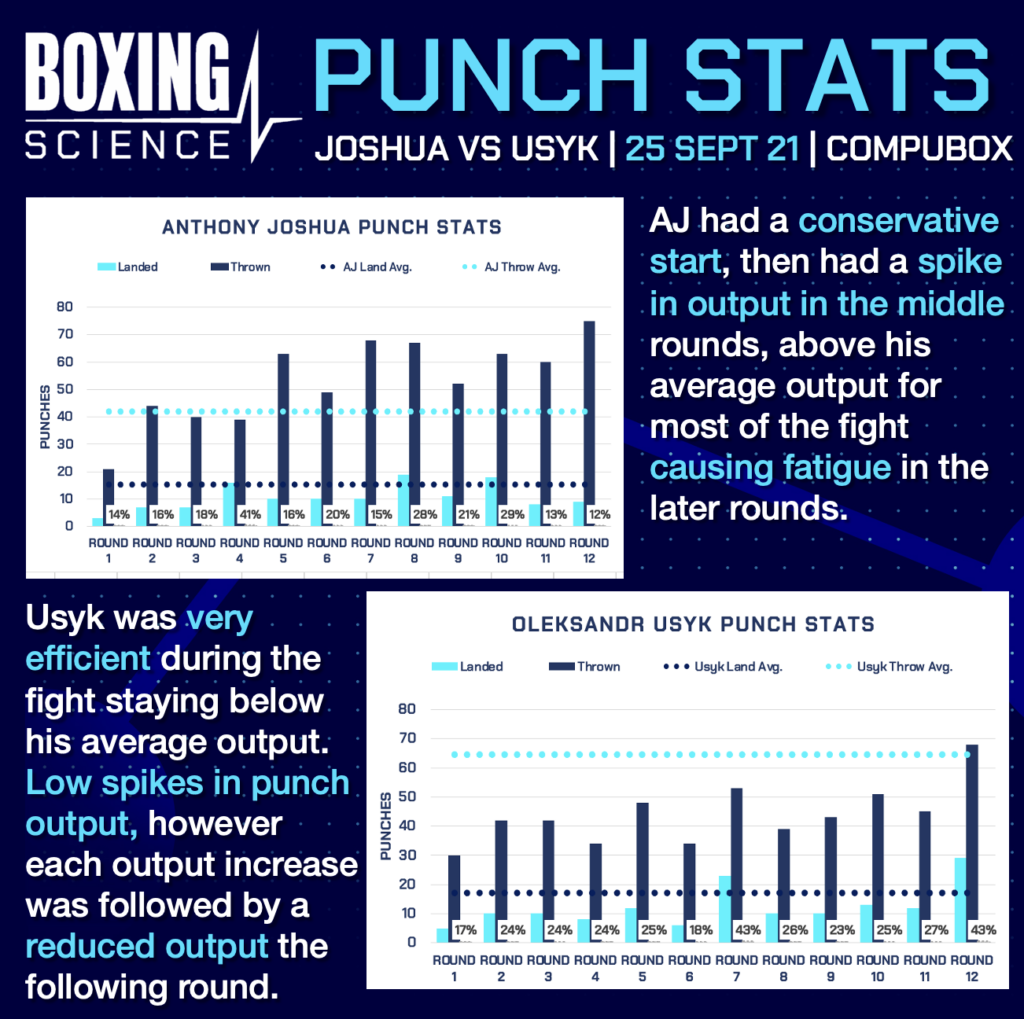 JOSHUA AND USYK BODYWEIGHT
Weight creates a lot of discussion in the heavyweight division. Whether it's Tyson Fury, Deontay Wilder or Anthony Joshua, pundits, fans and coaches often analyse how their weight may determine tactics and ultimately the outcome of the fight.
The key questions for this fight are…
What is the ideal weight for AJ?
Will Usyk come in heavier?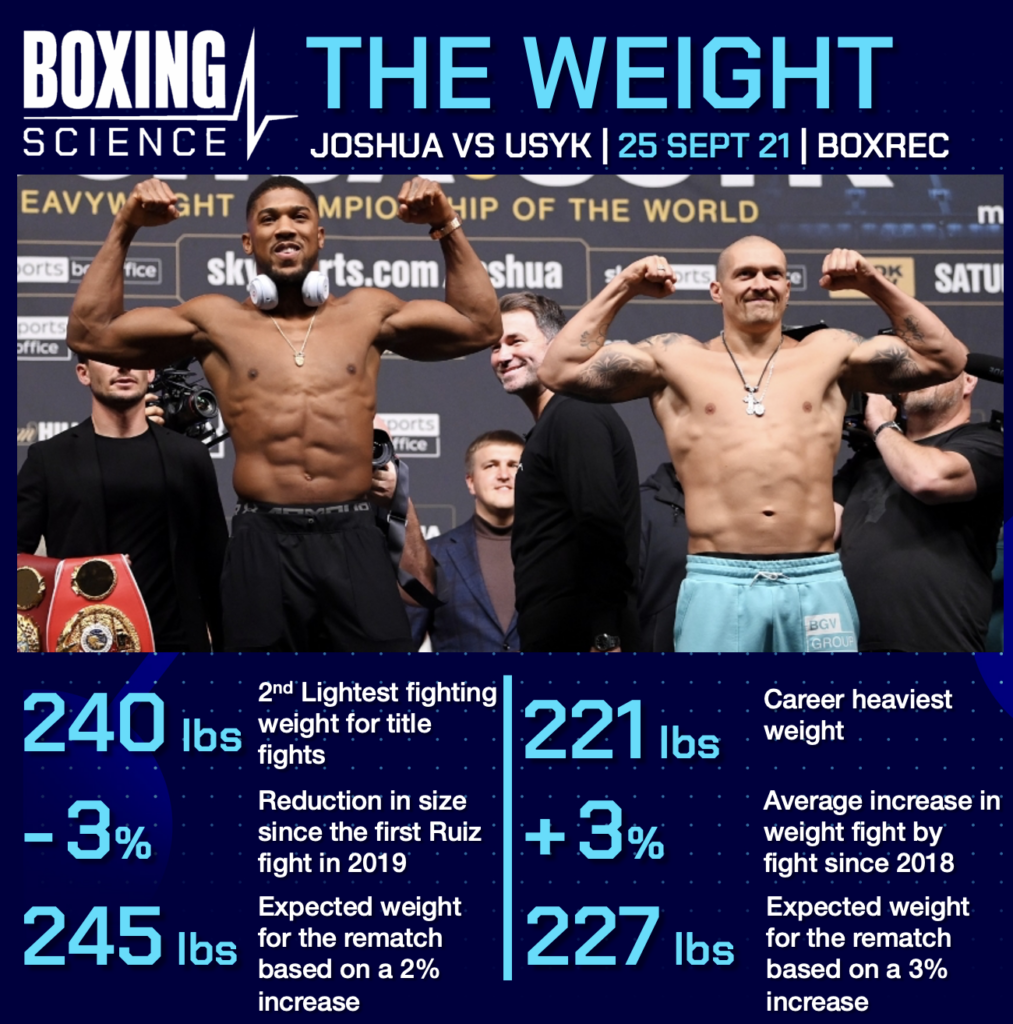 The Ideal Weight For AJ
It seems like AJ is slightly heavier than the previous encounter but still relatively lean. Joshua hit the scales 240 lbs last September, his joint 3rd lightest since competing in title fights. He was light because he knew he was in preparation for a 12-round contest.
This may have benefitted him in being fast and fit for a fight over the distance. However, this is only a 3-4% reduction from his normal body mass of 247-250 lbs.
He may have had to reduce his strength and conditioning work to achieve this body weight, which may result in a reduction in strength, speed and power. The question is, which will be better for his performance?
We believe that AJ would benefit from being 245-247 lbs but adapt his conditioning to deal with the demands of being a heavyweight boxer.
The major challenge for heavyweight boxers is in dealing with the acidosis that accompanies their high-force punches. We can train boxers to buffer acidosis by training at high speed/power and moderate to high magnitudes of acidosis. This training technique, known as muscle buffer training, is very effective at enabling boxers to compete at high intensities, even under significant acidosis. Those who buffer the best beat the rest.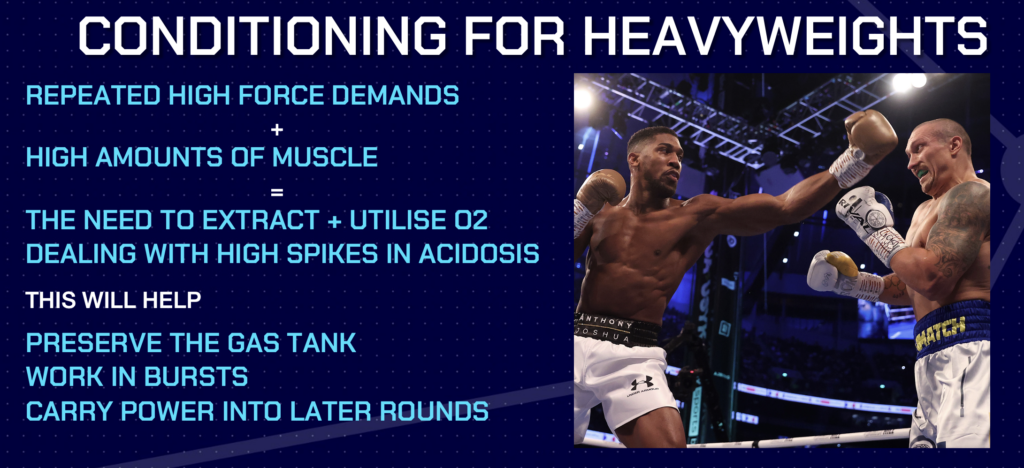 USYK LOOKING HEAVY
Going off social media pictures and videos alone, it looks like Usyk has gained more mass since the last fight in September 2021.
Usyk has approached the Heavyweight division strategically with small increases in body mass fight by fight, with an average increase of 3%.
However, Usyk could have another jump in mass which could further reduce his punch output. Boxers need to be aware that adding weight has implications for fitness, as adding weight (functional mass) without improving aerobic fitness, will sway the energetic demands of performance towards the anaerobic domain and subsequent increase in metabolic acidosis. If boxer's cannot deal with this acidosis, it will eventually result in impaired neuromuscular function and reduced force and punch output – essentially negating the perceived benefit of adding weight in the first place.
If we were working with Usyk, we would recommend him working on the ability to control acidosis so he can still work at a high pace despite the increase in body mass.
Here is a session that we have utilised with English Heavyweight Champion Fabio Wardley.
Usyk vs Joshua 2 will take place on August 20th 2022 in the 'fully air conditioned' Jeddah Super Dome, Saudi Arabia and so in theory, neither Usyk or Joshua will need to face each other and the heat. But we don't know what temperature will the air-con be maintained at with 35,000 fans in attendance. Will it malfunction? Will it perform as it should? What would happen to the boxers if it breaks? What if there's a location change and it has to be held outdoors?
Even at 12 am, the temperature is likely going to be above 30°C. We know that athletic performance is impaired in temperatures above 25°C, so at face value the temperature alone would pose a risk to performance. Relative humidity would be in the region of 50 to 60% and combined with temperature makes for very challenging conditions for most people let alone heavyweights.
The problem for heavyweights is that their metabolic rate is so high they produce a lot of heat. That heat needs to be removed to prevent body temperature from rising too high and the cardiovascular system from failure.
There is a real danger that if this contest were to take place outdoors that both boxers would be in a very tough situation as their sweat loss wouldn't be high enough to control their body temperature. Ultimately their pace would have to drop and we wouldn't see anywhere near the output of the first fight.
On paper, who does the heat favour? Usyk or Joshua? It depends on the game plan...
Usyk is well-known for his movement, punch selection and economy. Although known for his brutal knockout power, Joshua has become a more rounded boxer in recent fights and usually paces himself well, building into the fight before turning up the intensity. However, if media reports are anything to go by we can expect a more assertive Joshua, yet this comes at a huge metabolic cost in the heat. Power punches are inefficient and produce lots of heat; heat that we've already seen will be difficult to lose. The assertive Joshua will need to start fast and damage fast if that's the game plan; otherwise, the heat will beat him before Usyk does.
Humans are unique in their ability to sweat compared with other mammals and as hunter-gathers, it provided us with a clear advantage over faster prey, especially in hot environments. Our ancestors would carefully assess the risk of hunting versus gathering to conserve energy, but when the reward was worth the risk they would engage in a technique called persistence hunting. In these hunts, humans would chase down hairy mammals, such as Antelope, over long distances in the midday heat for up to 5 hours and over 20 miles, persistently tracking and attacking animals until they were exhausted from heat strain before finally delivering the killer blow.
Usyk has all the tools to attack Joshua through persistence hunting while keeping his metabolic heat production as low as possible and avoiding thermoregulatory catastrophe. Usyk successfully used subtle feints, traps and unconventional head movement to control Joshua in their first fight successfully and these types of economical tactics would serve him again in the Jeddah heat.
Is there anything the boxers can do to beat the heat?
Yes – to an extent, they can influence their perception of the heat and pick their battles carefully.
You might have seen some athletes taking ice baths after training or competition but some athletes take ice baths before competition! In theory, this makes sense because this should lower core temperature before competition and lessen the thermoregulatory strain. However, to get a meaningful decrease in core temperature the cold has to go through the skin and muscle first, and this would reduce neuromuscular function and force in a sport that relies on high-forces! There are other theoretical and practical limitations of this technique and it would definitely not be on our list of strategies to combat the heat.
Our body has key areas of thermosensitivity; the head, face, neck, upper back , chest, hands and feet are important regions. If we cool these areas with iced towels for example, our perception of heat strain is reduced; conversely, if we heat these areas, especially our head, we perceive our body to be hotter than it actually is. An effective and practical strategy to maintain in control of the feeling of the heat would be to use iced towels over the head and neck and a cooling vest over the torso – clearly hand and feet cooling would be of limited use in boxing! A Gillet-type gown with integrated cooling phase-change material around the hood and torso would be a smart move on the ring walk – as would be the shortest ring walk possible to limit metabolic heat production.
It goes without saying that hydration is important and fluid intakes should at least match sweat rates during the warm-up and be coupled with adequate carbohydrate and electrolytes to enhance fluid absorption. The temperature of the water is also important, fluids that are designed to be part of the fluid-replacement strategy should be at a temperature that optimises palatability, usually, this is below 10°C and definitely not room temperature.
Boxers can also take advantage of another cooling strategy involving the consumption of partially iced fluid, known as ice-slurries (in the UK think Slush Puppies and US, slushies). Ice slurries have a strong thermoperceptual effect within the mouth (which can often induce sphenopalatine ganglioneuralgia (brain freeze!)) and acts as a heat sink within the stomach (draws heat from surrounding tissues to lower core temperature). Ice slurries have consistently been shown to improve performance in Jeddah-like conditions, although the amount of slurry used in scientific studies to attenuate increases in core temperature is almost unattainable in practice and there's certainly been no studies on heavyweight boxers.
Before the fight both boxers could train in hot conditions, this is known as heat acclimation. The main goal of heat acclimation is to induce physiological adaptations that help with heat transfer, such as plasma volume expansion and an increase in sweat rate. However, in the sweltering conditions of Jeddah, these adaptations would have limited effect. There are perceptual benefits of heat acclimation, and having the knowledge and understanding of what heat strain feels like and how to deal with it is just as important as the physiological adaptations. These perceptual benefits are quick wins too, as short-term heat acclimation (5 x 60 min heat training sessions) typically enable athletes to feel better about exercising in the heat.
Choosing when to produce excessive heat might be just as important as what shots to throw in this fight. Big powerful combinations are inefficient and although the reward might be worth the risk, the heat production associated with these efforts will be significant. As usual, an effective jab might be the most effective weapon, but as we saw in the first fight, Usyk was able to counter Joshua's jab whilst also being successful with his own, and again would be a useful tactic for Usyk to re-employ.
Clinching might have a surprisingly useful role in the heat, albeit a strategy that would not excite the fans and would be more effective for the heavier and taller Joshua if he can walk down Usyk with intelligent pressure and then press down and use his height and weight advantage on Usyk. Usyk would have to use relatively more energy than Joshua in these situations as gravity would be Joshua's friend, and if Joshua could work Usyk's body in the clinch, there's an opportunity to slow Usyk down when he's at range.
Between rounds, there's limited opportunity to provide any real cooling effect, so again this will all be about managing perception using ice towels on the head, neck and chest and using cold water, especially if it is swilled around the mouth as a slurry.
FINAL QUESTIONS
As we come to the close to the Science Behind Usyk vs Joshua – The Rematch, we take a look at the key points made, leave you with some pre-fight questions and also offer our Boxing Science prediction.
WILL AJ BE ABLE TO REDUCE PACE?
AJ was made to work at a really high pace due to Usyk's feints, footwork and jab. AJ will now be accustomed to this pace, but more likely to produce lower output to conserve energy for back end of the fight.
AJ was successful when throwing to the body, landing 45% of his backhands and 63% of his rear uppercuts to the body.
However, only 10% of his punches were to the body. Will this lead to more success if he increases his output for the rematch?
WILL THE WEIGHT EFFECT USYK?
Usyk performed at a 40% reduced pace, this maybe due to efficient pacing strategies or his increase in mass slowing him down.
It looks like Usyk has put on more mass, which may mean that he will struggle to maintain the high pace set in the first fight.
With Usyk having success with the lead hook and body punches, will he have more confidence in finishing the fight inside the distance? And will this make him more vulnerable to AJ's power punches?
WHO WILL WIN USYK VS JOSHUA? HERE IS THE BOXING SCIENCE PREDICTION
A straight forward and obvious prediction would be to go for a repeat win for Usyk based on the success that he had in the first fight.
However, this has become a really difficult one to predict as the data shows that more improvements can be made from Anthony Joshua. He had a lot of success in the first fight that seemed to go unnoticed. These can be strong foundations and indications of what was needed to be worked on in order to recollect the heavyweight belts lost.
In a close fight at the elite level, the minor tweaks to training approach, technique and tactics can be the difference between winning and losing.
Usyk gaining mass makes us wonder whether he can maintain his punch output and work rate that has seen him be so successful in the past.
Usyk is the master boxer and could still get the win, however we are going for an Anthony Joshua win, potentially points or a late stoppage.
Acknowledgement: A special thank you to Tom Malkin for his fight analysis.
10 Week Strength And Conditioning Program
World class strength and conditioning program at your fingertips
Access the strength training methods utilised by European and World champions.
Suitable for all training levels and minimal equipment required.
This is program guaranteed to improve your strength, speed and explosiveness, with the ultimate goal of helping you punch harder!