Description
Boxing Science provides cutting-edge training to boxers and combat athletes worldwide; we are at the forefront of academic research in combat sports and deliver educational programmes to boxers and coaches using our insights from elite performance and pioneering research.
Our sport science practitioners have over 25 years of experience from grass-roots to elite performance, and we are proud to have worked with hundreds of professional and amateur boxers, including World, International, Commonwealth, European, British and regional champions.
We have developed our unique insights into the preparation of boxers through rigorous scientific exploration of the key factors that underpin boxing performance. Our physical performance tests enable us to identify the characteristics required for successful performance and analyse these in detail on an individual level. This scientific approach helps us to plan and deliver training programmes with precision and unlock an athletes potential.

TRAIN LIKE A CHAMPION
Although the benefits are well-recognised, a lot of coaches and athletes avoid using strength and conditioning (S&C) due to contrasting information, lack of guidance, time and cost. So in 2016, we launched our 'Train Like A Champion' programme to help coaches and boxers integrate sport science into their training routine.
'TLAC' is the most comprehensive online sport science programme in boxing and combat sports as it covers strength, nutrition, conditioning, movement training and testing. These methods are time-efficient, accessible for all and easy to follow.
We have progressed TLAC across three separate instalments which have been accessed by thousands of coaches and athletes worldwide. We're now excited to be launching our fourth and most advanced program to date.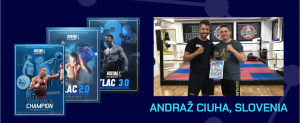 This program is for anyone who is motivated to improve, get the most out of their training and unlock their potential.
TLAC 4 will take the guesswork away for athletes, provide evidence based training methods to help improve physical performance.
Professional Athletes
Amateur Athletes
S&C or Technical Coach for Combat Athletes
Keen trainers who want to train like a Combat Athlete
THIS INCLUDES TLAC 4 : OUR MOST ADVANCED PROGRAM TO DATE
We love hearing feedback on our programs, whether it's athletes praising it's effectiveness or coaches being impressed with the information that we share.  This makes us extremely excited to share TLAC 4 with you as this is the BIGGEST and BEST product we have ever put together.
Advanced S&C and high-intensity conditioning methods
Our world recognised 'Boxing Science Testing Battery'
Detailed and easy to use moniotring tools
100's of pages of training information presented via infographs