Boxing Science review Canelo vs Golovkin – The Trilogy
Most boxers that are inducted into the boxing hall of fame are often known for a rivalry or epic fight that has happened in their career.
Hagler and Hearns, Pacquiao and Marquez, Ali and Fraiser, Fury and Wilder.
The list goes on in boxing history and the same applies for two of the most successful fighters of the current boxing generation.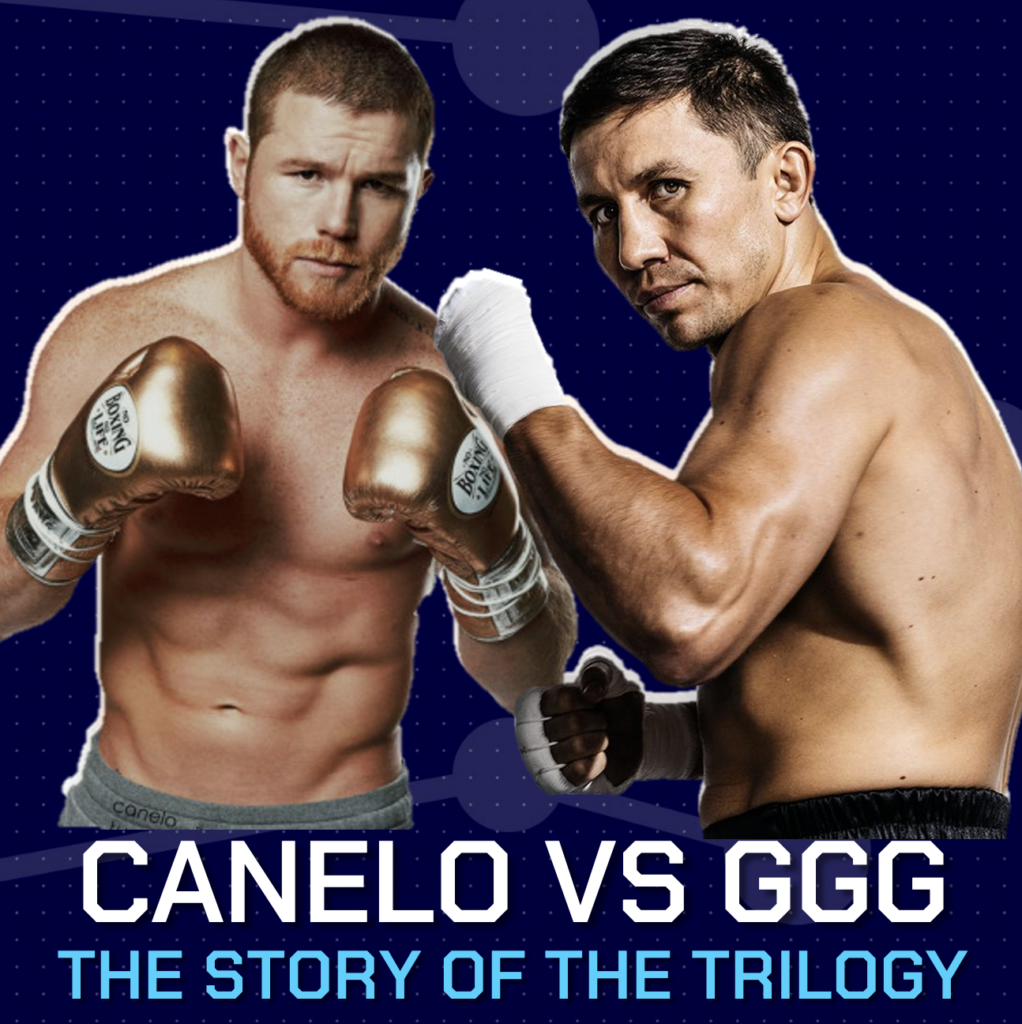 For Saul 'Canelo' Alvarez and Gennadiy Gennadyevich Golovkin, their names will always be associated with each other in the boxing history books as well as their own legacy.
Two fights surrounded with much controversy, with a draw and a win to Canelo both debated by the boxing public favouring Golovkin.
A five-year rivalry, a score to settle and legacies to define, Canelo and Golovkin go head to head for a third, and potentially final time, on Saturday night in Las Vegas.
In this article, we review the story of the Canelo vs Golovkin trilogy.
10 Week Strength And Conditioning Program
World class strength and conditioning program at your fingertips
Access the strength training methods utilised by European and World champions.
Suitable for all training levels and minimal equipment required.
This is program guaranteed to improve your strength, speed and explosiveness, with the ultimate goal of helping you punch harder!

A RIVALRY IGNITED
The talk of a Canelo vs GGG fight had been capturing the imagination of world boxing since 2015, however the rivalry was truly ignited when their first encounter finished in a much disputed draw in September 2017.
Many thought Golovkin dominated the fight with his aggressive approach and ram Rod jab forcing a defensive Canelo on the back foot. The fight looked to be going in GGG's favour, however a late rally from Canelo made it a close affair. A draw could've been seen as a fair result, but one of the judges scoring it 118-110 in the Mexicans favour angered fight fans who demanded a rematch!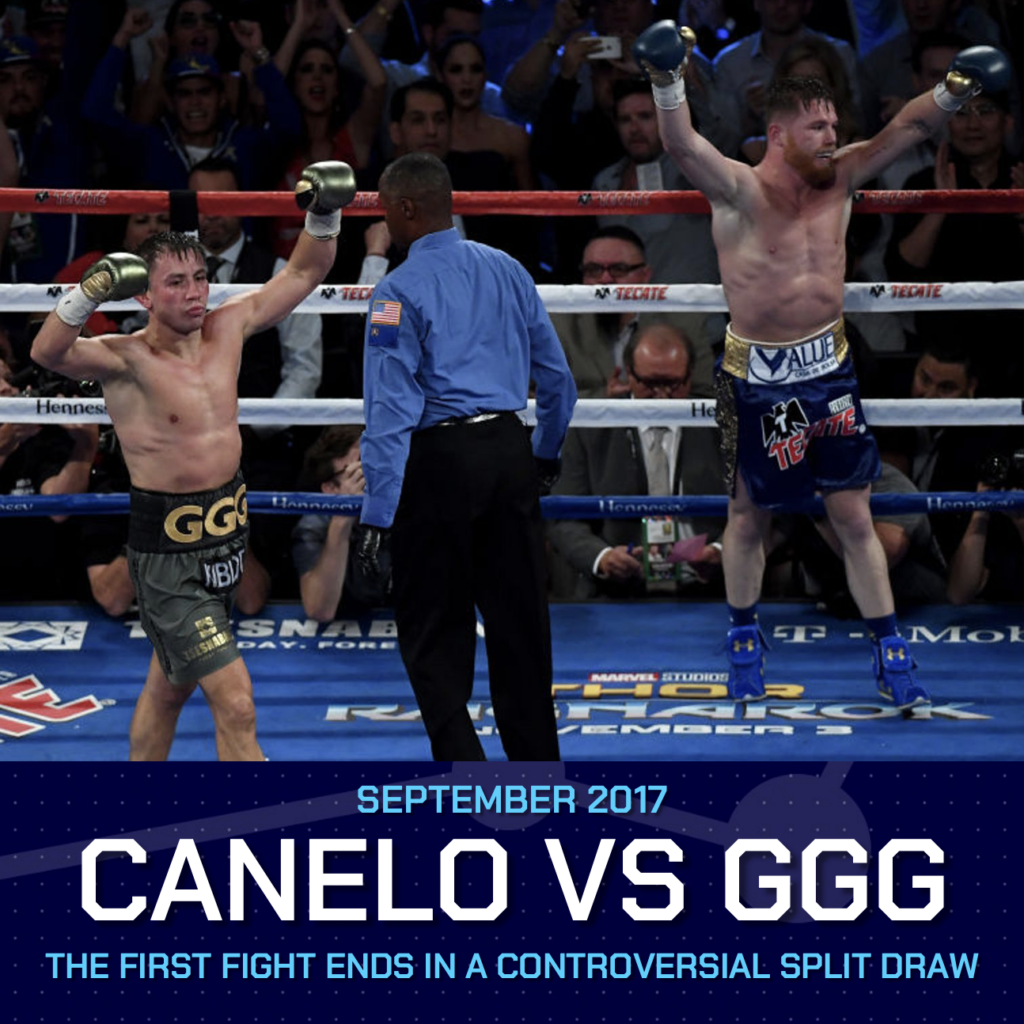 THE REMATCH
The second fight was pencilled in for May 2018, however Canelo failed a drug test for small traces of Clenbuterol – a performance enhancing drug that aids fat loss and muscle gain. This led to the infamous "Mexican Meat" saga that saw Canelo receive just a 6 month ban – a perfect time to undergo knee surgery putting off the rematch until the Fall of 2018.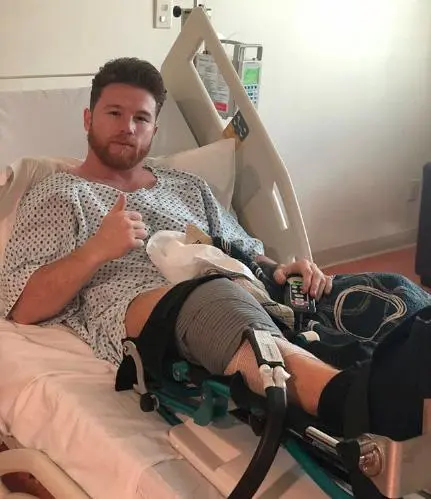 In the meantime, Golovkin dismantled little known Vanes Martirosyan inside 2 rounds to keep busy.
Almost exactly a year to the date, Canelo and Golovkin squared off for a second time at the T-Mobile Arena. Another 12-round enthralling battle, but a very different style of fight with Canelo adopting a more aggressive approach.
The Mexican looked to hold his feet more and trade on the inside with GGG, utilising supreme head movement as his key method of defence.
More success for Canelo, but he played into the hands of the Kazakh Thunder who still had copious amounts of success.
Both showed amazing boxing skill, toughness, heart, stamina and durability that had everyone to their feet, whether ringside in Las Vegas or in their front rooms at 5am in the UK.
Another close fight that could've gone either way, but the scorecards were more plausible in CANELO'S favour who was awarded a Majority Decision victory to claim the WBA, WBC and IBO Middleweight world titles.
CANELO JOURNEY THROUGH THE WEIGHTS
Four years is a long time in Boxing, both middleweight legends winning more titles, creating history and defining their legacy.
Canelo started his journey through the weight divisions with a knockout win over Rocky Fielding in December 2018, picking up his first crown at Super-Middleweight with the WBA Regular title.
He then dropped back down to Middleweight for a final time to face IBF Champion Daniel Jacobs, before stepping up two weight divisions to face WBO Light-Heavyweight Champion Sergey Kovalev. A dangerous fight that saw Canelo struggle with the range against the Russian puncher, but his patience, stamina and power helped him close the fight in brutal fashion in the 11th round.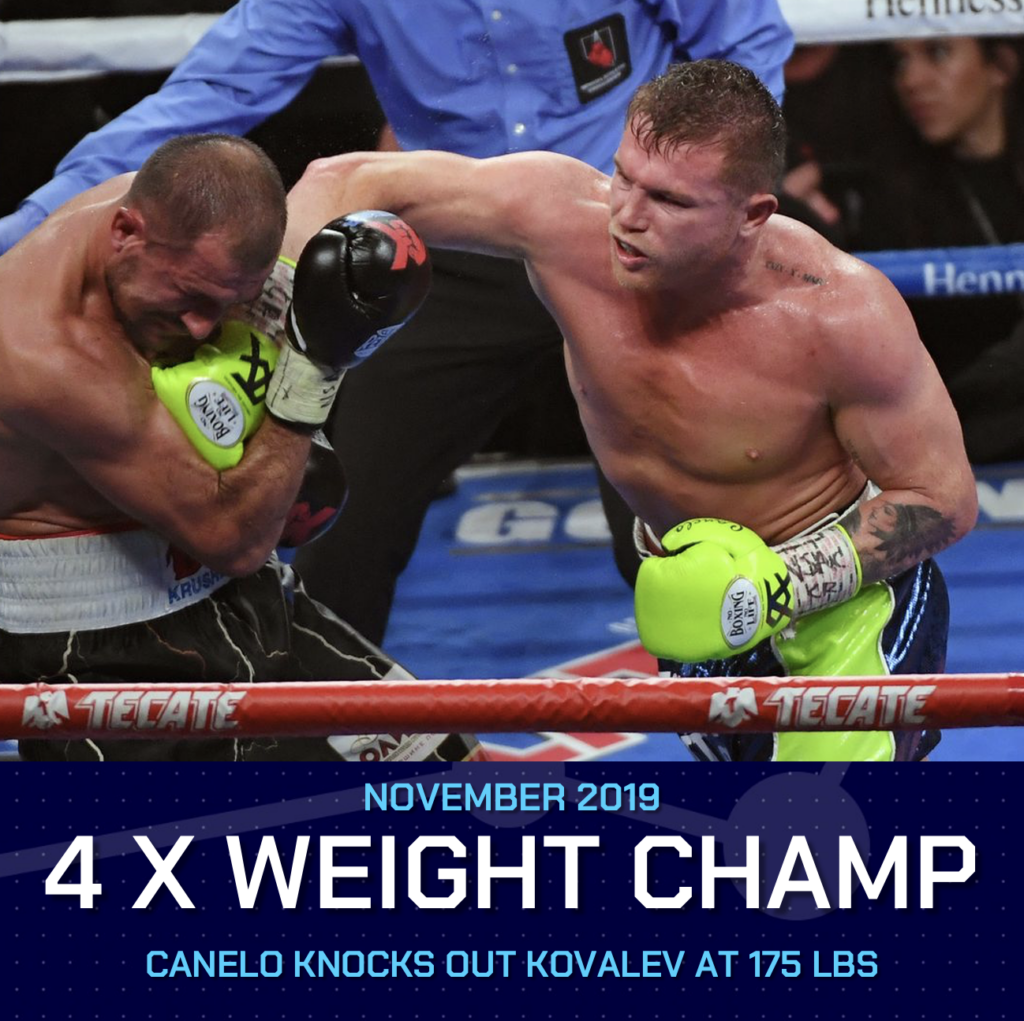 THE ROAD TO UNDISPUTED
Now a four weight world champion, Canelo dropped back down to Super-Middleweight in a bid to become Undisputed world champion.
It wasn't going to be easy, with the belts occupied by three undefeated champions!
It started with a one-sided 12-round victory over Callum Smith, winning the WBC and WBA titles in December 2020.
He then faced another Brit in Billy Joe Saunders. Fierce words, heated exchanges and a clash of styles created excitement ahead of the fight that took place infront of a record breaking 70,000 + attendance in Texas. Canelo landed a fierce uppercut that fractured Saunders' eye socket, causing immediate distress and forcing the Brit to retire on his stool in the 8th round.
With three titles around his waist, Canelo set sights on IBF champion Caleb Plant. In November 2021, Canelo systematically broke Plant down to then finish the fight in the 11th round.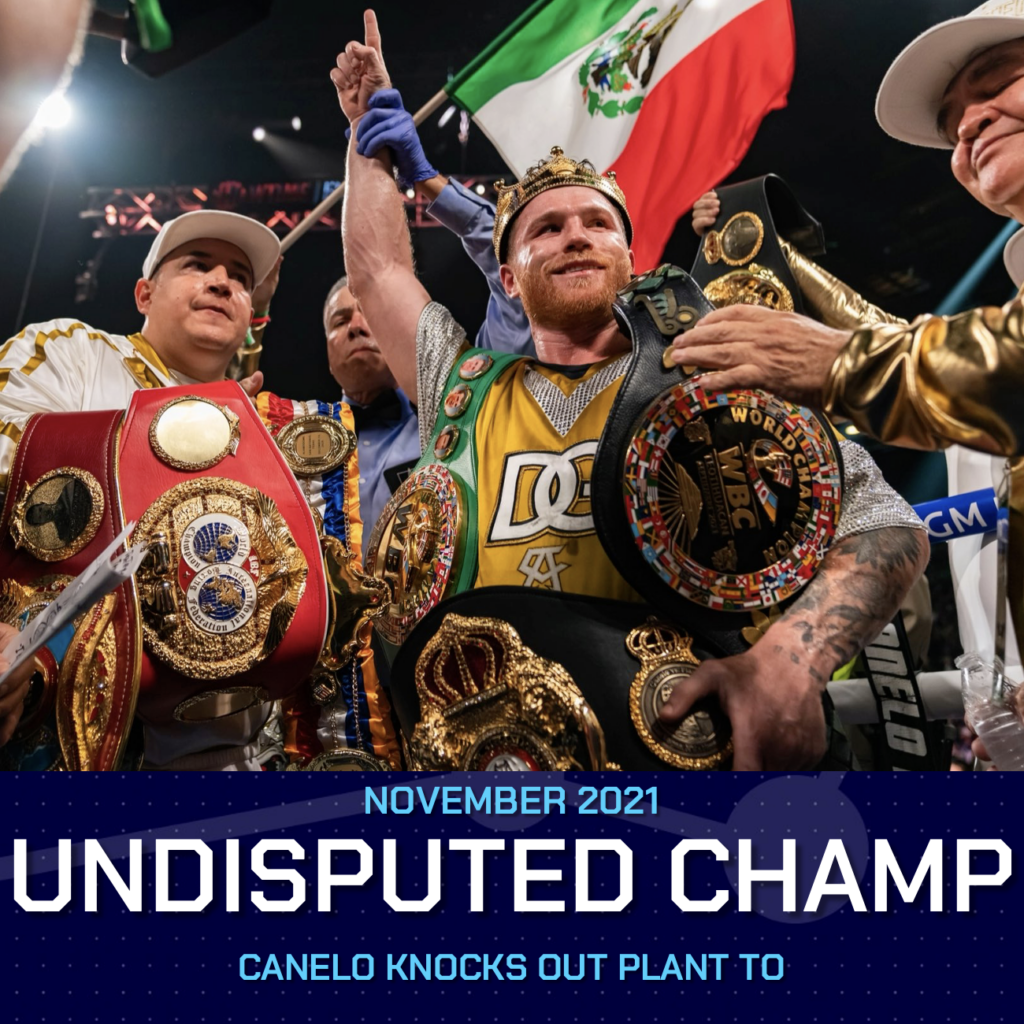 THE RISE OF GGG
The second failed attempt of beating Canelo and first defeat of his professional career was a crushing blow for Golovkin. The rebuild started with a surprise split with long-time trainer Abel Sanchez. Golovkin had spent 9-years training with Sanchez in his famous gym at Big Bear, California. Golovkin has often said about the benefits of training in the facility due to it's high-altitude environment.
He bounced back by steam rolling Steve Rolls (excuse the pun) inside four rounds in June 2019. This was under new coach Jonathan Banks, who is best known for his work with Wladimir Klitschko.
He was back on top of the world in October 2019, reclaiming the vacant IBF World Middleweight title in a 12 round war with Sergiy Derevyanchenko.
It was a brutal encounter that saw the first signs of ageing for GGG, with the 37 year old seeming hurt to the body on several occasions.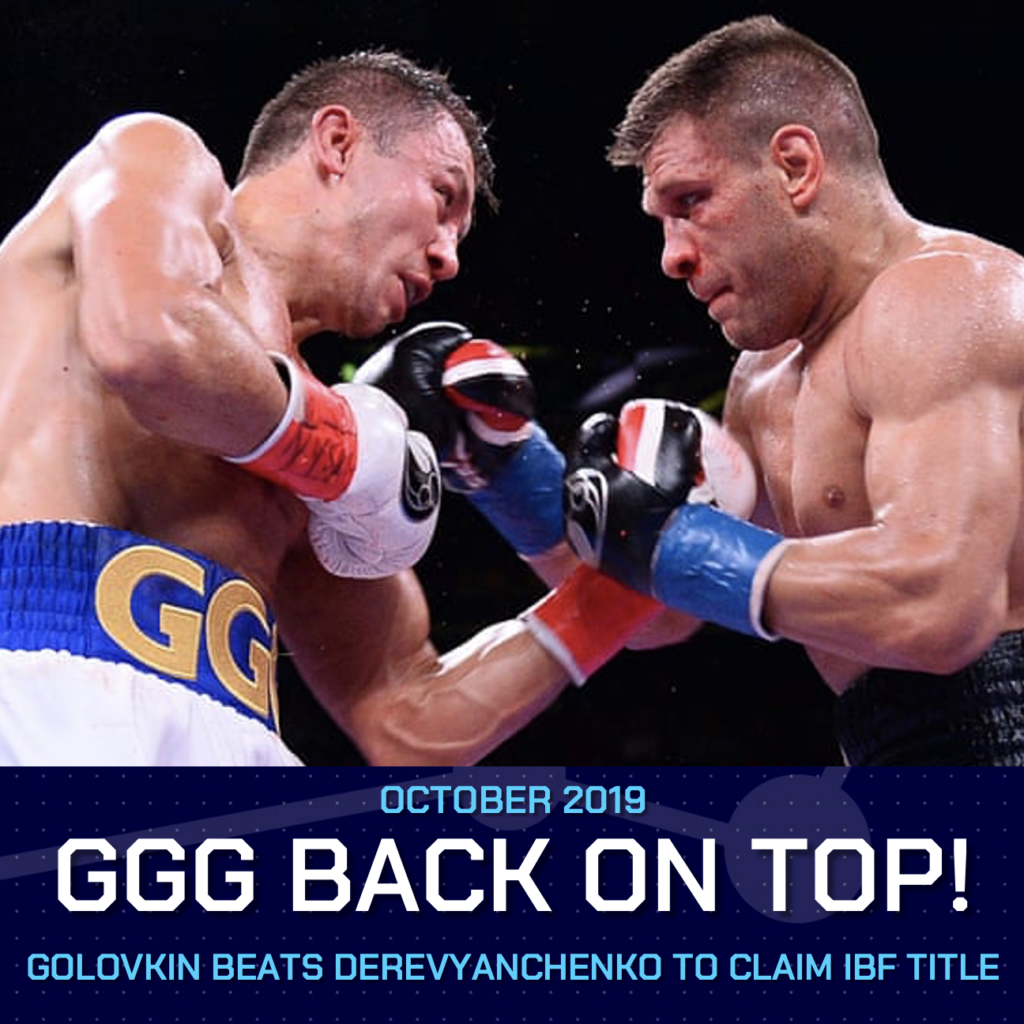 2020-2021
Like for many boxers, the global pandemic hampered the Kazakhs activity only fighting two more times over the next 20 months.
A routine defence against Szeremeta in late 2020 was followed by a world title unification in April 2022 against Japanese WBA world champion Ryota Murata.
The fight coincided with Golovkin's 40th birthday, and a rocky start led to many boxing fans to fear the worst for the Middlweight king. The boxing community debated whether this was because of his age, his inactivity or he was struggling to cope with Murata's style.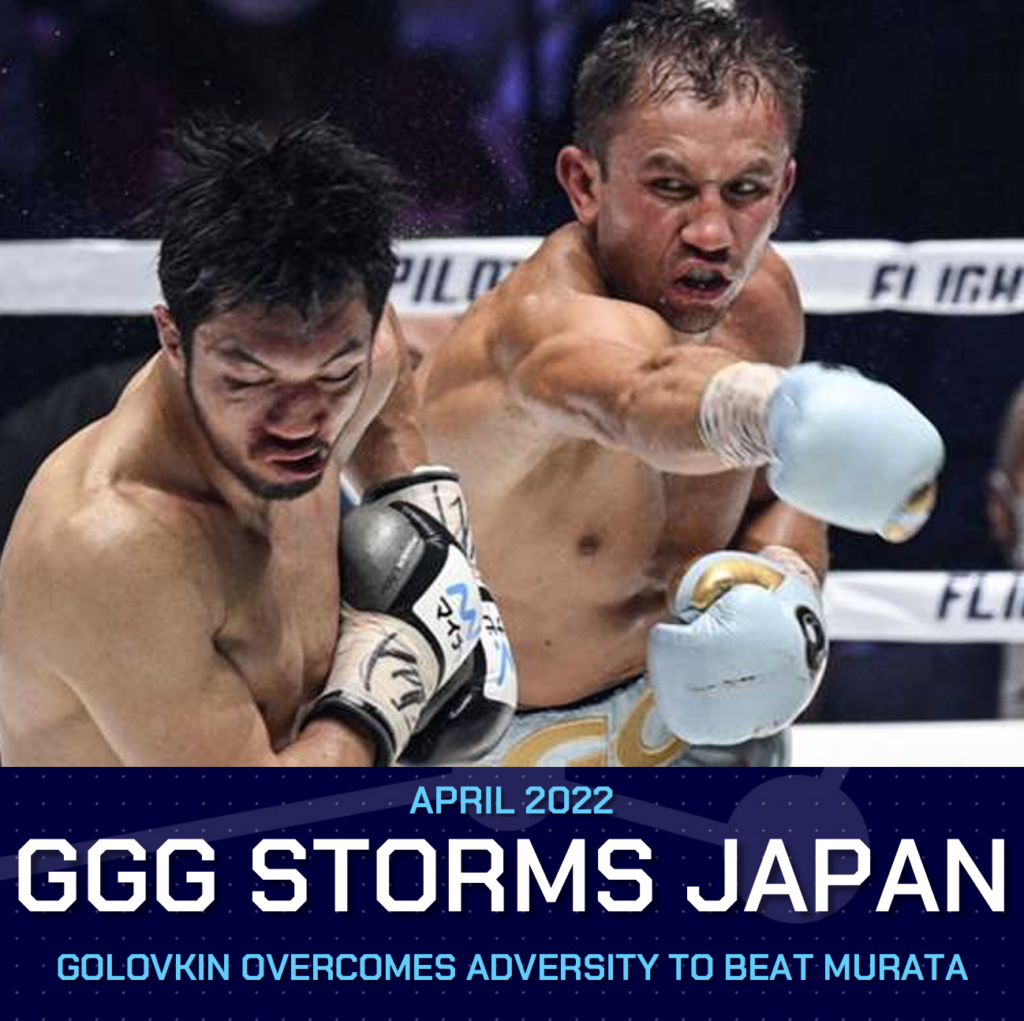 However, after a few rounds GGG got into his groove and worked through the gears to start having ample success. He systematically broke down Murata, knocking him down and forcing his corner to throw in the towel midway through the 9th round.
All roads were leading to a Canelo trilogy, however, despite this being one of the biggest and most fan friendly fights in world boxing, many thought that it would be a comprehensive victory for Canelo…
However, boxing always seems to conjure up a twist in every story…
A STEP TOO FAR FOR CANELO
In May 2022, Canelo returned to the 175 lbs division to take on WBA world champion Dimitry Bivol. Another Russian opponent, but this Light-Heavyweight was younger, fresher, and faster than Kovalev.
Bivol boxed a clever fight, utilising his superior range with fast feet and an effective jab, defending and countering off the ropes before stepping up the pace in the championship rounds, pinning Canelo against the ropes and landing at will. Bivol upset the odds and pulled off an unanimous points victory.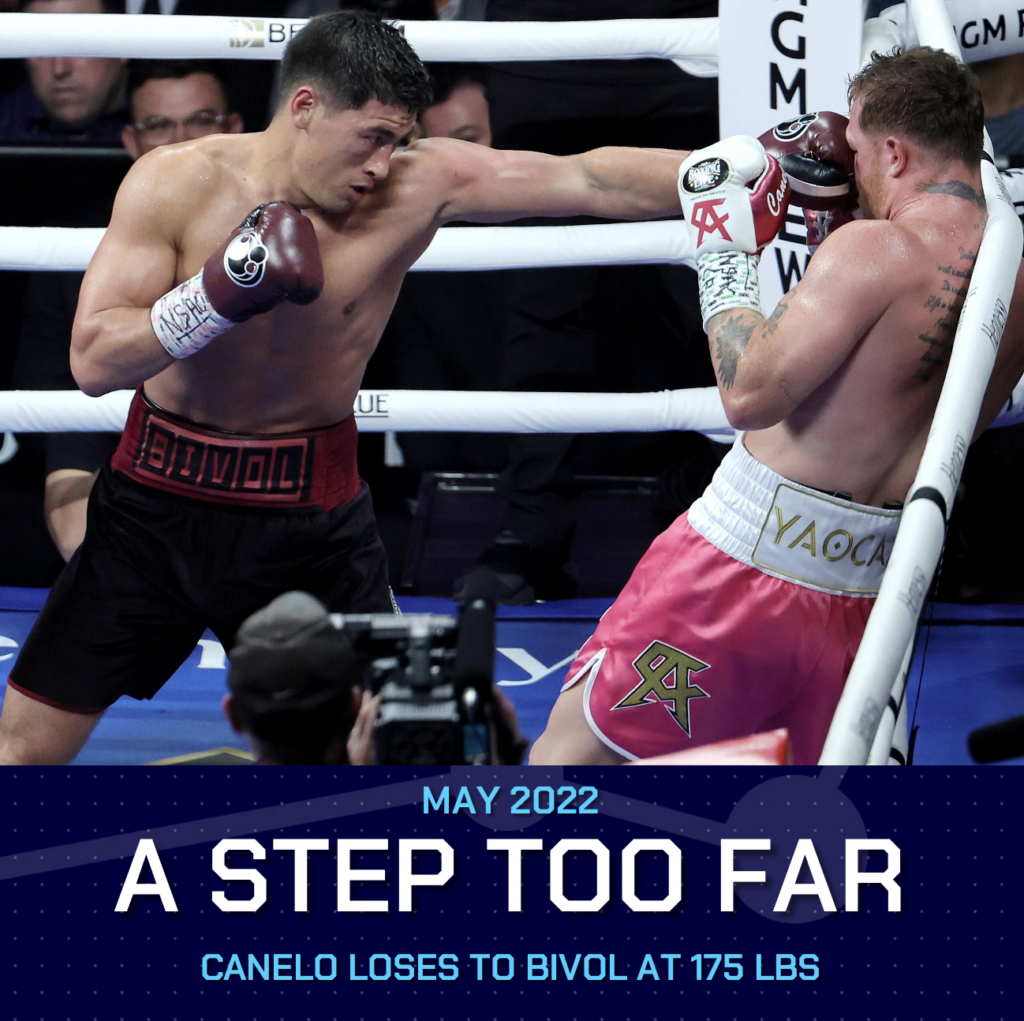 The discussion after was not that Bivol was too big, it was that he outboxed Canelo. This showed vulnerabilities to Canelo for the first time since the Golovkin rematch in 2018.
Canelo seemingly faded down the stretch, showing obvious signs of fatigue. It was well documented in the build up that Canelo had adopted a Vegan diet after watching "Game Changers" documentary on Netflix.
Many blamed the Vegan diet for his poor performance. Here are a couple of articles explaining the science behind Vegan diets, and why Canelo may have struggled in his fight with Bivol.
A Trilogy in the balance
After the Murata fight, many thought that Golovkin would be a walk in the park for Canelo.
However, the nature of the defeat last time out for Canelo has made this a closer fight on paper.
Another important factor is that the fight is now taking place at 168 lbs. Golovkin has always campaigned at Middleweight and never weighing anything above 162 lbs throughout his illustrious career.
GGG has always been massive at Middleweight and has seemingly struggled to make weight over recent years, so fighting at a higher weight-division is likely to revitalise the Kazakh Thunder.
All makes for an enthralling build up and an entertaining fight… WE CAN'T WAIT!