WATCH: Boxing Science 2016 – Day 1
The Boxing Science program is up and running for the new year, with the boxers being introduced to their new programs and reunited with 'the curve'.
Our 'fly on the wall' style video of Boxing Science 2016 – Day 1 gives you a fantastic insight to how our programs run.
In the video, we see 10 boxers of various ages and abilities challenge themselves with new strength and movement exercises before their high intensity interval training drill on the treadmills and curve in the labs at Sheffield Hallam University.
Following the large group, featherweight prospect Jordan Gill completed his first 1:1 consultancy session of the year, being introduced to Olympic lifting and hitting a personal best on the back squat.
'The Thrill' then moved on to his conditioning, beginning an anaerobic training phase consisting of 2 minute flat out sprints. This required monitoring his blood lactate, so Alan Ruddock and Ashley Downing assisted in data collection.
Picture yourself in one of our sessions? There are many ways you can get involved!
Check out our products and services below. If you are interested in joining one of our programs please contact Danny at D.Wilson@shu.ac.uk
Large Group Sessions
Get the edge over your opponents by signing up to our large group training sessions, where you will receive top class strength and conditioning program to improve the athletic ability of boxers and combat athletes.
Lead by our highly qualified and experienced strength and conditioning coach, our 90 minute sessions consist of a mobility, plyometric and strength training, before a gruelling conditioning session using treadmills and the curve.
Programs are individualized and structured to get you moving better, feeling stronger and punching harder. A long term athletic plan is put in place to develop strength, speed, movement and aerobic fitness for Boxing.
All training packages include performance fitness testing, training monitoring and wellness assessments. These added services allows that boxers receive information on their strengths and areas to improve on their way to achieving optimal physical performance.
Also, a fantastic atmosphere is created by the boxers through their hard work, determination and encouragement for others.
Price: 10 week packages – £120 for 2 sessions per week, £60 for 1 session per week
Small Group Training
The small group sessions offer great training opportunities for athletes, using more training tools and more personal coaching to accelerate their physical development.
Athletes will be eligible for detailed training and performance monitoring when using running speed, heart rate and body composition analysis.
Furthermore, small groups allow exclusive use of equipment such as altitude training, environmental chamber and resting metabolic rate assessments.
Price – £20 per person for group of 2, £15 per person for group of 3 when purchased in 10 week blocks.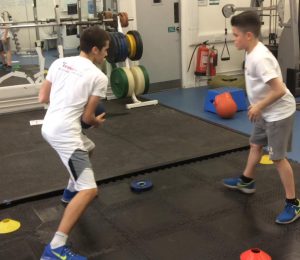 1:1 Consultations
If you are boxer wanting the best results and achieve peak physical fitness, then 1:1 consultations are definitely for you. Consultations allows an athlete to receive a world class service with personal coaching, intensive training and detailed analysis.
Sign up to our 1:1 training packages to receive a comprehensive and detailed program that is individualised to help you reach world level fitness.
Boxers on the 1:1 program can partake in our world level physiological assessment to compare themselves to the best and gain knowledge on what areas need to be developed on their journey to the top.
Price – £40 per person when purchased in 10 week blocks.

Here is a collage of Jordan Gill's journey with us through 1:1 consultancy.
Click here to check out his progress in Science Behind the Thrill
Saturday Sessions
Low cost strength and conditioning training sessions for boxers and combat athletes of all ages and abilities.
Regulars will go through the Combat Conditioning 'Graduation', where Junior and Senior participants will complete Bronze, Silver and Gold stages.
This creates a quality long term athletic development program targeting movement, strength, power and fitness.
These sessions take place at a newly refurbished facility at Sheffield Hallam University great for large training groups to go through mobility, speed and strength training drills before the killer circuit to finish off.
No need to book in for this one. Just turn up on!
Time: Two sessions to choose from – 10.30-12.00 or 12.00-13.30
Location: Sheffield Hallam Active, Pearson Building, Sheffield, S10 2BP
Price: £3.50 per session

Year Review 2015
Check out the progress the Boxing Science program made last year in the video below. If you are wanting to get involved for a knockout 2016 get in touch with Danny Wilson at D.Wilson@shu.ac.uk