From Patient to Doctor: Scientific support for Kell Brook IBF World Champion – Part 3
IT'S FIGHT WEEK AND SHEFFIELD BOXING IS BUZZING.
On Saturday, Kell Brook will defend his IBF welterweight world title for the first time in the 'Steel City' against Romanian challenger Jo Jo Dan. Ten-thousand fans in attendance and viewers of sky sports and showtime will be treated to a packed bill of talent accompanied by the legendary MC Michael Buffer; "Let's get ready to rumble!"
Boxing Science co-founder Alan Ruddock has already covered the initial stages and preparation of Kell's sport science support at Sheffield Hallam University.
In this final chapter in our 3-part mini-series, Alan reviews the final stages of Kell's physical preparation for his world title success.
What to expect
Methods to adapt to time zones
Heat acclimation
The game plan

A 'Special' story
In part 1, I explain the processes that we put in place as we began to work with Kell and Team Ingle, including high intensity conditioning, strength and movement training. Part 2 touched on some of the physiology and questions I ask when I'm planning training.
For a catch up, see part 1 here, and part 2 here. 
Pre-flight
To separate yourself from the rest, you have to do the extras to give you the edge. At Boxing Science we like to share knowledge, but some of our methods have to remain secret in respect to our fighters.
I don't mind publishing this plan because it was an old-one I created for the Devon Alexander fight that wasn't to be. It illustrates the detail we go to even before the fight. It's called a 'pre-adjustment phase-delay strategy', and is designed to gradually shift body clocks to a new time zone.
When we cross a time-zone is takes approximately 1 day of adjustment to align our body clock to the new time. So if we travel to Vegas, that has a 10 hour time difference it will take approximately 10 days to fully adjust to it. What we want to do is minimise the adjustment time because of everything else athletes have to get used to in a foreign country (training facilities, routine, feeling drowsy). From the moment the plane touches down, we want our athletes to adjust and resume training routine as soon as possible.
Adjusting a small amount before travel can help and from a scientific perspective it's good practice to explore the effect of travel on "chronobiology".
"Vegas babi"
When we were in Vegas I used an ibutton temperature logger to record nightly chest skin-temperature. Why? Because usually our lowest body temperature occurs about 3 hours before we wake-up and I used it to assess how Kell's body clock was adjusting to the new time zone. I used chest skin temperature as proxy for "core" body temperature, it has limitations but the discussion of those I'll leave for another time!
Here's my own data I used to asses my adaptation. This is more of an 'in-sight', if you have any further questions or interest get in touch at boxing.sci@gmail.com
Las Vegas Heat
Kell finalised his preparations by training at the Top Rank gym in Las Vegas in conditions that reached 37.5°C 25% humidity, perfect conditioning for the heat of battle in California. I know this because as a physiologist it's one of the first things I assess during training or testing!
There are many physiological and psychological benefits to training in hot conditions including beneficial changes to skin blood flow, metabolic rate, the cardiovascular system, sweat production, fluid balance, specific cellular adaptations and improved thermal comfort.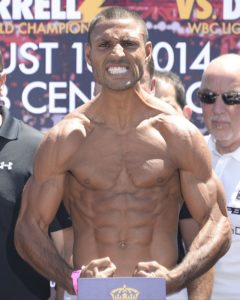 Kell trained in Top Rank for 10 days around about the same duration it takes for these heat-induced adaptations to occur. And his inner ear temperature was around 37.5 to 38°C during sparring and pad work suggesting that he was under mild heat strain. I speculate that training in the heat might have had a beneficial effect on his performance through some of the mechanisms above.
All of the lights! Fight night preparation
Many of the techniques we utilise in the preparation of elite boxers we can't reveal for obvious reasons but we place great emphasis on rest, recovery and adaptation as well acute strategies prior to fighting. One of the techniques we used was tweeted as "the game-plan" shortly after Kell captured the world title, not cutting edge science but cue words to help focus Kell before the fight.
I'm a sport scientist and it's my job to use scientific principles to prepare athletes for competition but I'd like to make it clear that without the forward thinking Dominic Ingle, hard-work and dedication of Kell Brook and Team Ingle as a whole, no amount of science would have made any difference to the decision on that Saturday night.
And so, under the calming influence and ever-in-control Dominic Ingle, Kell controlled the fight with his jab on the way to the world-title that night and is well on his way to becoming a doctor. Why? "Because Al", Kell said to me, "One jab and they're out".
Want to train like Kell?
Then you should try………
Accelerated Performance Series
The Boxing Science team are proud to launch Accelerated Performance Series, our new FREE online learning program taking you on a journey to improve your knowledge and understanding so you can experience our world class training methods in your own gym.
Our weekly newsletters will be jam-packed with world-class content, sharing our methods for conditioning, nutrition and psychology in boxing. The Accelerated Performance Series will take your performance to the next level.
Accelerated Performance Series will give you an exclusive insight to our training methods with loads of free material to improve your sport science knowledge.
Sign up and you will receive 10 weeks of FREE, informative content delivered by our Boxing Science experts. What's stopping you from starting the journey TODAY?