Catch Up With the Boxers – September 2015: Part 1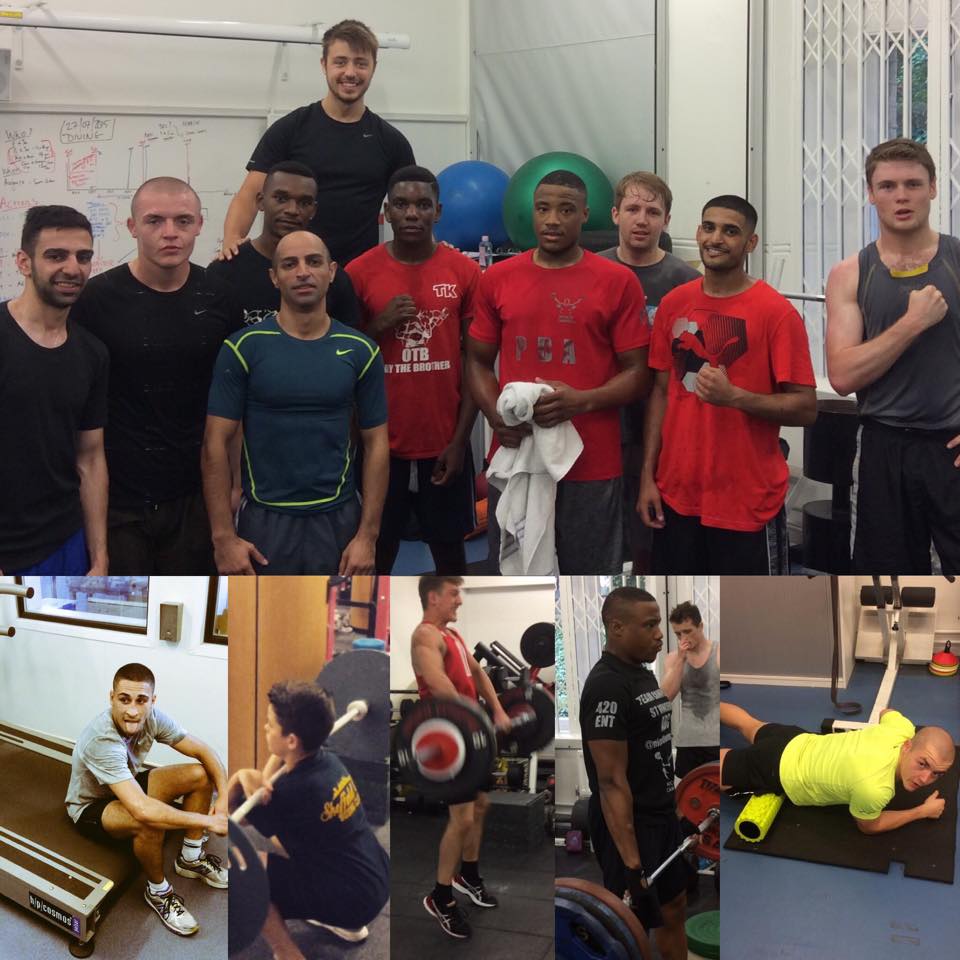 Following a few weeks away, I was excited to get back in the mix to see how the boxers were progressing. It's nearly been a year since we started Boxing Science, and a lot of the boxers that have been with us have come on leaps and bounds.
Therefore, I think it would be great to catch up and see where the boxers are at with their sport science journey.
Callum Beardow
The Boxing Science ambassador has been training harder than ever to return to the ring following double shoulder surgeries. A recent article reviewed a successful rehab training phase. Now we are getting closer to his return, Callum has been required to lift bigger and move faster on compound, Olympic lifting and plyometric exercises, as well as high-load core exercises. This strength and speed exercises are to develop hand speed, supplemented with the high loaded movements to increase his 'effective mass' – this will improve the snap in his connecting punchs and help his joints deal with the impact forces.
Callum improved his pound for pound core mass by 34% following 18 months of consistent and frequent strength and conditioning training. No surprise that this was accompanied by large increases in punching force (10%) and a massive 21% increase in pound for pound punching force!
Callum returns to the ring in the Novice Amateur Championships in October.
Click here to see more about Callum's recent training
Jordan Gill
Jordan Gill is relatively new to the Boxing Science program, however, the featherweight has adapted extremely well to the program and has improved massively. His last program saw the Ingle Gym prospect improve his pound for pound punching force by 20%, as well as improving on aerobic fitness levels by 10%. This led him to a 6 round shut out win in his last outing in July.
One of the main training methods that has helped Jordan's fitness improve is the altitude tent at Sheffield Hallam University. We use this to increase the amount of strain on his cardio-vascular system whilst running at lower speeds. This de-load means that Jordan is getting fitter whilst saving his legs, helping Jordan to be fresh going into his boxing training / sparring later in the day.
Jordan is training towards a date to be set in October, with big things on the horizon later this year and in 2016.
See more about the results Jordan made from his last camp here
Will and Ryszard – A Clean War
The Clean is a really useful tool in improving the rate of force development, an important factor in punch force. As our athletes are developing, more and more are being introduced to different exercise types around Olympic lifting. Elite Amateurs Will Simpson and Ryszard Lewicki have been learning the exercise through a number stages over the last several programs, and are now keen to put some weight on the bar…. but it's not that straight forward.
Below are two videos of the lads failing numerous attempts. This is not to show them in a bad light, but to highlight the amount of learning and stumbling blocks you might find when developing your Olympic lifting game. Credit to 'Willzard' (cross between them) for sticking at it, adding a competitive edge between them and getting great results.
Will has improved massively on the program, displaying more controlled and skilled performances in the ring due to better movement, strength and fitness.
Between January and March, Will improved his left punch force by 10%, making him more balanced and being able to hit harder with both hands.
Since joining the program in 2014, a years worth of training improved Ryszard's punch force and aerobic fitness by a massive 25%. These improvements lead to Ryszard broke the MB punch throw and equalled the Yo-Yo test record, making him the hardest hitting and one of the fittest boxers on the program.
The program helped Ryszard on his way to the England Boxing National Finals in 2015. At just 18 years old, he was the youngest in the competition and was awarded a bronze medal in a tough 75 kg category.
After his attempt, he called out Ryszard. This motivated the national bronze medalist to hit some big cleans during his Yorkshire Boxing Sport Science Program session.
Great work boys. I am looking forward to another successful season for you and the other Sheffield City ABC boys.
See Ryszard's road towards the 'National Championship Finals' here 
Niall Sharp
Niall Sharp might be one of our youngest on the course, but he makes up for it with a great attitude and being so easy to coach. This has allowed him to progress really well over the last few months, in particular with his Olympic lifting. For those not familiar with S&C, you do not see many young athletes at Niall's age lifting like this. Great work Niall.
Niall attended our recent 'Summer Youth Training Workshop'. See what he had to say about the program here.