Matchroom Fight Camp – Week 3
On Friday 15th August, within the gardens of the Matchroom HQ in Essex, the third instalment of Matchroom's Fight Camp shows took place and it did not disappoint!
With such high quality match ups in the weeks prior and with two enthralling main events – both of which are without question potential 'Fights of the Year' – this weeks Sky Sports show had a lot to live up to.
The motto for Eddie Hearn throughout his lockdown inspired shows has been "The first rule of Fight Camp, is that there's no easy fights" and true to that statement, there were no easy fights on this Friday night bill…
Written by Tyler White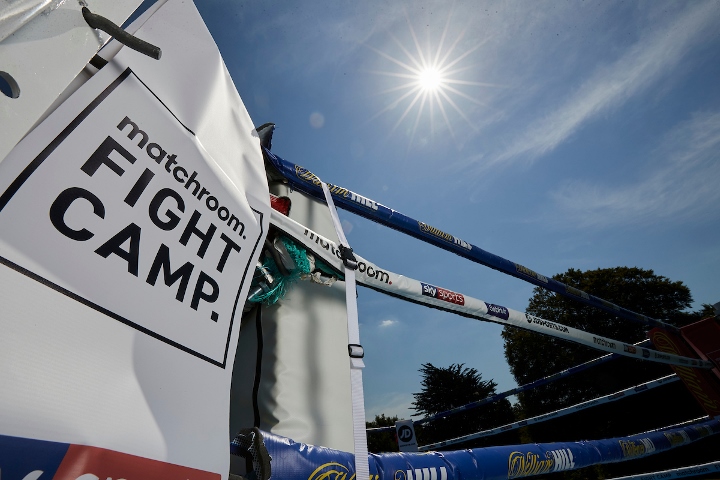 John Docherty Vs. Anthony Fox
The first fight of the night was between the hard hitting Scottish prospect – John Docherty and the no nonsense, Anthony Fox.
Despite Fox's losing record, the man who goes by the alias "The Matador" is a very tough and gutsy fighter.
An eager Docherty started off possibly expecting that his power would be too much for Fox, however, Fox managed it well and came back with sharp counter punches to let the Scotsman know it wasn't going to be an easy nights work.
Despite Fox's determination and good start, Docherty began boxing more patiently and slowly began to break Fox down. Not to be completely overawed, Fox landed a few shots as Docherty's chin strayed high, but it wasn't enough and in the end after two knockdowns (in rounds 3 and 7) the referee jumped in and stopped the fight.
John Docherty's record improves to 9-0 with 7KO's, whilst Fox suffers his 13th loss; but testament to his capabilities, it was only his 2nd loss via stoppage.
Kieran Conway Vs. Navid Mansouri
In his first fight in the UK for 3 years, Navid Mansouri was hoping to make a statement and beat the talented Kieran Conway, who drew with newly crowned IBF International Champion, Ted Cheeseman just last year.
However, Conway had other ideas and was hungry for a victory that would see him back in the mix, with the likes of Cheeseman, Fowler, Eggington and Fitzgerald.
Mansouri started fast and tried to set a high pace, however, the younger Conway was the more patient of the two and it began to pay off after a couple of rounds.
Mansouri made an effort to look busy, but in reality, he wasn't throwing enough or doing enough to really take Conway out of his comfort zone or to win the rounds.
Conway on the other hand was sharper and more precise with his shots and unleashed a barrage in the 7th round, consisting of left hooks and clubbing right hands.
Somehow, Mansouri survived the onslaught and fought on to hear the final bell…
Whilst Conway will be disappointed not to have won inside the distance, a dominant performance puts him back on the map and should set him up nicely for some fights with other big names in the UK's super-welterweight division.
Shannon Courtenay Vs. Rachel Ball
Upon this fight first being announced, the bookies had Courtenay as a big favourite. However, as time went on and boxing fans caught wind of Ball's capabilities inside the ring, the odds weren't quite so clear cut.
As the shorter fighter, Courtenay pressed the action, looking to get in close and sit inside the pocket, in an attempt to take away her tall opponents long levers.
Just over half way through the first round, as Courtenay feinted her way inside and had success with a big overhand right, Ball threw a perfectly timed; short counter left hook that put Courtenay down on the canvas.
Courtenay rose up fairly quickly from the canvas and composed herself, ready to go again. She came back and fought solidly, continuing to press the action with good feints, head movement and some great looping shots.
The fight was a close one, with Ball dictating and scoring points with long straight punches from the outside and Courtenay looking the more aggressive, stalking her opponent and throwing shots which looked to pack a bit more power.
However, at the end of the 8 rounder, the judge and referee – Howard Foster – scored the fight in favour of the former 3 time World Kickboxing Champion, Rachel Ball.
After the announcement, a devastated Courtenay headed back to the changing rooms whilst an elated Rachel Ball shed tears of happiness and told the Sky Sport team her dreams of getting a shot at World honours.
Zelfa Barrett Vs. Eric Donovan
This Super-Featherweight contest was without a doubt, the fight of the night. It was a superb match up of styles and one that you couldn't take your eyes off!
It was also a tough Sky Sports debut for Zelfa Barret, but it is a fight that he will remember forever and one that will remind Eddie Hearn why he signed the classy, Manchester born fighter…
After a very even first few rounds, it seemed that Donovan was beginning to take the lead, he was the busier man and the southpaw began to land the shots that were more eye-catching and which were enough to steal the rounds.
In the fifth, Donovan landed a jab-cross combination that temporarily stunned Barrett. However, the Commonwealth champion rallied back with heavy body shots and a left hook which wobbled his Irish adversary.
In the seventh round, Barrett landed a perfectly timed left hook which knocked Donovan down and did so very heavily. Donovan rose to his feet, despite having shaky legs and somehow weathered the storm to see the round out.
Half way through round eight, Barrett unleashed yet another devastating; huge left hook, which sent Donovan crashing to the canvas and the fight was over.
Donovan will come again and it's certain that Eddie Hearn will get him back on future Sky Sports boxing shows – not only can the man talk well, but he can really fight!
Zelfa Barrett, despite being disappointed in his performance, comes away with both his Commonwealth title and a new IBF Inter-Continental strap, as well a potential 'Knockout of the Year'.
Felix Cash Vs. Jason Welborn
Former GB Boxer and current Commonwealth Middleweight Champion, Felix Cash, looked cool, calm and collected as he broke down and disassembled former World title challenger, Jason Welborn.
Cash started off sharp, landing some big body shots to test out the challengers durability around the mid-section.
Welborn came back with the occasional flurry of power punches and caught Cash with a high left hook, but the champion re-adjusted and continued to force the action.
In the fifth round, Cash scored two knockdowns which looked to dishearten Welborn who, at this stage in his career, won't have the same fire and desire that he did a few years ago…
Welborn's corner, who would've been well aware of this, threw in the towel and a very impressive looking Cash walked away with his Commonwealth strap draped over his shoulder.
Fight Camp 3 – The Verdict
Once again, boxing fans were treated to a great night of action!
This show had its fair share of drama with knockdowns, knockouts and a shock defeat, but also pure quality, as fighters demonstrated their skills and abilities.
Upon reflection, Docherty remains an exciting prospect, who coped well with a difficult opponent.
Kieran Conway looks a classy fighter, who could cause a problem for the biggest names in the UK within his division.
Rachel Ball and Shannon Courtenay both showed how far women's boxing has come in the past few years and in all fairness, their contest was one that probably could've gone either way, depending on what you prefer when watching boxing!
Zelfa Barrett and Eric Donovan put on a fantastic display, in a fight that will get Donovan a lot more top quality fights and will teach Barrett a lot about himself and what he's capable of, even when things are going against him.
Felix Cash looked like a real old-school fighter and was very, very impressive. I'd like to see him fight Liam Williams in a few fights time, that will be a great test and a good step up for him when the time is right.
Next Week…
Next week, we will see the fourth and final instalment of the 'Matchroom Fight Camp' series, however, this one will be on Sky Sports Pay-Per-View.
Don't curse just yet however, as the main event and chief support will without a doubt, be exciting, enthralling and worth the money, as we see the explosive Dillian Whyte take on the dangerous Alexander Povetkin.
As well as Whyte Vs. Povetkin, we also have the long awaited rematch between Katie Taylor and Delfine Persoon which is set to be another classic!
Also on the undercard is an exciting fight between Luther Clay & Chris Kongo, as well as Jack Cullen Vs. Zack Chelli.
With all of that to come, we look forward to an explosive night of boxing next Saturday, in the final instalment of 'Matchroom Fight Camp'.