Hallam Boxing Strike Gold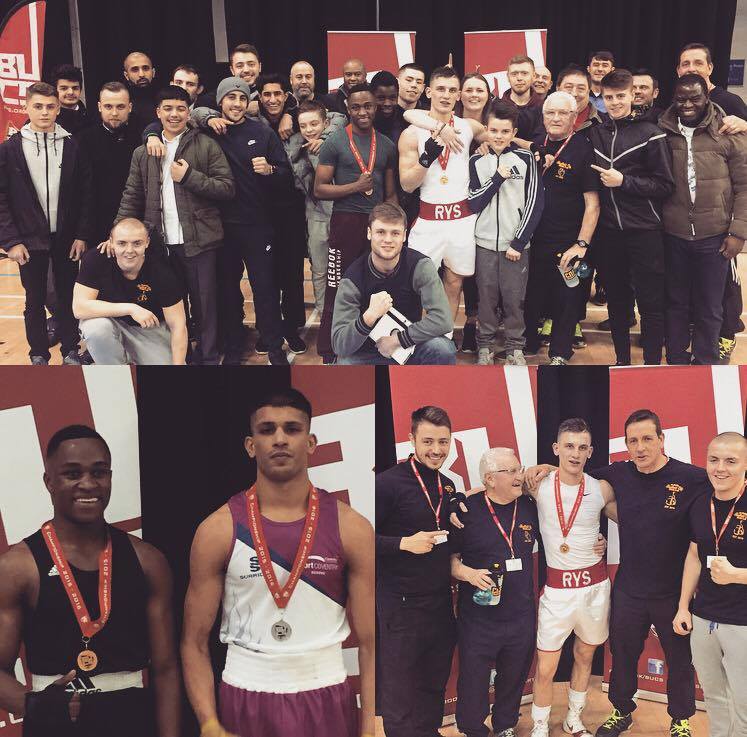 Sheffield City ABC helped re-write the history books over the weekend, leading both Sheffield Universities to a 7 medal haul at the British University Championships (BUCs) boxing finals.
Hosted at Sheffield's Ponds Forge, universities from all over the country competed in the finals Two Golds and Two silvers made it 40 BUCs points for Team Sheffield Hallam, the best ever return from a Boxing team representing the university.
Furthermore, neighbours and fellow Sheffield City ABC stablemates University of Sheffield also achieved bronze and silver medals.
Lewicki Leads By Example
First year sport science student and Hallam Boxing captain Ryszard Lewicki stepped up to the mark by winning the Open Class 69-75 kg BUCs title in an enthralling encounter.
Ryszard came up against the 3 time BUCs champion, who was fit, tough and gave everything to defend his title. Ryszard kept sharp on the jab, throwing fast, hurtful combinations to slow his opponent down. Feeling drained from illness in the week, it wasn't the
Ryszard kept sharp on the jab, throwing fast, hurtful combinations to slow his opponent down. Feeling drained from illness in the week, it wasn't the 19-year-olds best performance. However, he had the heart and fitness to dig deep to get the victory showing what true potential this young man has. A bright
A bright future ahead, and he will be going for his second gold of the season in the national championships, which he achieved bronze in 2015.
Ryszard has been training hard with Boxing Science at Sheffield Hallam University for the past 2 years and has become a massive advocate for sport science in his training.
We have introduced a strength warm-up mobilising and activating the appropriate joints and muscles to feel loose and fired up for his bouts. This consists of floor work, dynamic movements, ballistic exercises and resisted shadow boxing before smashing the pads.
Devastating Dvotzi
Patrick Dzvoti, also a first year sport science student at Sheffield Hallam, won the gold in the novice light-welterweight category. Two weeks after making his Hallam and Sheffield City debut, Pat won three bouts on his way to winning his first national title. Although his opponent had height and reach, he dominated proceedings with dynamic movement in and out of range, finding success with thudding left hooks and back hands. In an exciting third round, both boxers left it all in the ring going toe to toe, both desperate for that gold medal. It almost a Hagler vs Hearns feel to it, with the Sheffield City club on their feet shouting Dvotzi over the finish line.
Patrick now holds an impressive 13 bout record with 12 wins and only 1 loss, looking to push forward to both the England boxing novice and BUCs intermediate finals next year. He feels that with the support of Sheffield City, the university and Boxing Science that he has a fantastic opportunity to achieve in boxing.
Sheffield Varsity – Wednesday 9th March
After all that the excitement doesn't stop there as Sheffield City prepare for Sheffield Varsity 2016.
Varsity is a showcase and celebration of student sport in the City of Sheffield, with each university competing over different sports for over 100 points up for grabs. The competition includes Football, Ice Hockey and many more, but the Boxing proves to be one of the more mouth-watering events of the Varsity calender.
Introduced to Sheffield Varsity in 2012, the boxing is a fantastic event that showcases boxing in Sheffield.
The Varsity show brings the sport to a brand new audience of 800-1000 students, and every year the venue is packed out and the atmosphere is always the electric.
It's also a great for Sheffield's senior and junior amateur boxers for the experience of boxing under the lights in front of a huge, excitable crowd.
Head coach Brendan Warburton is keen to get some high-quality amateur bouts to support the fierce but friendly competition between the universities to give spectators a real taste for amateur boxing. Boxing
Boxing varsity, held at Sheffield Octagon, is one of the biggest amateur shows of the year and the must-see event of the 20-year-old varsity competition.
Check out the 2015 highlights here