Boxing Science Interviews – Frazer Clarke
This week, we spoke to Team GB's top super-heavyweight – Frazer Clarke. A man who has been part of the GB amateur boxing squad for over 10 years now and who was set to represent the nation at the Tokyo 2020 Olympics.
Frazer has been training at the English Institute of Sport for many years and narrowly missed out on representing Great Britain at both the 2012 and 2016 Olympic games.
Olympic rules state that each nation can only have 1 representative per weight class; so unfortunately for Frazer, both Anthony Joshua and Joe Joyce got the chance to box at the Olympic games ahead of him.
Despite the heartbreak of having to miss out, Clarke's time finally came in time for the 2020 Olympics, however, due to the coronavirus epidemic, the 2020 games have been postponed until 2021.
Despite this set-back, Frazer Clarke has built up a wealth of experience and maturity by operating at this level for so long – for him, despite the frustration, this is probably just a minor inconvenience!
Read on to hear all about Frazer's training, nutrition and preparation for the Olympic games…
Written by Tyler White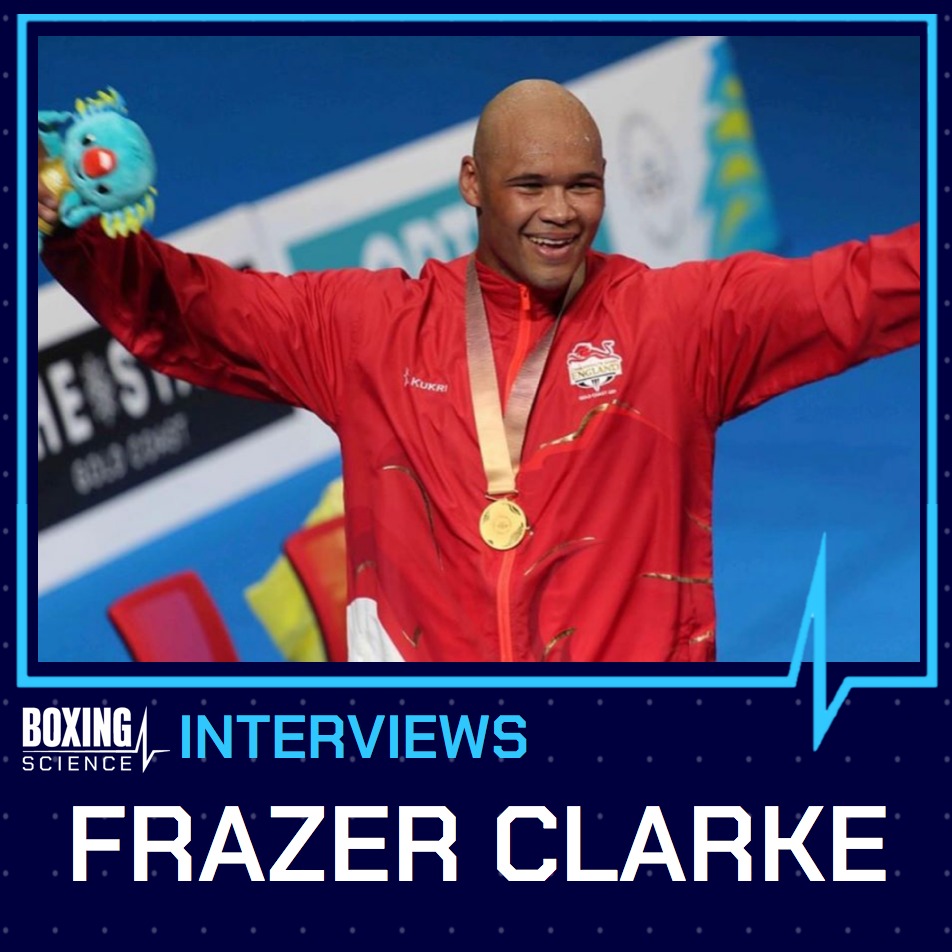 Hey Frazer, how are you doing and how has training been for you during this lockdown period?
Yeah, I'm all good, happy and healthy! I'm very lucky not to have been directly effected by the coronavirus; fortunately my family and I have been well.
My training through lockdown, on the whole has been good – but it's had it's peaks and troughs. There were certain weeks where I'd wake up extremely motivated, but at other times my motivation has hit an all time low due to the uncertainty of the future. It's just been a big mixture of emotions to be honest!
Initially, all the training I was doing was at home on my own, then as time went on GB Boxing got some stuff together and we were doing online coaching sessions, whether that was shadow boxing or bag work. In fact, they tried shipping out punchbags to everyone on the team; so we're very fortunate to be in that set up, where we get looked after so well.
But now we're back at the English Institute of Sport and have been for the past 4 weeks. It's a bit different as we're still sticking to all the social distancing measures but it's better than being at home, as you've got other fighters and coaches around you to motivate you.
Unfortunately, the Tokyo 2020 Olympic Games have been pushed back a year due to coronavirus. What are your plans in the mean-time and do you get a chance to have any "warm up" bouts and do fighters have to re-qualify?
Well, the thing is, only 2 of our boxers have actually qualified because we went into lockdown part way through the qualifying event in London; so we've got to wait for a date to be set now to go and do the qualifier for the Olympics.
In the mean time, us fighters are creatures of habit and we need to box to keep the tools sharp, so hopefully there'll be something coming up in the not-so distant future to keep us sharp and active.
You've been in the GB Squad for coming up 11 years now, what's it like training at the English Institute of Sport & how has it changed/progressed during your time there?
It's been a massive privilege for me to be training there; especially for so long. Before I began boxing there I never appreciated or even knew how many specialists are a part of it!
I never knew what a physiotherapist was, I'd never seen a nutritionist or S&C coach, it was all brand new to me; but since being part of the GB squad I've learnt a lot and had a chance to work with some incredible coaches and support staff.
For me, it's really shown that this sport is much more than just the boxer and the coach, it's evolved and is evolving so much. I'm very lucky to have a nutitionist and psychologist, as well as top class coaches and even a careers path advisor! The actual change over the past 10 years has been extraordinary and they really do try and go that extra mile for each boxer on the squad.
You also feel a responsibility to the next group of GB Olympians, as if we do well then the squad and the institute gets more funding; so it's almost like a cycle of wanting to do well not only for yourself, but for those who come after you as well.
You've served a real apprenticeship in the amateurs, do you think that not boxing at the 2012 and 2016 Olympics was a blessing in disguise and that this extra time has primed you ready for your shot in Tokyo?
I believe that everyone gets their time…
In 2012, I'd have been nowhere near ready! Neither physically or mentally.
It was obviously the dream, but it would've only really have been boxing for the sake of an experience, providing I qualified; really I wasn't even in contention to win a medal.
2016 on the other hand was a different case, I'd already beaten a lot of the fighters who qualified, but I was up against an unbelievable opponent in Joe Joyce in competing for the number 1 spot. He deserved it and obviously went on and won an Olympic silver medal; so it was just a situation where it wasn't quite my time.
I definitely feel like I'm coming into my best years now, especially mentally – I'm better now than I've ever been! That's a massive thing, as fighters will know, especially in the Olympic games as you're fighting against the best fighters of each nation.
Being so mentally prepared will allow me to get physically ready, it has a bit of a knock on effect… If you're there in your head then your body will follow.
What's the greatest moment of your boxing career so far?
At the minute, it would be winning the Commonwealth games. It was huge for me, my family and my friends and it was also a weird one ironically, because even though I was injured, I still expected myself to win it and so when I won, it wasn't like I was going crazy and jumping around all over the place as I'd set it out as a goal & was certain of it in my head beforehand.
I've got my little girls name engraved on the Gold medal too; so you know, as long as she's proud of me; then I'm happy and that's a massive part of why I and many other fighters do this job!
As a Super-Heavyweight, a lot of people might assume you can eat whatever you want? Being an elite athlete though I'm sure that's not the case! What is your diet like and do you set a weight to reach for optimal performance?
People that think that couldn't be more wrong! I'm probably, on this squad, the best example of having an optimum weight…
I'm very open about things and there have honestly been a few times where I've had the wrong mindset and thought "you know what, I can sort of eat what I want"… But any time I've got into the ring outside of my optimum weight, I've under performed.
As a boxer you have a bit of a checklist of things, regardless of what weight you're at and if you don't do all of those things, then you're fighting an up-hill battle…
My ideal weight has changed over the years, it started off at around 110-112kg and now it's gone up as I've got older, at around 114-115kg. I'd like to be walking around at 117-118kg and then when I get into camp I can train without worrying about making weight and those extra couple of kilograms will fall off through good; quality training as a part of the process.
What are your thoughts on S&C? What kind of Strength & Conditioning do you do as part of the GB Squad?
Well, for me once upon a time, strength & conditioning was a set of tonne ups and a few press ups, sit ups and burpees at the end of a session…
It's only over time that I've learned more about the benefits of it. I've realised that with me being a big man, it pays for me to be very physically strong, robust and very importantly – injury free.
S&C is a massive help to someone of my kind of size when it comes to staying injury free and that's probably where I've noticed it the most.
A lot of men my size aren't meant to box and move the way that I do; so S&C plays a massive role in my style of boxing too.
We often work in blocks as well; so we'll have a strength block, a speed block; we do olympic lifts and different circuits throughout our camps too. The big thing is that as amateurs we have to be boxing at a fast pace over 3×3's; so everything has to be tailored towards that.
Who are your top 5 favourite fighters – past or present?
Muhammad Ali – simply put, Ali is the G.O.A.T

Juan Manuel Marquez – he was the best counterpunching combination puncher in the sport; a real Mexican tough guy. One of my favourite fights of his is Vs. Marco Antonio Barrera – make sure you watch it!

"Marvelous" Marvin Hagler – his toughness, willingness to win and the fact that he became world champion and proved everyone wrong. The way he trained; the way he lived – I wish I could be as dedicated as him

Lennox Lewis – Lennox was a great, great fighter; also in my top 5 best ever heavyweights too

Manny Pacquiao – I loved watching him. He absolutely captivated me. We're chalk & cheese in terms of styles, but I'm a massive Pacquaio fan!
I've missed out loads there; but they're my top 5! (Notable mention – Johnny Tapia)
Moving away from boxing a little now and for those who don't know, you were stabbed on a night out in 2016 & then a year later witnessed – first hand – the terrorist attacks on Westminster Bridge. How did those life events change you as a person & as a fighter?
My life's never been simple. It's always been a bit of a rollercoaster! But the stabbing was a very difficult time for me as my daughter had only just been born 2 weeks before. I was stabbed 3 times; twice in the leg and once in the neck; so I definitely consider myself one of the lucky ones.
I've come out of it and come through it and now I can try and educate other people around the issue; you know I do my bit and spread awareness about knife crime and so on. It's nice to know that some good has come out of a bad situation in that respect.
Regarding the terrorist attacks, I had to box the day afterwards, which was all a bit of a blur. It was difficult as the day before wasn't good preparation; we were locked in Westminster for 8-10 hours, but I made that fight difficult for myself none-the-less.
I got put down in the first round, but came back to win the fight and afterwards you just realise that you're made of proper stuff, as not a lot of people could've witnessed the attacks the day before and boxed a day after.
Credit to the whole team though, we did what we had to do and at the end of the day, we were incredibly lucky as we were fit and healthy whilst other people, including PC Keith Palmer lost their lives in those attacks.
With all of that in mind Frazer, regarding your amateur career and the adversities you've face, what advice would you give to young; aspiring fighters coming through the ranks?
My advice would be to surround yourself with the right people and listen to those people, as there'll be a lot of people who have an opinion and will try and tell you what to do!
Be loyal to those you trust.
Work hard, believe in yourself and stay disciplined.
Most importantly though, do the work and you won't go far wrong!
Be sure to stay up to date with Frazer's career by following him on Instagram & Twitter; you can also check out our other Boxing Science Interviews by clicking here.