Canelo Alvarez Vs. Callum Smith – Fight Preview
In the final few weeks of 2020, we will finally get to see a fight that many, many boxing fans have been wanting for quite some time now – Canelo Alvarez Vs. Callum Smith – a fight that has the potential to be something special.
Callum "Mundo" Smith will be defending his WBA Super-Middleweight strap whilst also fighting for the vacant WBC version of the title and Canelo will be looking to take both titles back home to Mexico.
The Mexican will be looking to win titles in yet another weight division to cement his place in history as one of the greats of the modern era.
It has to be said that Canelo has technically already won a World title at Super-Middleweight when he stopped Rocky Fielding back in 2018, but that was the "regular" version of the WBA title; so whilst the dilemma of "titles" is confusing everyone in the boxing world, a victory against the youngest Smith brother this weekend will solidify Canelo's claims that he is a legitimate Super-Middleweight champion.
Before we divulge more into this fight, let's take a look at each fighters past accomplishments and have a look at how it could pan out.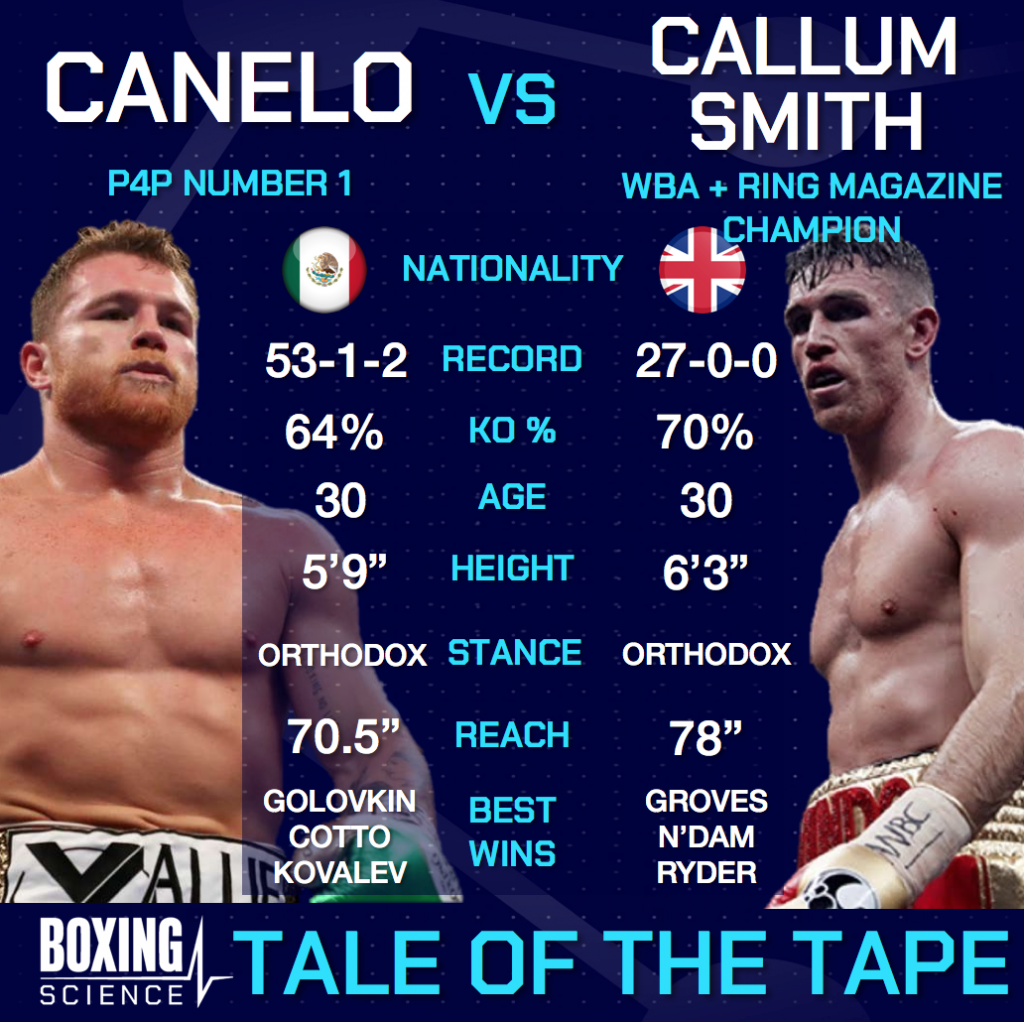 Callum "Mundo" Smith
Callum Smith is the youngest of 4 brothers, all of whom have won British titles and at least challenged for World honours. Callum is also the best out of the brothers in terms of ability and potential capability…
Huge for the weight, Callum Smith is not only a solid puncher, but a smart boxer and a classy body puncher too, something that could potentially gel really well with the slick; modified Mexican style that Canelo has.
Despite not looking great in his most recent outing against John Ryder, "Mundo" has boxed exceptionally well in previous contests – particularly when the pressure has been on and the stakes have been high.
Smith took Rocky Fielding apart back in 2015, took out Luke Blackledge a year later and the went on to win the World Boxing Super Series tournament at the back end of 2018 with an incredible performance and win over "Saint" George Groves – one of Britain's best Super-Middleweights of recent times.
Whilst Smith has had some lack lustre performances, they've usually come when there's not much meaning or drive for him to get up for the fight, but when there's something to really fight for, we usually see the very best of Callum Smith and when he's at his very best, he is a tremendous fighter.
Saul "Canelo" Alvarez
Canelo is one of; if not the biggest superstars in boxing right now and that's for good reason – he's fought some huge names and his skillset catches the eyes of all in the boxing World.
Starting off his professional career at the tender age of 15, Canelo had many fights in Mexico to learn his trade, before becoming a star over the border in the US.
The Mexican superstar is a four division World champion – who has beat some impressive names en route to glory and despite a loss to Floyd Mayweather Jnr back in 2013, Canelo has gone from strength to strength and developed massively as a fighter.
Just to give you an idea of the sort of fighters Canelo has been in there with, here's a list of some of the more well-known opponents:
Alfredo Angulo
Erislandy Lara
Miguel Cotto
Amir Khan
Julio Cesar Chavez Jr.
Gennady Golovkin
Daniel Jacobs
Shane Mosley
Sergey Kovalev
As well as facing off against all of those mentioned above, Canelo also has one victory over another fighter in the Smith family – Callum's older brother, Liam "Beefy" Smith.
WANT TO KNOW MORE ABOUT CANELO'S TRAINING METHODS?
Who Wins?
For Smith, this is the biggest fight of his career. Therefore, I think we will see a different animal and if the "Mundo" we see is anything like the fighter who stopped George Groves, then he stands a chance of beating the Mexican. However, if Smith doesn't perform and boxes the way he did against Ryder, then it will be an easy nights work for Canelo.
There is always a danger that Canelo, being such a superstar and being a favourite of the WBC could go into this contest over-looking Smith who could be a potential banana skin…
However, Canelo always seems to overcome the obstacle in front of him and even against Kovalev who was outboxing him, he came through with the power and got the stoppage towards the end of the bout.
A lot can be said also, for Smith's team and head coach Joe Gallagher, who's well aware of the mind games and ways that Canelo and his team may try and get under Smith's skin; so the build up to the fight this week will be interesting to say the least!
Whatever man wins, I see this one being a real good contest and a good clash of styles. Will Smith have enough skill and power to ruin Canelo's plans, or will Canelo Alvarez be too smart and too slick for the British Super-Middleweight?
Written by Tyler White