Callum Beardow Is Back! Training Review
Elite Amateur and Boxing Science ambassador Callum Beardow makes his second comeback following a 3rd shoulder surgery. 
In recent testing results, Callum improved his punching hand speed by 10%, and his strength by 13%.
We share the training methods that have helped him become stronger than ever. 
The Story So Far….
Callum first injured his shoulder in 2013, when he suffered a Bankart lesion in a youth amateur contest. This is an injury of the anterior tendon of the shoulder due to shoulder dislocation. This is quite common in Boxing due to the restrictions in shoulder mobility.
After months trying to rest, mobilise and strengthen the shoulder, it became apparent that Callum needed surgery. He had his first 'keyhole' surgery in the summer of 2014.
He returned to training early 2015, however, there was a reoccurrence of his shoulder injury needed a bone graph to keep the shoulder in place.
He trained hard, performing long interval training, occlusion training, core training and hip mobility, before moving on to heavy lifts.
This was a great camp, resulting in two very good performances. However, his shoulder started to give him pain again. Thankfully, this resulted in a less serious surgery.
The bolts that held the shoulder together was causing aggravation, therefore just needed removing.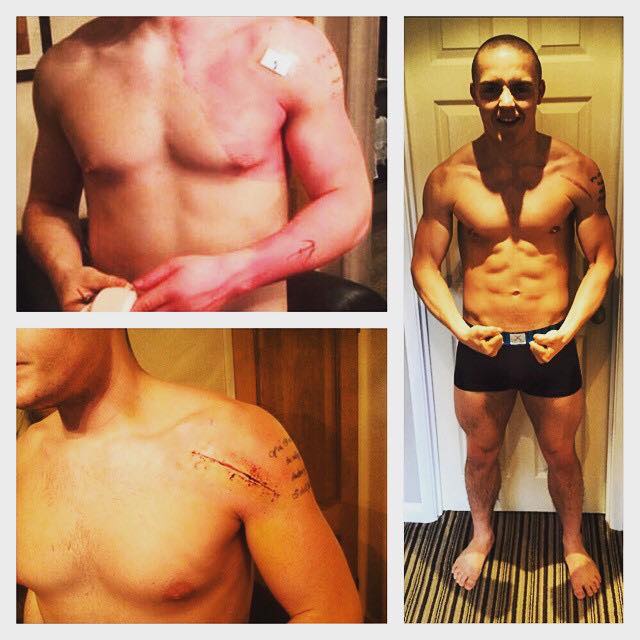 What We Repeated
Callum started training again in January 2016. The plan was near enough the same, improve shoulder and hip mobility, build core strength and improve muscle mass around the shoulder.
So we kept similar training methods in initial stages of training…. however, we altered our approach to restarting technical training.
What We Did Different
At Boxing Science, we are always pioneering new methods. Although the turnaround between Callum's rehab training had been relatively short, our program had progressed.
We had introduced Punch-Velocity testing, which allows us to assess punching hand speed and strength based on various loads.
Before Callum restarted his boxing training, he performed the punching assessments, which lead to some interesting findings….
The Numbers
Following his operation, Callum improved his speed for his left hand. Which you could say this was a positive result, however, his speeds declined quite quickly showing a lack of shoulder strength.
This meant that Callum could throw his shots faster, but may not have the elasticity in his muscles to control deceleration or forces at impact.
This could have resulted in weaker punches or even injury reoccurrence.
Training Recommendations
Strength and Conditioning
We wanted to improve the strength of the left shoulder, in particular the tendons reduce the likelihood of injury reoccurrence.
Therefore, we eccentrically loaded through Landmine Shoulder Press, as research suggests that eccentric loading can have a positive impact on tendon and muscle strength, as well as muscular hypertrophy.
We also strengthened through horizontal pressing, progressing from press-ups, to press-ups with weighted vest before eventually re-introducing dumbbell and barbell bench press. The reason for this steady progression was due to avoid too much load too soon, improve core strength and avoid super-compensating with his shoulders.
Boxing
I advised Callum and Sheffield City ABC head coach Brendan Warburton that he should take care in boxing activity over the next few weeks, allowing time to rebuild some shoulder muscle and strength.
Callum complained about pain in his shoulder when shadow boxing and when missing during pad work. Therefore, I advised Callum to use dumbbells during shadow boxing to slow down the movement, and focus on sinking shots into the heavy bag to improve punch strength and effective mass.
Also, I asked Brendan to restrict Callum to body sparring only. This increased the target area for Callum so the chances of missing punches was reduced.
The Movement
At Boxing Science, numbers are important to us, but it's not the be all and end all. We need to look past the numbers and analyse movement to have an in-depth understanding of what is causing the problem.
After analysing the video above, it is clear that Callum can develop more rotation in his right shot rather than his left. This is expected as he is an orthodox boxer, however, he still needs good rotation from his left-hand side to whip in hurtful hooks.
This highlights strength imbalance of his lateral stabilisers (obliques) on the left side. This causes him to generate more force through his shoulder joint, which may cause overuse injuries.
Strength and Conditioning
We worked on a range of core exercises that challenged his lateral stabilisers, from dynamic/fast exercises such as medicine ball throws and ice skaters to heavy-loaded/slow exercises like racked carries, landmine rotations and farmer-holds.
We also used Landmine punch with ISO hold. This is a great exercise to develop the 'snap' in the punch, as well as encouraging full rotation into his punches.
Boxing
We just advised Callum to concentrate on technique whilst on the pads and bags. He has become more mindful in his rotation into his shots whereas before he was smashing the bags to develop his boxing fitness.
Results!
Callum has improved across all the loads on his punch-load profile, showing he is punching faster and harder.
Noteably, his speeds at 40 kg on the left hand by a massive 11% from the last time he was in action. We are extremely happy with these results as this was a problem we highlighted and addressed.
His estimated punching strength has also improved on both sides, 13% and 6% on right and left hands.
The testing also allows us to predict absolute hand speed, with Callum throwing his hands at 5.6 m/s.
Callum is THE MAN!
Callum has been down a long path, a really long one that had some dark times. For a young lad to stay on track having so many setbacks between the ages of 18-20 years old is quite remarkable.
You may have found some inspiration whilst reading this post, imagine seeing the hard work, effort and dedication he brings to every session.
I am hopeful that we are on the right path now, and I am excited for Callum's bright future!
Want to Train Like Callum?
In Train Like A Champion, we share our coaching knowledge, wisdom and tricks to help you achieve optimal results in our "Train Like A Champion – Coaching Videos"
The 5-part video series includes step-by-step guidance on how to perform the key exercises of the program, as well as how to use your performance profiling and bluetooth heart rate monitors.
This is normally exclusive to the Train Like A Champion program, however for this Christmas we are making these available as an ideal stocking filler.
These videos are part of our program priced £100, however, you can get your hands on these videos for just £5.