Accelerated Performance Series – Online Education
The Boxing Science team are proud to launch Accelerated Performance Series, our new FREE online learning program taking you on a journey to improve your knowledge and understanding so you can experience our world class training methods in your own gym.
Our weekly newsletters will be jam-packed with world-class content, sharing our methods for conditioning, nutrition and psychology in boxing. The Accelerated Performance Series will take your performance to the next level.
Accelerated Performance Series will give you an exclusive insight to our training methods with loads of free material to improve your sport science knowledge.
Sign up and you will receive 10 weeks of FREE, informative content delivered by our Boxing Science experts. What's stopping you from starting the journey TODAY?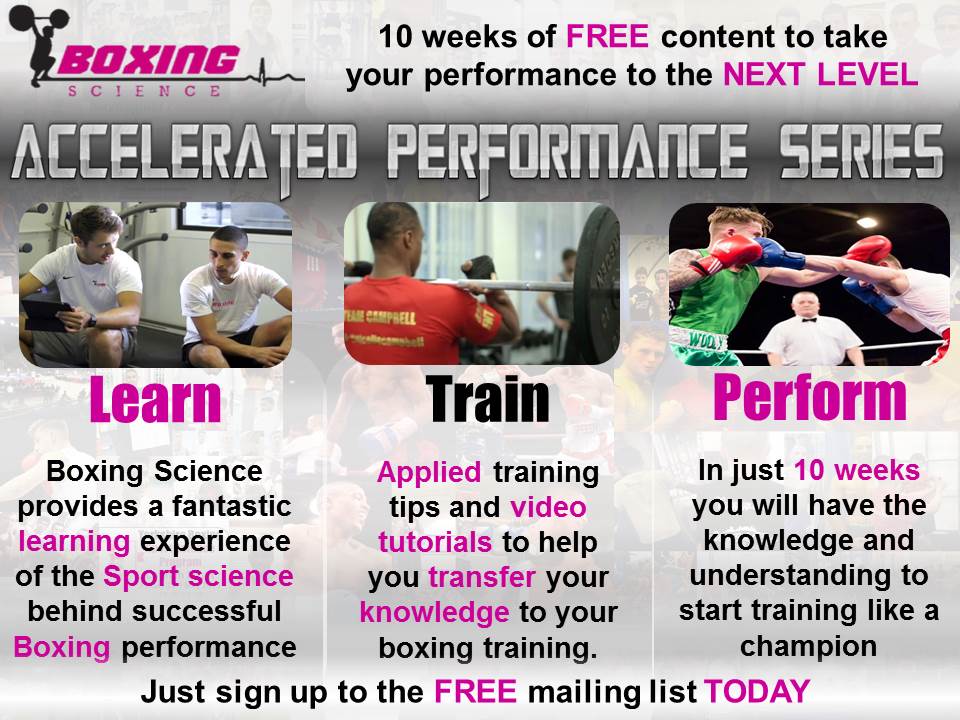 Each week our e-mails will take you on the journey of cutting edge science in boxing. Our weekly newsletter will teach you more about the principles of strength and conditioning, physiology, psychology and nutrition.
We will also send you updates on how our boxers are progressing on the program
What you are signing up for
Accelerated Performance Series – weekly newsletter consisting of scientific topics in boxing from our team of experts.
Boxing Science mailing list – weekly updates on the progress of the Boxing Science program.
Exclusive discounts – Save £££'s on our products launched later this year.
More FREE content on the way – webinars, presentations, programs and demonstration videos.
Our promise
We are an honest organization that puts our most loyal readers first. We promise that our e-mails to you will be the best quality and will be worth your time, everytime! We will keep you updated on a regular basis, however will not e-mail you for the sake of it and overload your e-mail inbox.
We promise not to send you any junk or spam e-mails, we have the best intentions to give the readers a great experience with Boxing Science.
Fill in the boxes below to Accelerate your Performance TODAY.