Whyte vs Povetkin – The Matchroom Fight Camp Review
After 3 successful shows at the Matchroom HQ, it was finally time for the big one.
We had the long awaited rematch between Katie Taylor and Delfine Persoon, Dillian Whyte's match up with the older, but ever dangerous Alexander Povetkin, as well as some genuinely top quality match ups on the undercard between some young prospects.
Not only did the show round up a brilliant month of action on Sky Sports, but it also proved to us all why boxing is one of the best and most exciting sports in the world!
There were fireworks going off both outside the ring and inside the ring on this final weekend of Fight Camp.
Written by Tyler White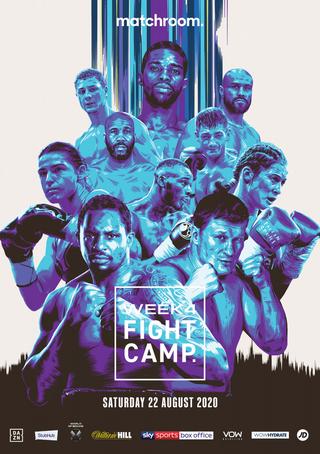 Jack Cullen Vs. Zak Chelli
Cullen Vs. Chelli was a very good match up at Super-Middleweight.
Cullen, who lost out to Felix Cash for the Commonwealth title last year, started off well, using his long levers to punch at distance, letting the shorter man come to him.
Cullen's long punches started him off well, doing some damage and causing some swelling underneath Zak Chelli's left eye.
Chelli fought back hard however, moving forwards and throwing in some hard body punches, before opening a cut underneath the eye of his 6ft 3″ opponent shortly after.
As the fight progressed, Chelli began to take over with the more dominant jab and heavier shots, looking to land that big back hand. Jack Cullen turned more aggressive towards the end of the fight, however, knowing that the fight was likely slipping away from him.
In the eyes of the judges though, neither man had done enough to win the fight and it was called as a draw after 10 hard fought rounds…
The general consensus from viewers was that Chelli did enough to win this one, but it's how the judges saw it that counts.
Alen Babic Vs. Shawndell Winters
Next up was a man known as "The Savage" – Alen Babic, who had no intentions on looking for anything other than a knockout victory, and a knockout win was exactly what he got!
There's not an awful lot to say about this one, other than the fact that Babic got Winters in trouble inside the first round, landing a barrage of big hooks stunning the American fighter and putting him down.
Winters was saved by the bell as the knockdown came at the end of the first, but Babic came out like a savage – as his nickname suggests – and unleashed more devastating punches on Winters, who was stopped in the second round.
That's now 4 wins and 4 KO's for the Croatian, who in his post fight interview called out Filip Hrgovic!
Luther Clay Vs. Chris Kongo
Clay Vs. Kongo was always going to be a good fight – two young men who had some "beef" in the build up and two fighters with solid records, both looking to get a win on a huge platform for the WBO "Global" title.
Both men had success throughout the fight, with Clay working well to the body and constantly looking to apply pressure as the shorter fighter.
Meanwhile, Kongo had more success on the outside with some sharp and slick combinations.
In the fifth round, Kongo landed a barrage of clean shots on Clay who looked to be stunned and in trouble momentarily. However, Luther Clay managed to ride out the storm and came back well in the following round.
Clay began to come back and try to assert himself more and more as the fight went deeper, Clay looking to use that edge in professional experience to unsettle Chris Kongo.
In the ninth round, however, Luther Clay was caught and put down by an uppercut turned into a left hook and the corner threw in the towel.
A great quality fight, between two talented young fighters – Clay will come again and Kongo should now move on to some big fights!
Katie Taylor Vs. Delfine Persoon
Just over a year since their controversial first fight in Madison Square Garden, New York and these two elite female fighters were back in opposite corners again.
After a week in the Matchroom Fight Camp bubble, it was time for these two to lock horns once more; this time instead of in New York, it was in Brentwood, Essex at what's become known as "Matchroom Square Garden".
Yet again, their clash of styles did not disappoint!
Persoon came to bring it with her rough and ragged style, looking to simply outwork, outland and outlast the former Irish olympian. However, Taylor had different ideas and knew what to expect this time around.
Taylor started the fight strong, landing some sharp jabs and hooks to the head and body. As well as landing, Taylor was causing damage, scuffing the face of her Belgian opponent and causing an early nose bleed too.
Persoon, tough as ever, willed her way forwards throwing barrage after barrage at Taylor. Despite the sheer volume of punches thrown, Persoon wasn't landing all that many and the shots that Taylor were landing looked cleaner and more eye catching.
Towards the last few rounds of the fight, the fatigue was evident on Katie Taylor's face, but she kept her movement going and she kept on scoring with quality shots – aiming for quality over quantity…
Persoon however, continued to march her opponent down and throw punches like her life depended on it. The Belgian looked possessed and determined to win the rematch and when the final bell rung it was hard to tell who would get the nod!
After the 10 rounds, it was Katie Taylor who scored the unanimous decision victory.
Once again, many fans believed that it should've been Persoon who got the nod, however, Persoon herself acknowledged that Katie deserved to win the fight this time around and thus, Katie Taylor remains the undisputed lightweight champion of the World.
Dillian Whyte Vs. Alexander Povetkin
In Dillian Whyte's riskiest fight to date, he took on the tough, experienced and intelligent, Alexander Povetkin.
Having been waiting over 1000 days for his shot at the WBC heavyweight title, Dillian Whyte didn't have to take this fight. He could've opted for easier opponents to face until he finally got his shot against the WBC Champion – Tyson Fury.
However, Dillian Whyte, with his lack of amateur experience, vowed to take on Povetkin as he knows within himself that he's learning "on the job" and needs to take these kind of fights to be a worthy World Champion; so all credit to him.
The first few rounds of the fight were calm and cagey, with both men trying to find their range and get a gauge of one another's power. Whyte put together some nice body punches and established his jab; whilst Povetkin snuck in a few shots to remind Whyte exactly who he was up against.
In the fourth round, Povetkin got put down twice by Whyte…
A right hand; left hook put Povetkin down on one knee and shortly afterwards, Whyte landed a short left uppercut as Povetkin stormed forwards. The short uppercut dropped the Russian contender once more, but he recovered and made it to the end of the round.
In the fifth however, Povetkin came out behind his jab, dipped to his left and floored Whyte with an almighty left uppercut that ended the fight there and then…
Povetkin had been setting this shot up throughout the fight – he sent out a jab which Whyte dipped inside of, however, at the same time the Russian slipped to his left and set all of his weight onto that side, where he unleashed that huge left uppercut, flush on the chin.
In heavyweight boxing, one punch can change everything and this knockout is proof of that!
Fortunately for Dillian, he has a rematch clause in place which means he should be able to get a rematch in December time.
The Fight Camp Finale
All-in-all, the final series of Matchroom Fight Camp was a huge success!
Each fight was entertaining and once again the pre-fight build up was brilliant.
It's strange to remember back to only a month or so ago, when we hadn't had any boxing on our screens for a long time. It's also hard to believe that we've had fights of this magnitude take place, when there's been no crowd in attendance.
One things for sure, is that Eddie Hearn knows how to put on a good show and we've really enjoyed the past 4 weeks of boxing.
There's been a lot of quality fights that we probably wouldn't have seen, had it not been for the circumstances that the world is under at this moment in time.
Hopefully now, as restrictions ease up and the World slowly gets back to normal, we will get back to seeing more and more fights and we'll get to see the boxing world return back to normal.
Maybe, just maybe, this whole situation will make promoters realise how much more fans value exciting; 50/50 fights.