Description
Everything from exercise selection, managing training loads and tapering for specific competitions…. Boxing Science have it covered in our Boxing Science Bespoke Program.
This is ideal for professional and amateur boxers, MMA and combat athletes…. or for coaches wanting to implement S&C with one of their athletes.
STEP 1 – Check out the bespoke packages on the next tab and select the option that is most suitable to you
STEP 2 – Download your 1-1 program intro + testing guide PDF, making sure you fill in the Google form provided on Page 2!
STEP 3 – For the Champ and Elite package, we will be in contact with you to see whether you need any help in performing the testing session. Then you will perform the testing session and provide the results using the Boxing Science testing Google form.
STEP 4 – Danny Wilson will be in contact within 5 days following your testing session to provide you with your bespoke program.
---
Your Coach – Danny Wilson BSc, MSc, ASCC
Danny is a UKSA accredited strength and conditioning coach with a wealth of world level experience. He has coached 100's of boxers, from World Champion professional to junior amateur boxers. Danny has an MSc in Sport and Exercise Science, and developed the Boxing Science strength and conditioning program.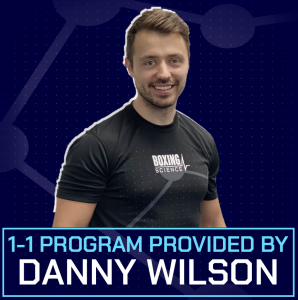 "Hi everyone, really excited to share our 1-1 online program with you. Our remote programming will help you have the Boxing Science experience in your own training environment.
We will tailor the programme to your individual needs to unlock your potential, support you when you need to adapt the programme and taper down effectively for competition so you can peak for optimal physical performance"
WATCH: The Boxing Science Champions