Post Fight Interview – Fabio Wardley
Fresh off of his knockout win against Simon Valily last weekend, we speak to Fabio Wardley, who is now the English Heavyweight Champion!
Fabio had been working with Boxing Science remotely in the build up to this fight and we're pleased to say that all of his training paid off, as he knocked Valily out in style in the third round of their title contest.
Wardley's career has not been an easy one, as he's struggled with injuries, medical issues and having fights cancelled on a regular basis; but with hard work, commitment and a burning desire, he's won his first title and is making big moves in his career.
He has only been involved in boxing for the past 5 years, gaining no experience as an amateur and only having four fights in the unlicensed game before transitioning to the pro's.
To find out how Fabio feels about his performance at the first of the Matchroom Fight Camp shows, to get to know how he's been training with us at Boxing Science and to find out what's next for the English Heavyweight Champion, be sure to read on…
Written by Tyler White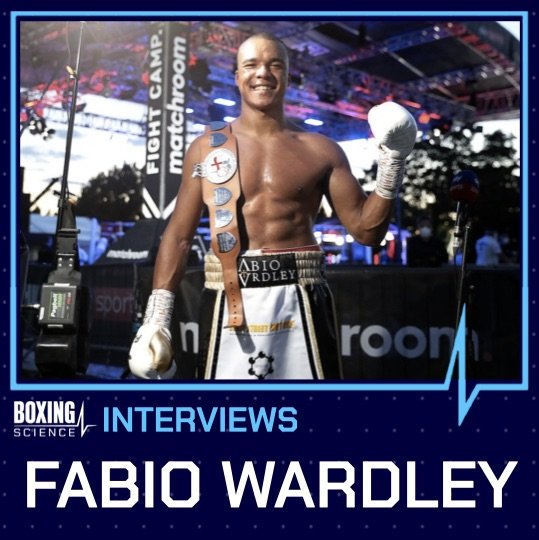 How are you feeling after your win this past weekend & how does it feel to have your first title?
Yeah I feel really good; I'm still buzzing and it's all still a bit surreal! I suppose it hasn't completely sunk in yet, but it is slowly.
I really feel like I've done something big and hit a milestone, not only in my career, but in my life as well.
It's really the first step towards bigger things, so I'm really happy with what I did and I'm excited for whatever's to come next!
How did you think the fight itself went?
Yeah, it all went pretty much to plan. Before the fight I did a few interviews and said I'll take a round or two just to get in there, get moving and relax, find my rhythm and look for some gaps.
I went back to the corner at the end of the second and said "I know what do now" and then I went out in the third and I stopped him; so yeah it all went to plan.
You've been training with Boxing Science for this camp, what's that been like & what are the stand out features of the program you've been doing?
Yeah, I worked with them for this camp and did so remotely as they're based pretty far away from me and obviously lockdown stopped any chance of working together in person.
However, I took a trip up to visit them earlier on and did all the fitness tests and measurements, etc. so that they could plan accordingly.
It's been really good training with them for this camp though and as boxing becomes more and more scientific with fighters preparation, it's nice to have someone in your corner who knows exactly how to manage all that side of things.
Otherwise you can end up doing too much or too little in camp and working with Boxing Science just takes the guessing out of it.
It all ran very smoothly, I felt confident with it all and there was always someone on the end of the phone to run through things with me if I had any questions.
Another thing that stands out for me is their ability to pick functional exercise that transfer over and into your boxing ability, they have so much knowledge on how everything works and how specific exercises benefit you in different ways.
What was the whole fight camp experience like?
Compared to anything else that I've ever been involved in, with all the pre-fight build up and that I was very, very different, but it was enjoyable!
Everyone was buzzing as we'd all been away from boxing for so long, whereas before lockdown there was pretty much a boxing show every week and you're seeing all these faces regularly.
So I think it was good for everyone to get back into the mix and the flow of things. Besides, the fight camp facilities and set up was really good and it was just a good place for everyone to be.
How did you feel in the ring with no crowd there?
You know what, I thought it might feel a bit weird but it really didn't once I was in there. It didn't really do anything for me or take anything away from me…
To be honest though, I'm not really one of the fighters who uses the crowd to get them going – I can do that on my own.
It didn't really take anything away from me and I'm still in the early part of my career so I've not really had many occasions where I'm boxing in front of loads of people anyway.
How do you think your work with Boxing Science benefitted your performance on Saturday night?
I just felt so well-rounded! I felt good, light on my feet, really sharp with my punches and really strong…
I weighed in at my career lightest, but I felt the strongest, fastest and best that I ever have. I just felt like I was firing on all cylinders – it all felt like it was working perfectly.
I think that's a combination of the program being so good and also because of the rest days being put in, to give you that little boost in your body so that you're not completely broken down by the time it gets to fight night.
I know it's early days, but what are your plans now; moving on from this fight?
I just want to stay busy! Before the fight on the weekend I hadn't fought for a year; so I've missed out on that ring time and that experience, so I just want to make that up really.
I'm going to give my body a few weeks rest, because I haven't stopped training all year, despite the lockdown, as the fight was originally scheduled for the beginning of the year and then it got cancelled before being rescheduled.
After my rest, hopefully I'll be out in about September time.
What was your perspective on S&C before working with boxing science? And how has that changed?
I had a different S&C coach before, who I worked really well with; we did a lot of volume work and it was good. It helped me to build a good foundation; which then meant that my work with Danny flowed really well because I had good form.
Since training with Danny though, I've learned to look at my training as a whole.
I never used to take specific rest days or structure things quite as specifically as we do now, but stepping back and learning these new things has refreshed my training and taking rest at specific times means that I'm fresher and sharper when it matters most!
How was your program adapted for lockdown?
Luckily I'm the sort of person who is quite self motivated and I don't need someone there to get me out of bed or get me to the gym; I can do that myself.
As long as I have a plan, I'll go out and do the work; so luckily I had my plan and lockdown didn't stop me from putting in the graft.
We did it all remotely, which was easy enough and it worked really well. We did weekly catch ups and things just to check in with how it was going too.
In terms of adapting the program, the only thing that needed adapting was my running as I ran our treadmill to the max; so we just had to play about with my running intervals to fit the situation!
What are your favourite and least favourite things about the program?
My favourite bits were the deadlifting sessions. I quite like the trap bar and lifting heavy; it's especially nice as you get to see the results from where you start and where you end up at the end of camp.
I think by the end of it, I was up to about 230kg for 2 reps which was a good improvement from where I started!
In terms of what I didn't like, that's the same as always, it's the running sessions for me. It's one of those things that you hate, but you've just got to get done…
Danny sent me some sessions and I'd be like "You're literally trying to hurt me here, this is a spiteful session!"
I'm always interested to hear about the importance of rest, how do rest days fit into a typical week of camp?
So usually I'll have Sunday completely off; totally resting and that sets me up fresh for the week.
I'll train hard on Monday; then have a lighter day on Tuesday, predominantly boxing and some light S&C work that doesn't really take much out of you.
Wednesday is a complete rest day, which then sets you up nicely for the Thursday which is a very hard day of training!
Then on Friday, I have a session which is easier – more technical boxing work and light S&C that doesn't take much out of you, before having another heavy day on Saturday.
I think that in my past I was probably over-training a bit, my body was worn out part way through camp and it's hard to sustain anything when you're like that.
Would you recommend the Boxing Science program to other fighters?
I'd recommend it to anyone. I can't see any negatives to it at all. There's so much depth, detail and advice that they give…
I'm quite annoying – I like to know why I'm doing what I'm doing and I like to know how it works, but they always have the answers and at the end of the program you feel great, look great and perform great too!
With the second of the Fight Camp shows coming this weekend, what fight are you most looking forward to?
Probably the Chris Billiam-Smith Vs. Nathan Thorley fight!
I really like watching Chris, I've watched him on a few occasions and I like how he boxes, he's got a good style.