Matchroom Fight Camp – Week 1
At last, boxing was back on Sky Sports, four months after the UK was halted in its tracks and lockdown was announced. Boxing was back, almost as if it had never gone away in fact…
For fight fans, that familiar sound of David Diamante announcing the fighters as they made their way to the ring was like a warm welcome home.
The iconic voices of the commentary duo: Matthew Macklin and Adam Smith, reminded you of what the world was like not so long ago.
It was just like pre-lockdown days, but with a vastly different atmosphere, an unusual silence and a shed load of face-masks and face visors.
Despite the change in circumstances and the eerie aura of a pretty much empty open air arena, it didn't seem to affect the fighters, if anything their eagerness to get back into the ring probably put them more "in the zone" than on an ordinary fight night.
Here's our breakdown of the first of four Matchroom Fight Camp shows…
WRITTEN BY TYLER WHITE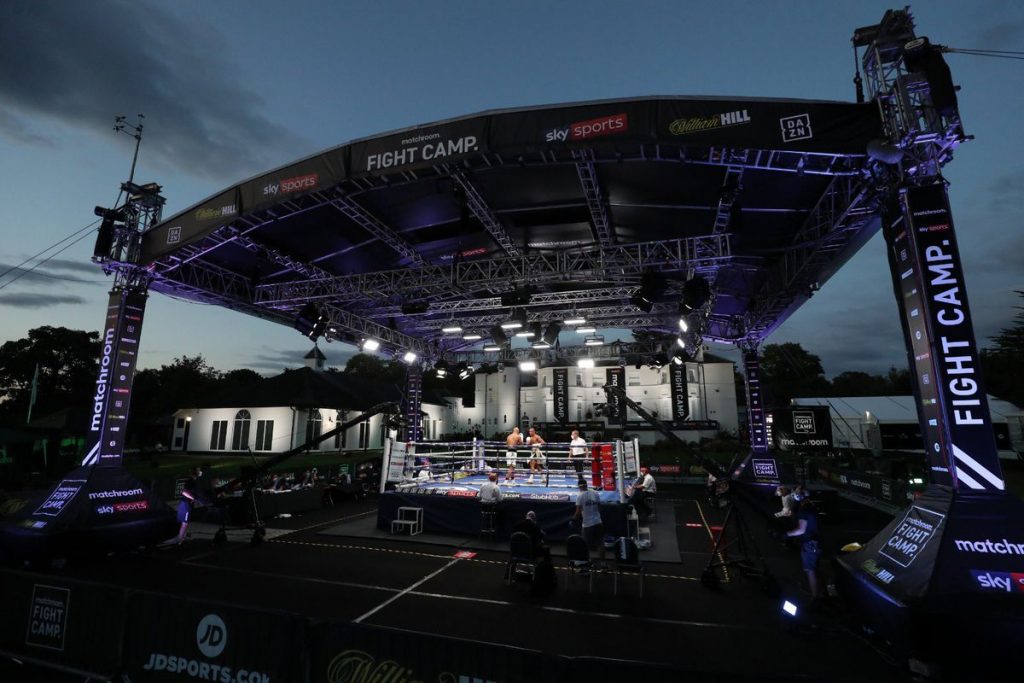 Jordan Gill Vs. Reece Bellotti
Jordan Gill is one of the fittest and most determined athletes that Boxing Science have ever worked with and it showed in the ring on Saturday night!
Reece Bellotti is not a fighter to be taken lightly and Jordan handled him almost perfectly. He was nimble on his feet, sharp with his punches and never let Bellotti set himself – Gill was constantly firing out accurate jabs, slipping shots and turning his man.
Jordan established his jab early, boxed to orders given to him from Dave Coldwell and came out victorious – scoring a clear; unanimous decision win!
After almost 12 months out of the ring and a difficult 15 months or so, Jordan looked fresh, focused and determined to continue on his journey to becoming a World Champion.
Dalton Smith Vs. Nathan Bennett
Former GB Podium Squad start – Dalton Smith – was involved in the second contest of the evening against undefeated Liverpudlian prospect: Nathan Bennett.
Bennett came out with a point to prove and made it obvious from the get-go that he wasn't here for any other reason than to get the win. A confident start from Bennett was dented slightly, as he was hurt at the end of the first round; however, he got through the round and made it back to his corner.
Smith, who fights out the the Steel City gym in Sheffield, showed glimpses of Canelo Alvarez in the way that he threw certain punches, in the way he held himself and in how he moved.
Dalton Smith boxed patiently and was rewarded handsomely, as he landed a right hand bang on the button, knocking Bennett out in the 5th round.
Fabio Wardley Vs. Simon Valily
Third on the bill, was a fight for the English Heavyweight title, between former unlicensed boxer Fabio Wardley and the very experienced Simon Valily!
Fabio has been training remotely with the team at Boxing Science in the build up to this fight and his power and explosiveness was definitely showcased throughout the contest.
From the get-go, Wardley was stinging out sharp and fast punches, beating Valily to the punch on almost every occasion.
He was moving around the ring with perfect balance and relative ease; surpassing many peoples expectations of a boxer without any amateur experience.
Wardley remained focused, composed and relaxed throughout the first few rounds and then in the third that relaxation opened up an opportunity for a beautiful counter left hook.
The shot rocked Valily back into the ropes on the opposite side of the ring and Fabio's killer instinct kicked in. He followed up his wounded opponent and went for the finish, with referee Howard Foster waving off the contest after just 1 minute of the third round…
A successful nights work for another Boxing Science fighter and yet another Champion!
James Tennyson Vs. Gavin Gwynne
In Tennyson's first fight at lightweight, he proved a force to be reckoned with – whilst Gavin Gwynne showed some real grit, fire and toughness throughout the brutal contest.
Tennyson controlled the pace of the fight with the relentless, come forward pursuit of his Welsh counterpart. The Irish fighter was pressing the action, slamming in body shots and trying to keep the action in-close.
Gwynne fought fire with fire on the inside and ripped up plenty of sharp uppercuts through the centre, bobbing Tennyson's head up on more than a few occasions.
In a quality domestic match-up, it was Tennyson who came away with the British lightweight strap, after stopping Gwynne in the 6th.
Impressive stuff from both of these warriors!
Sam Eggington Vs. Ted Cheeseman
The main event didn't fail to live up to expectations! It was another hard fought and close contest between two tough and determined fighters.
Despite all of the jokes about scrambled eggs and grated cheese, this fight was no joke and both men left it all in the ring after a brutal 12 rounds!
Both fighters had one-another hurt throughout the fight, Cheeseman rocked "Savage" Sam Eggington in rounds 2 and 8, whilst the roles were reversed in the 12th when Eggington almost stopped Cheeseman.
However, despite the early wobble and the late scare, neither man hit the canvas and whatever way the verdict went, one would be left feeling hard done by…
Eventually, after a very close 12 rounds, it was "The Big Cheese" who was announced as the winner and in doing so, he became the IBF International Super-Welterweight Champion.
Fight Camp – The Verdict
Overall, the first of the Fight Camp series was a stand out success!
Eddie said it was the most excited he's been for a boxing event and I think the same could be argued for many die-hard boxing fans.
It was great to have boxing back on TV and it was great to see so many quality fights too!
The whole set-up worked well and whilst the situation regarding visors and face masks in a coronavirus free environment confused a lot of us, including Adam Booth and Jamie Moore, it was good to see that the fighters, trainers and everyone involved was being well looked after.
For Boxing Science, it was a tremendous success, with both of our fighters getting great wins under their belts. It was also great for them to get a chance once again, to demonstrate their skills, especially on an event that will be remembered throughout history due to the nature of this global pandemic!
We're looking forward to seeing the next Fight Camp show and we're looking forward to the future, continuing our work with both Jordan & Fabio.