Anthony Joshua Vs. Kubrat Pulev – Fight Preview
This weekend see's the return of one British boxing's most loved fighters – Anthony Joshua.
The 2012 Olympic Gold medallist holds the IBF, WBA and WBO World Heavyweight titles and will be defending them against former World title challenger Kubrat Pulev, who came up short against Wladimir Klitschko back in 2014.
Let's take a look at the careers of both men thus far and see how these two giants compare…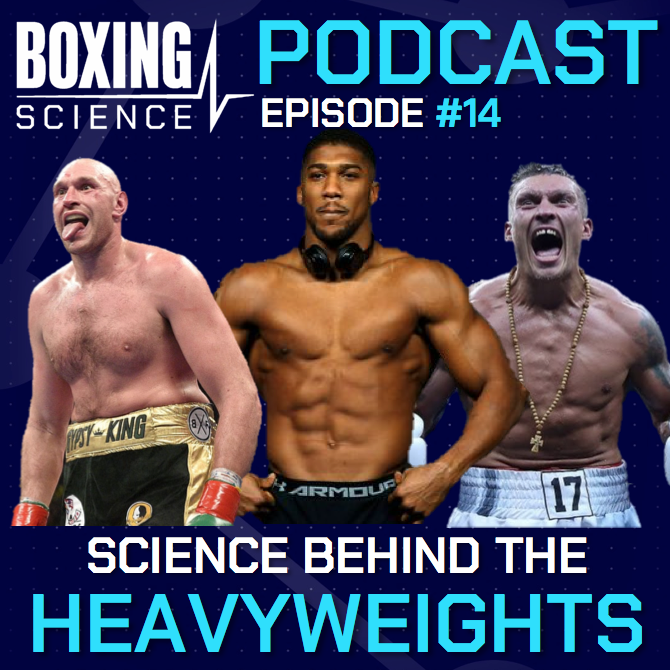 The Challenger
Kubrat Pulev, known as "The Cobra" stands at 6ft 4 inches in height and has notable wins over Tyson Fury's younger cousin Hughie, as well a win over Britain's very own Dereck Chisora.
The Bulgarian heavyweight has won the European title, as well as a number of international belts, but fell short in his only previous attempt at World honours, when he was brutally KO'd by the younger Klitschko brother back in 2014 at the O2 World Arena in Germany.
Pulev isn't the biggest puncher in the heavyweight division, especially when compared with powerhouses like Joshua. However, he does present an awkward and unique style, of which has seen him rock and rattle many of his opponents in years gone by.
The Champion
Anthony Joshua, known simply as "AJ", is currently on the path to World domination after recovering from that shock defeat to Andy Ruiz Jnr at Madison Square Gardens in June last year.
"AJ" won his titles back in the rematch and is now looking ahead to unify the division in a mega fight with "The Gypsy King" – Tyson Fury. However, Joshua has to get past the experienced Pulev this weekend, before a crack at the WBC title can even be truly considered.
Joshua will go into the ring confident of his ability to box and move after his performance against Ruiz Jnr last time around, but will also be comfortable in the knowledge that he has the power to hurt Pulev, particularly on the inside with that now infamous right uppercut.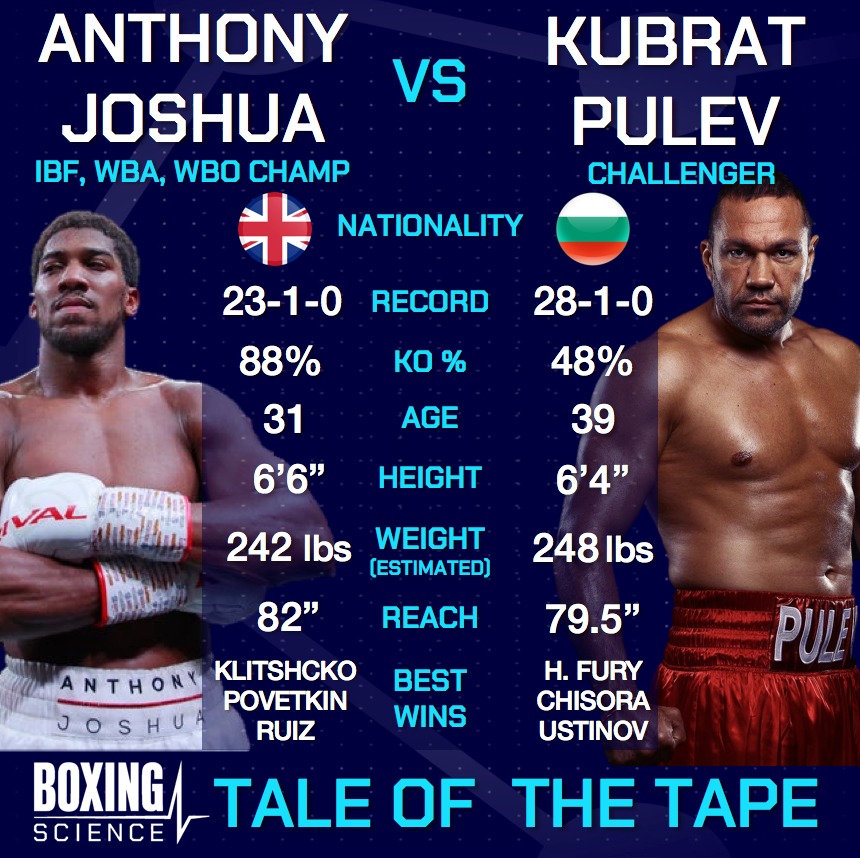 Common Opponents
Anthony Joshua and Kubrat Pulev have both boxed a few of the same opponents – let's see how their results compared:
Kevin Johnson – Joshua was one of the only men to stop the incredibly tough and durable "gatekeeper" Kevin Johnson and he did so in the second round of their contest back in 2015. Pulev beat Johnson on points only 3 years ago; Pulev's class of opponent seems to have not really improved, whilst "AJ" has been fighting quality operators back to back since 2017.
Matt Skelton – Another common opponent between the pair, this time both men stopped the veteran, Joshua however did it faster. Stopping Skelton in 2; whilst Skelton survived until the 4th round against Pulev.
Michael Sprott – the two time prize fighter winner Michael Sprott, fought both Joshua & Pulev, he retired in the 9th round against the Bulgarian heavyweight and was stopped in the 1st against Britain's Anthony Joshua.
Wladimir Klitschko – the biggest name on the list and both men had considerably different results against "Dr Steelhammer", arguably one of the best heavyweight fighters of all time.
Pulev was brutally knocked out by Klitschko's left hook in the fifth round after being knocked down four times. However, Pulev had some limited successes and did stun Klitschko with a jab in the first 30 seconds of their contest which goes to show that Pulev is dangerous…
However, Joshua holds the better result against Klitschko in what was a fight for the ages, when the British Heavyweight stopped Klitschko in the 11th round, after a real back and forth battle for glory.
Who Wins?
Both of these heavyweight fighters have been out of the ring for around 12 months, and last time out both men got in valuable rounds which due to the lack of activity in 2020 will hold them in good stead.
The quality of "AJ"s opponents over the past few years has got to give him the edge in this fight, as well as his higher KO percentage and his edge in youth. However, this is heavyweight boxing and Pulev will pose his own threats and all it takes is one shot to turn things on their head.
For the sake of boxing fans around the World and for the benefit of the sport, it would be great to see Joshua get the win and line up a fight with Tyson Fury next, but he can't look past Kubrat Pulev who is a dangerous and experienced fighter.
Despite being 39 years of age, heavyweight fighters can generally go on for longer than boxers in the lighter weights and with Alexander Povetkin showing that he's still as dangerous as ever, maybe we should be concerned about the danger of Kubrat Pulev too?
Whatever happens, we're looking forward to seeing "AJ" back in the ring, despite the lack of crowd and atmosphere in what will be a good way to shut out one very strange year…
Written by Tyler White