Boxing Science Interviews – Callum Beardow
This week we spoke to one of Boxing Science's very first fighters, Callum Beardow – former English Cruiserweight Amateur Boxing Champion.
As well as looking a lot like Shaun from 'This Is England', Callum is a tremendous athlete! Known as the "Vanilla Gorilla", Callum is now a professional boxer with a record of 2-0 who has a fan-friendly style and that's evident by the amount of tickets he can shift before a contest.
As well as being a successful amateur boxer and now undefeated professional, Callum also helps out around the club where he still trains with head coach – Brendan Warburton – at the Sheffield City Boxing Club.
Read on to find out more about the "Vanilla Gorilla" and to hear all about his career so far, as well as what it's like to work with Boxing Science since it's inception, some years ago…
Written by Tyler White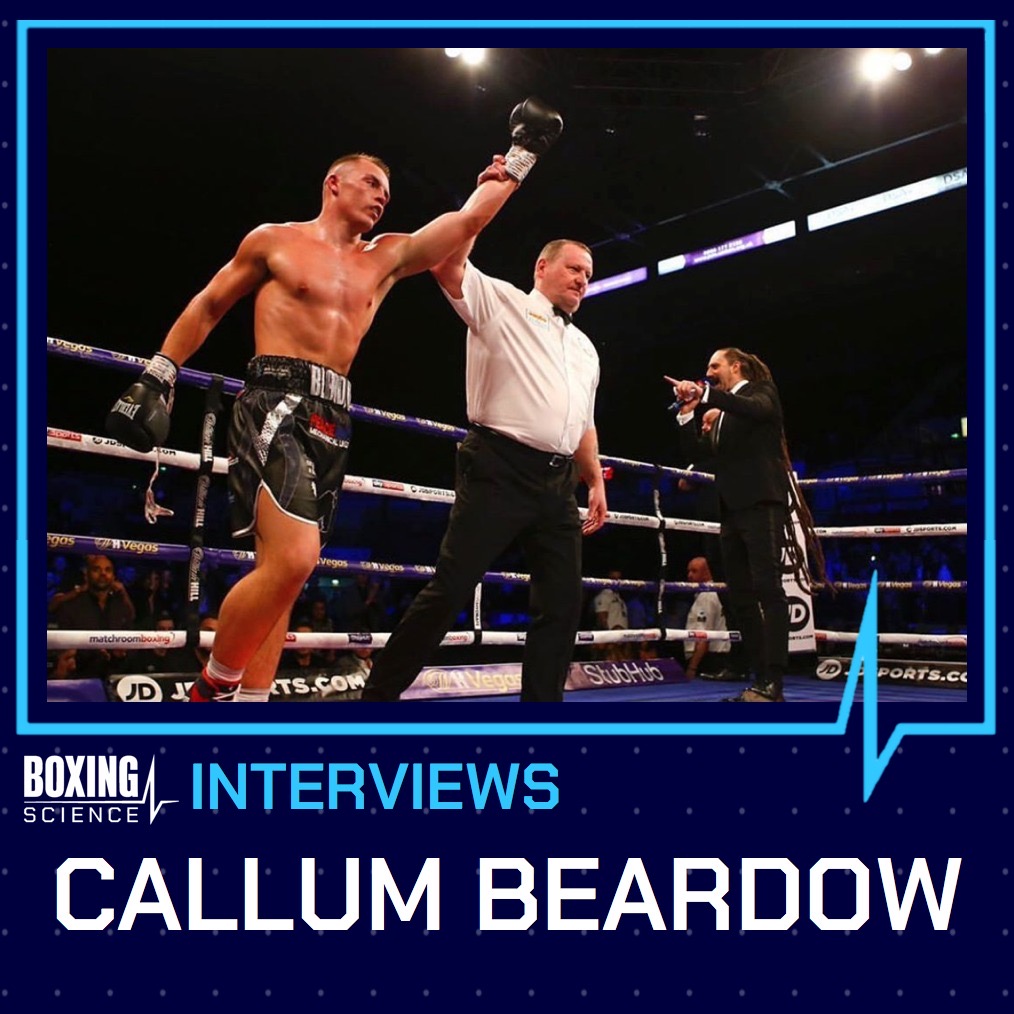 How are you doing Callum? How's training been and are there any plans for getting back in the ring anytime soon?
Yeah I've been alright thanks!
I've been back training full-time in the gym for about a month now; other than that I've done a bit at home, but it was nothing like the sort of intensity that you hit in the gym.
In terms of other fights, I'm aiming to get out again in October/November time, as we should be allowed some sort of crowds back in venues by then – so I'm just going to get myself ready for that!
We've done a little bit of sparring since I've been back, just over the last week or so, the first couple of rounds took a while to wake up but after that it was all good!
You had a successful amateur career (30W-11L) & you won an English Amateur title – how come you decided to turn Pro despite your successes in the amateur ranks?
When a kid walks into the gym, they don't necessarily know too much about being an amateur boxer. They may understand it's a part of the process and that it's key for getting experience, but you're more aware of professional boxing and for me being a Pro was always the big dream.
I wasn't really looking to compete at the start, but then I had a go at the amateurs, then realised "I'm alright here!". I dropped some more weight, kept boxing and then ended up winning a junior ABA title when I was 16; then a bronze and silver medal in consecutive years in the senior ABA's…
The problem in the amateurs was that I never got a chance to box for England.
I was in 4 national title finals, I came up short in 3 of them and won 1. It was around 6 years between winning the junior ABA title and turning over and despite doing really well during those years, I didn't get a shot at boxing for England; so I thought to myself "what am I waiting around for?"
I did think to myself that the only other thing I can really do now is win the senior ABA's, but then I realised that all it would take is one dodgy decision and then another year's gone by and it's been pretty much for nothing…
So I made the decision to turn Pro, which I probably would've done earlier to be honest but I suffered with a few injuries which halted my progress a bit!
How are you finding the transition from the amateurs to the pro's? I've seen in interviews that you're good at selling tickets; which is obviously a huge part of the Pro game…
It's good! I'm used to it now and I prefer it, you settle down on your feet a bit more. To be honest though, they changed the way they scored amateur boxing over the last few years so it's not all that dissimilar to the pro's; but it's interesting just learning to slow it down a bit.
It's not that much slower for me at the moment as I'm just doing 4 rounders, but when I'm sparring I probably do 6-8 rounds and through that I'm learning how and when to speed it up or slow it down.
It's got that bit more physicality to it as well, these guys in the pro game are well seasoned and durable. You can hit them with some clean shots, but they can get through it. Even the journeymen are tough and know what to do; so you have to learn how to beat them and beat them well.
I think you were the first face I ever saw when I first found out about Boxing Science, many years ago! You were always shown in video clips and posts performing things like landmine punches & trap bar deadlifts, what was it that first got you into working with Danny Wilson & the guys at Boxing Science?
Haha, yeah I'm the Boxing Science poster boy!
I was training down at the Sheffield City Boxing Club and Danny popped along; I think he was doing his masters degree. It must've been about 7 years ago now!
Ever since I started training with him I realised that he was the real deal. I've done work with a lot of other personal trainers, but with Danny and all of the boxing science behind our sessions, I'm learning something new every week.
It also helps give me ideas for when I'm training myself or working with other lads in the gym, but I've been with Danny ever since he came down to Sheffield City Boxing Club all those years ago and he's a good mate now!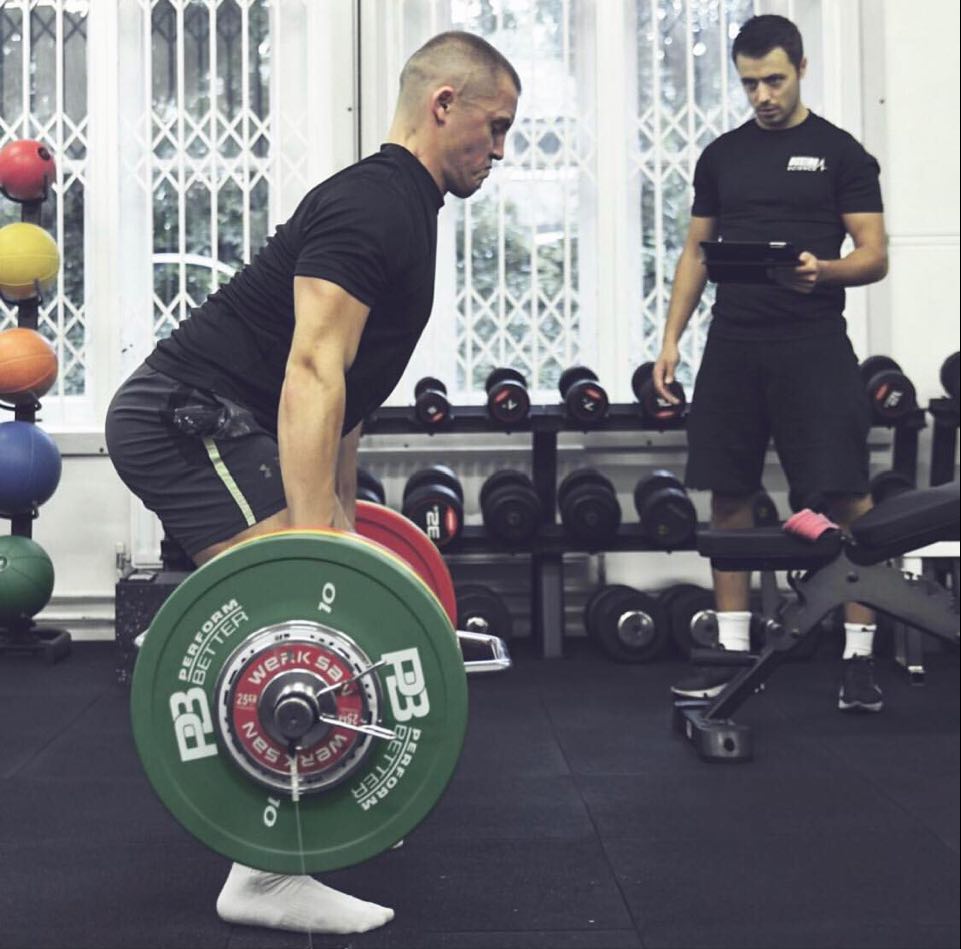 What benefits do you feel you've got from doing proper; structured S&C with Boxing Science?
Everything that I do with my S&C now, is monitored. Dan's almost like an assistant coach…
A lot of trainers might not like the idea of an S&C coach being that closely involved, but I know that with Danny, I can trust him 100%. He knows everything about my performance, he knows how much energy I've got, he understands my moods, he knows when I'm having a good or bad day.
With all that information and the data he collects through my heart rate and stuff, he can know whether or not he can or needs to push me or ease up with the intensity.
Obviously, my boxing coach knows all of this kind of stuff too, but because Dan's got all the data, he knows that sometimes if – for example – I'm feeling a bit groggy, that he might just need to give me and extra long warm up or something.
I'm in the best shape I've ever been in since working with Boxing Science. We've managed my weight perfectly and really built upon my strength & power too. I'm not killing myself to make the weight and it's given me the confidence to know that I can gradually make my way down to Super-Middleweight!
Talking of not killing yourself to make weight, do you work with a nutritionist?
Yeah my nutritionist now is Lee Rickard. He's also the nutritionist for the Sheffield United first team!
I've worked with him now for about 5 years, he helped me through my last few years as an amateur and my first years as a pro too. He's bang on, he checks and monitors my body fat throughout camp and helps me stay energised and in the best shape possible for each fight.
Dan used to do my nutrition, but we both agreed that it's better to have someone on board who does that role as a whole, rather than Dan doing both my S&C and nutrition as that way he can focus fully on the S&C side of things. It works well as I have a boxing coach, S&C coach and nutritionist to keep me on my toes!
A lot of boxing coaches are old school about it and they don't like the idea of having a lot of different people involved, but Brendan is good about it and he knows that it works well this way.
Plus, Brendan gets on well with both Danny and Lee and they all trust each other, it's nice knowing that they all want the best for me.
You walked into the boxing gym as a tubby 13 year old, so presumably you like your food! What sort of things are you eating in camp & do you give yourself days "off" the diet?
I used to try and go away on holiday once a year, but now I'm lucky to be boxing full time and to be backed by sponsors; so I don't have to work, but I still volunteer working with the lads down at the Sheffield City Boxing Club!
That means that I can usually take a little holiday straight after I box, usually within a couple of days. Obviously whilst I'm away I'll treat myself and not follow a specific diet as such!
Generally though, I train all year round and don't really have time off. Diet wise I always try and eat well Monday to Friday – as they're my training days and they always say "if you eat like rubbish, you feel like rubbish" so when I'm training I eat well and then on the weekends (if I've not got a fight coming up) I pretty much eat what I want.
In terms of actual foods I eat, there's loads: chicken, salmon, steak, wraps, peanut butter, sweet potatoes, rice… The only food I don't really eat is pasta and I love pasta, but when it's fight week I eat quite a bit of that; so it's alright!
I've seen in YouTube interviews that you've sparred with guys like Billy Joe Saunders – how often do you spar during a training camp and who are some of the best guys you've sparred with so far?
At the moment, I've not done much sparring because of the massive break due to coronavirus; but I'm doing a lot of technique work and drilling… I've been smashing a bag on my own for a few months; so I've probably picked up a few bad habits, so I'm currently just ironing them out.
It's different though, as I don't think anyone really works as intensely at home as they do in the gym, other than Jordan Gill that is… He's in absolutely unbelievable shape after his 3 months of lockdown!
Before a fight, say I've got an 8 week camp, I'll usually spar for 7 weeks leading up to the night; I'll have about 2 hard weeks of sparring about 3 weeks out from a fight and then in the last week I'll usually just sharpen up the tools and make sure I'm on the weight.
The best lads I've sparred, mmm… That's a hard one!
I've sparred with Liam Williams, Willie Hutchinson, Billy Joe Saunders, Denis Radovan, and even Hughie Fury once upon a time!
I was on an England camp and he was the heaviest guy there and I was the closest to him in weight… I was about 83-84kg and he was up at 94kg; so we did about 4 rounds together.
The best lads that I've sparred though are generally the guys from the Ingle Gym, some of the tricks they pull out are quality… I mean Liam Williams – I don't need to say much – he's an absolute beast. Obviously Billy Joe is a two time World Champion who must've hit me with every punch he threw and Willie Hutchinson is definitely one for the future, he's got it all!
What fighters inspired you to get into boxing/what fighters did you look up to when you first got involved in boxing?
That's a tough one you know, as I wasn't really into boxing before I started it! I always appreciated Mike Tyson obviously like everybody else, but I loved Ricky Hatton as well – just the type of fighter that he was!
I really like watching Carl Froch and I also really appreciated Floyd Mayweather Jr. When he beat Hatton, I was just amazed because you realised how good he was by beating a fighter like Hatton the way he did.
You mentioned earlier that you suffered pretty badly with some injuries – how vital has the S&C been in preventing a re-occuring injury and in strengthening a weak area?
I had a repeated dislocation in my shoulder and I had 3 surgeries in total on my left shoulder and now it's back to good, but I can't thank Dan enough for all his help in getting that sorted and getting that strong again.
I had a problem with my elbow last year and then I was involved in a car crash, which made things even worse. I had about 3 cortisone injections in it and then the week before my Pro debut the elbow went again in sparring; so if you watch my debut I don't think I threw one left hook as I was petrified of it going again!
I've always been back and forward to doctors with check-ups and scans on injuries and stuff, but every time I've been fixed by Dan, as he's given me stuff to help with balancing out weaker muscles. There was also an NHS physio, Val Jones who helped me massively with overcoming these injuries and getting back in the ring.
Funnily enough though, with all my injuries it's almost like Dan is the man with a crystal ball, he knows I've got an injury before I do!
I was watching a clip of you earlier on Twitter, doing "Redzone Pad Work" with your coach Brendan Warburton. How important is it for fighters to go through the gears and work in that red zone and not just work at a steady pace?
All people have their different types of pad work, we've done a lot of stuff like that for a while now! It's tough, it really is tough and it's good because pad work isn't quite the same as sparring; so you need to mix it up to replicate that sparring or fighting feeling.
You can always do technical pad work and drills, but coming up to the last week or so of a fight, you don't really learn much more. You've done all the learning in the first 6/7 weeks. Your mind's ready and you just need to get that sharpness and that extra little bit of fitness, without the sparring especially, because you don't want to be jaded in the ring.
Dan also runs Red Zone Running and any of those sessions that you do, none of them are easy, they're horrendous! I did one with Dan this morning and I felt like my head was going to explode!