Boxing Science Interviews – Leigh Wood
We were lucky enough to be joined by former WBO European Featherweight Champion – Leigh Wood – on Boxing Science this week!
Leigh had previously challenged for the British title in 2014 against Gavin McDonnell and has won the Midland Area, Commonwealth and WBO European titles all within the last 4 years.
In his most recent fights, he was involved in the Golden Contract tournament and lost to Jazza Dickens via majority decision in the semi-final after a hard-fought contest. Before this however, Wood won his quarter-final bout with a quality stoppage over David Oliver Joyce.
As well as being a very talented and hard working fighter, Leigh is also room-mates with Jordan Gill when they're both in training camp up in Sheffield; so read on to find out how Leigh gets on living with "The Thrill" and to get to know how he manages his training leading up to fight night.
Written by Tyler White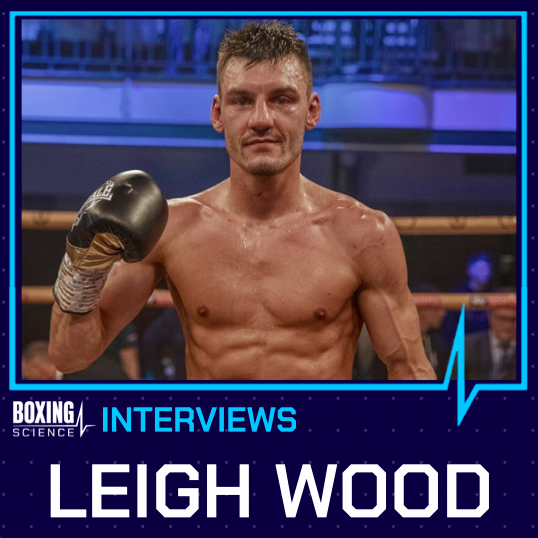 How are you getting on with your training throughout lockdown?
Yeah it's been alright! I've been training steady about once a day; but it's been nice to have a bit of a break – mentally and physically – from the fast paced lifestyle of just training constantly…
It's been nice to see my friends, see my family and just enjoy my life whilst I'm back home in Nottingham for a while.
So I'm just ticking over right now, I do shadow boxing all the time and a few runs; so it's enough to keep me fit and going through all the skills.
Having been boxing for many years now, what was it that first got you into boxing?
To be honest, I just used to go boxing with my brother and his mates and one of their mum's used to take us up to the club and drop us off.
Eventually though, everyone just stopped going and one day I turned up and none of of my brothers mates were going; but she gave me a lift and from there I just kept on going every week.
For me, it was an addiction.
The boxing itself was fun and challenging and I really enjoyed it; so I kept it up!
I started boxing at the Phoenix Amateur Boxing Club too, which is the same place that Carl Froch used to box and a lot of other good fighters too; so I was in a good gym.
As a Professional fighter, who do you have as part of your training team?
I've got my head coach – Ian Grant, along with Sam Wild who obviously do my boxing work in the gym: pads, bag, overseeing shadow boxing, etc. and they also help me out with my track running. I also have my manager Dave Coldwell of course.
I've had things like nutritionists on the team as well at points, but in the end my nutrition and diet was something that I took over and started doing myself.
I've been to college and studied sport and have done a lot of other courses in sport as well and at the end of the day for me, it became about experience and having prepared myself time and time again, I thought it was best off kept in my hands.
The way I see it, is that nobody is going to understand exactly how hard I've worked or what kind of foods I feel I need. Also, as I've said, I've got a lot of experience doing this sort of thing for years, so for me, it works out pretty well!
Your last fight was in the semi-finals of the Golden Contract tournament, do you have any idea when you'll be out next?
Yeah, I think they're looking at getting me out at the end of September to the beginning of October at the latest. They're looking at doing the Golden Contract final; so I'll be on that one!
I should be boxing for third place against what should be Tyrone McCullagh; a good fighter – tall and rangy; so it's not going to be easy but I believe I can beat him.
I'm just looking forward to getting back in there, doing what I do best and getting myself in line for another title hopefully.
As we mentioned the Golden Contract, what were your thoughts on the tournament and the idea of it as a whole?
I think it's great! It's a great structure and I wish it had come around a bit earlier. I remember waiting around for fights and getting promised bouts in the past; but then people would pull out time and time again and for me that's the worst part of boxing – the politics side of things.
If they had these sorts of tournaments more regularly and at a number of different levels, like Area, British, European and then stepping up to World title level, it would give fighters a lot more chances and that's all that fighters want – opportunities…
Sometimes fighters come through and they pick and choose who they fight, trying to find an easy route, whereas these tournaments will give people a real chance and as I said before, a real good opportunity.
It's been very popular as well, all of my fans personally loved it and the format itself of not knowing who you're fighting is really exciting too!
I've seen a good few interviews with you over the years & the first part of your career was once "in no man's land". That all changed when you signed with Dave Coldwell though, what was it that made you realise that your career wasn't really going the way you wanted it to?
I always knew at the Ingle camp that it wasn't quite going the way I wanted it to go, but I'm a very loyal person; so I was just kind of holding out and waiting for things to happen… The training was so good up there as well, that I didn't really want to leave!
I probably stayed there longer than I should've done as I just wasn't getting the opportunities that I was promised, but as soon as Jordan left he got a title shot near enough straight away and that just opened up my eyes really.
It made me realise that I had to get out of there sooner rather than later, as time was ticking and I wanted those big opportunities for myself.
It was after I realised how quick things had turned around for Jordan, that I decided to move and sign with Dave Coldwell.
In fact, I think I got my commonwealth title shot within the same month that I'd signed; so I was finally in a position where I was guaranteed those opportunities I'd been wanting…
I never really wanted to leave the Ingle Gym, I wanted to start there and retire there, but obviously when Brendan passed away that was a big blow and nothing was ever quite the same, as he'd took me under his wing.
I loved the set up, I loved the training, but management-wise it just wasn't working for me personally.
Looking back at your record, you've won 3 titles in the last 4 years, are there any plans to possibly try and get another shot at the British title or will you look to push on straight to world title level?
I would love another shot at the British title, it's always something that I wanted to win and I still do want to win that and win it outright.
However, if I can't get a shot or if I'm waiting around for too long, then I probably would move on and you never know I could potentially come back for it at a later date!
Let's see what happens and see what Dave's got planned for me – I've got this fight on the Golden Contract tournament for third place; then we'll see where I'm at.
With your next fight coming in the not so distant future, what does a typical week of training look like for you when you're in camp?
I start camps at different levels of fitness; so the first thing that we do really is see where I'm at.
For the Doyle fight for example, I was already pretty fit going into that camp as I'd gone into training a couple of weeks after my fight against Abraham Bonsu – but when I've not got a fight scheduled in, I like to tick over and stay training all the time anyway; so my base levels of fitness are always pretty high.
From this "tick over point" I generally have about 10 weeks and I'll train around 6-9 times a week and we base each session around how fit I am. So we won't be putting the pedal down and flooring it, having hard sessions all the time or else you get nothing out of it…
We adapt it to how fit I am; so some days we'll go harder, but then we might lighten up the intensity the day after. One of the best things about Ian Grant, as a trainer, is that he knows when to push me and also when to ease up a bit and when to rest.
I think a lot of fighters overtrain and over training is often worse than under training – if you tell that to a fighter, it's in one ear; out the other, as they just want to work as hard as possible and leave no stone unturned – but if they've left it all in the gym and done too much, then it shows in their performance.
As part of your camps, I believe you do a lot of running work; how do you structure it all?
What we do, is we start off just using treadmills at the beginning of camp and then progress onto the running track afterwards…
We use treadmills until we reach a certain level of fitness; probably to around 80% fitness, where we're doing the runs at the times we've set out fairly easily. On these runs we get up to about a 2.5% incline at 18-19 km per hour.
Once we get to that sort of fitness, we then head on over to the track, which is usually just before mid-point in the camp and then we push these running sessions up until the final 3-4 weeks of camp, where we then transition all our big runs into sparring.
With your running sessions in mind and transitioning from them to sparring sessions, am I right in thinking that you don't spar all that much in camp?
No I don't like doing a lot of sparring. All of our spars are 3-4 weeks out from fight night normally; so we spar about twice a week for those 3-4 weeks.
I know that's quite rare and a bit unusual, as most fighters spar a lot and do so every week, but I just think that the more I spar the worse I usually am!
The thing is, I like to be fresh minded and have lots of energy and enthusiasm mentally; so that I can try new stuff.
If you're sparring all the time, I just feel like you're going through the run of things and you don't actually put much imagination into your work; so you don't try as many things.
What I like is getting my fitness up on the treadmill runs, then the track and once I've done all that, I get that extra bit of fitness in from sparring. Those few weeks help me sharpen up physically & mentally and it allows me a chance to work on my game plan; then it all just comes together.
Using sparring to get fit is probably one of the worst things you can do as you're going to get into bad habits. Sparring should only really be done when you're already fit, as a means to practice things and work on your own style.
You speak about working on your own style, what kind of fighters do you admire/aspire to?
I try and be as original as possible; but I do like fighters who have that flair and who are exciting to watch…
When I was growing up I used to watch a lot of Erik Morales; I'd always watch the trilogy of fights between him and Barrera – I have that one on DVD!
I really liked Johnny Owen, Prince Naseem – who was the reason I went to Sheffield in the first place. Obviously I watched Carl Froch right from his amateur days too, until he was up there winning World titles, so I think he's been a massive inspiration too – especially being that we're both from Nottingham.
For those reading who don't know, you live with Jordan Gill when you're up in Sheffield – what's he like to live with!?
It's good you know! There's 3 of us that live there: me, Jordan and Leo D'Erlanger. Leo can be a bit of a pain in the arse, but me and Jordan are very similar so he's easy to live with!
It's just like brothers, we all bounce off each other, have a good laugh and it's a real good little set up.
It's good living with people that are doing the exact same thing, as you know that they're there for the same reason as you, but if I was at home back in Nottingham it would be hard as my mates are just a phone call away.
They can invite me out for food or a few beers and obviously being a fighter with a fight date scheduled in, you can't go out and eat let alone have a drink!
Also, you shouldn't be having late nights and you can't really be too sociable, mixing with people all night – rushing here there and everywhere…
We get our training done, rest properly, put our feet up and get in bed nice and early, ready to get up for training early the next morning.
Like I say though, doing the exact same thing as one another makes life a lot easier as you've got no real distractions and don't feel like you're missing out!
You're clearly a big advocate of resting properly and not over-doing things, particularly sparring… How important is rest and recovery to you and why?
Recovery is very important, especially on weekends!
If you put a real good shift in of training, then you get to the Friday and quite often you're feeling a bit flat…
Most fighters train Monday to Friday and use the weekends as rest but really they're out running around everywhere, trying to make up for the social life they're missing out on due to being a fighter!
Really though, those 2 days want to be properly resting, chilling out and getting ready for the week ahead. Those 2 days aren't really enough to let your body recover if you're running around all the time. If you're doing that then you won't get the most out of your next week of training.
I think as well, as I've gotten older, I've realised that it's not all about putting your foot down and training as hard as you can each session. Your body can't handle that intensity and really you've got to listen to your body and push it when it needs to be pushed, but other days reign it in a bit or take a days rest.
It's not about quantity; it's more about quality – you're better of learning something rather than just getting in rounds.
Don't get me wrong, sometimes there's sessions when you're tired and you have to push through – that's part of being an athlete – but it's important to be smart with your training and not just hammer it all the time.