Boxing Science Interviews – Jordan Gill
This week we caught up with former WBA International Featherweight champion – Jordan Gill – who is in camp; training for his next fight on August 1st.

Jordan will be boxing on the first of four shows billed as the "Matchroom Fight Camp" series, which will be hosted in Eddie Hearn's back garden of all places!

Towards the end of 2018, Jordan won the Commonwealth title, before also winning the WBA international title early on in 2019, with both of his wins coming inside the distance.

Unfortunately, on the day of his International title defence 4 months later, Jordan had a bout of food poisoning. Being a fighter through and through though, Jordan fought on valiantly, but his trainer David Coldwell pulled him out in the 8th round.

Not deterred, Jordan came back in the later stages of the year and got himself back to winning ways, however, subsequent health issues prevented him from climbing back through the ropes again until the year had passed.

Now in 2020, amidst the chaos of Coronavirus, Jordan Gill is almost ready to get in the ring again in a quality domestic match up with Reece Bellotti.

Find out what he had to say about his training throughout lockdown and read on to get an insight into a professional fighters day-to-day routine.
Written by Tyler White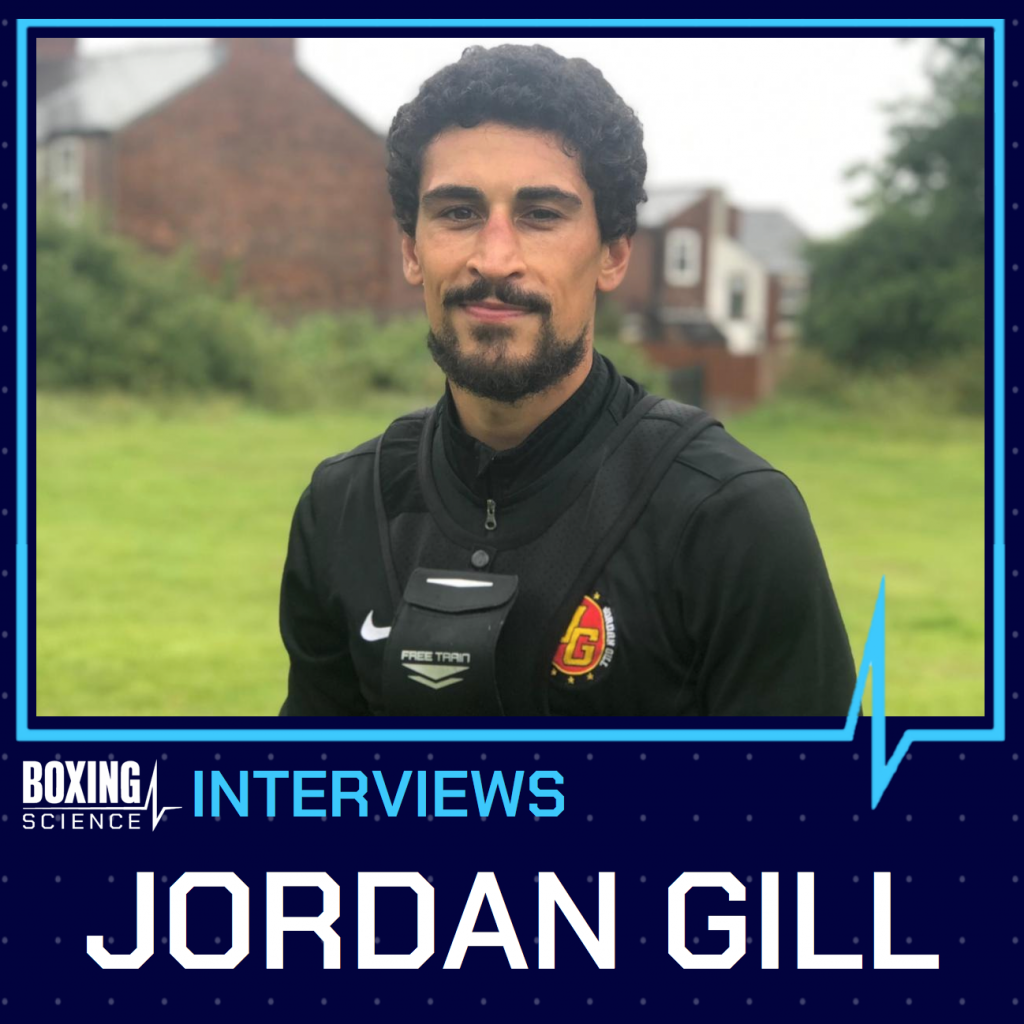 How has training been for you during lockdown? How much/what has changed for you regarding training & fight preparation?
To be honest it's actually been really good. The team and I have really adapted well to the circumstances and it's been nice as well to be able to relax at home between sessions, as I'm usually not at home during camp.

Dave has been really good and he's been doing FaceTime sessions with me and my dad so we've still been getting the technical work in.

As for the S&C side of things, Danny has done the same, we did a lot of work via FaceTime – 4 sessions a week in fact, but just like Dave adapted his training so did Danny and that's what's so good about the team around me is that we've all been able to adjust and adapt; I'm not sure how well other people have handled the situation but I think we've done well!

I also invested in some equipment to use at home as the very beginning of lockdown and that was a good move; but even if I hadn't I know Danny would've been able to adjust my S&C accordingly.
How long have you been training in the gym again for now?
About 3/4 weeks and I've been sparring too, with the other lads in the gym – Hopey Price and my room mate, Leigh Wood.
Who is involved in your training team & how do they contribute?
I've got Dave Coldwell, who's my trainer and head coach, he does pretty much everything, he sorts out sparring, structures my sessions and tells me when I'm doing things well and when I'm doing things wrong.

Then you've got my old man, he's basically my assistant coach – he holds the pads and wears the body belt sometimes!

We then have the S&C guys; so Danny Wilson who designs all of my Strength & Conditioning sessions and the whole programme. He creates the S&C programme to work around my boxing programme so it all works out really well.

I generally do 2x strength sessions per week and 3x fitness/conditioning ones.

I also have Scott Robinson on board for the nutrition side of things, he's the best in the business and a key part of the team.
How important is nutrition? What are the main foods that you eat during camp?
The nutrition is really important, in fact it's key. As I said, I've got Scott Robinson on the team to manage the nutrition side of things and he always creates a meticulous and science based plan for me to follow.

In terms of what I eat, it always varies, but the main things are that I'm consuming fats and carbohydrates at the right times. I'm eating plenty of protein to aid my recovery and I also eat many times throughout the day.

I'm on a pretty low calorie diet to help keep the weight where it needs to be, but I'm still getting all the nutrients and things that I need.
S&C is becoming more integrated into boxing culture, how did you get into it and what are they key methods that you see as being beneficial to your performance?
So, about 4/5 years ago or maybe even longer, I saw the work that Danny Wilson and the guys at the Sheffield Hallam University were doing with Kell Brook, I saw the benefits that he was getting out of it and said "that's going to work for me".

All-in-all, the strength & conditioning sessions and programmes have given me so much structure to work from and have helped me develop so much physically.

One of the most beneficial things for me has been all of the olympic lifting work we do, getting that heavy weight moving as fast as possible has really helped me develop physically.

Also, its all the specific conditioning work like the curve treadmill sprints – it's brutal but it really works!
I helped interview you last October on the British Boxing Talk Podcast, we spoke on there about you sparring around the World… How important do you think sparring is to the development of a fighter and what are your thoughts on the intensities of sparring?
Sparring is massive.

It's the most important part of training as nothing comes closer to replicating what you'll be doing on fight night.

You can do so much for your fitness, but it doesn't come close to the way you feel during sparring…

I don't think a fighter would feel confident in a fight if they hadn't sparred, but in terms of intensity it shouldn't always be "all-out" in my opinion, there's a time and a place for hard sparring, but you get the most out of a spar if it's technical.

Doing sparring sessions where you put restrictions in place, like you can only use your lead hand, throw 1 punch at a time, or something like that, it means you have to think on your feet and you get better through that kind of sparring.
You were ringside for the Doyle Vs. Bellotti fight in 2018. Did you see yourself boxing Bellotti a few years down the line? And if it weren't for coronavirus do you think this fight would've come about?
I always thought it was kind of done, as in the fight had passed by. Obviously he lost to Doyle that night and I fought and beat Doyle later on that year and I was on my way up, but then I had my loss and my illness which has bought me back to where I was those couple of years ago.

I'm not sure if this fight would've come up if it wasn't for coronavirus, but I'm willing to fight anyone and this was the first fight that Eddie offered me and here I am; ready to go.
I watched an interview with you talking about how your sessions are split; purely into boxing – fitness – strength. How does this help you be more efficient and effective with your training?
It's a massive help. It all works hand in hand; so I'm focused purely on one thing and I can get the most out of it.

For example if you're boxing for fitness you'll probably neglect the technique side of it a bit; it's the same with doing strength for fitness, if you're lifting for fitness you're probably using poor technique and not an optimal weight for the results you want.

So when I've done all my separate sessions, it's really good to feel them all come together when I'm sparring.

I get my sharpness and timing through the sparring and it's all complimented by all the strength and fitness gains I've got from those structured sessions outside of the boxing ring.
What fighters would you recommend for any aspiring fighters to watch/study?
Ah there's 100's, but a few names are:
Sugar Ray Leonard
Pernell Whittaker
Meldrick Taylor
Michael Nunn
Thomas Hearns
Roberto Duran
Julio Cesar Chavez Sr.
Last question Jordan, once boxing is back to "normal", what are your plans for future fights and titles?
I just want the biggest fights, the biggest belts and I want to be moving up the world rankings.

I just want to get winning and get myself back up to where I was and where I should be now, before that that loss.

However, with all that said, I'm not looking past Bellotti.

I've got to get the win on August 1st and then push forward from there.
Keep an eye out for future interviews with other fighters and in the mean time, be sure to check out all of our other Boxing Science related articles by clicking the link below!
https://boxingscience.co.uk/articles/