A Muslim athlete that is training during fasting can find it difficult to perform due to energy deprivation and dehydration. However, performance should not be the primary focus of the coach.
An athletes health and well-being is the most important to consider, especially whilst fasting as athletes can become more prone to fatigue, over training, illness and injury.
Therefore, coaches should implement different methods with emphasis on the boxers well-being. This article will share some useful tips to ensure boxers recover well, stay in shape and don't get run down.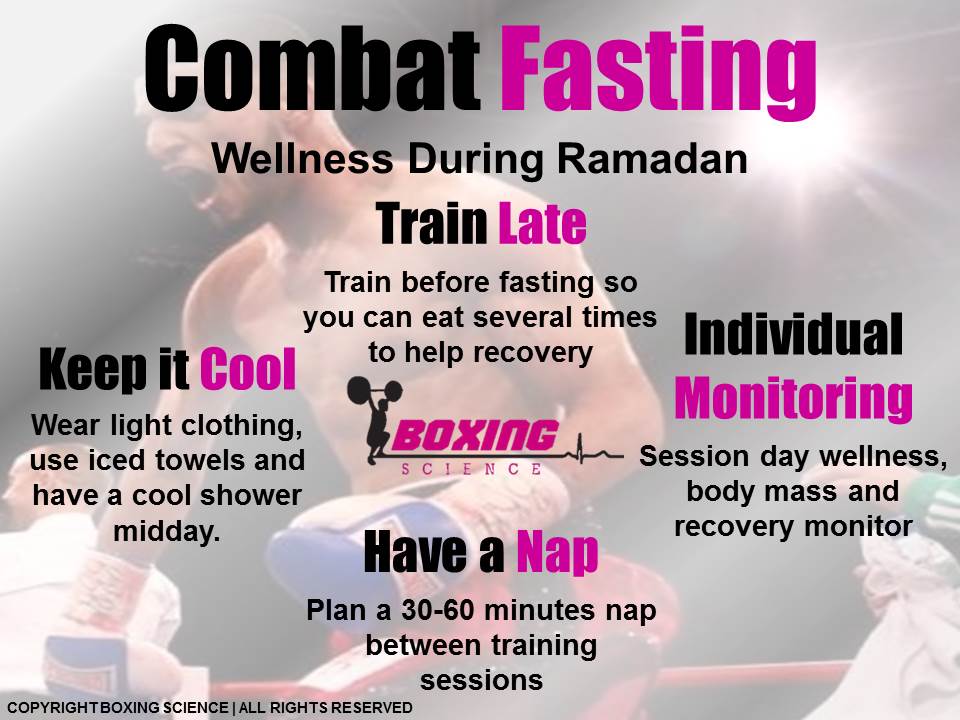 Train Late
The most common question I am asked is when should we train during Ramadan, if I am perfectly honest there is no right or wrong answer, as you are fueled up to train just after your fast or you can train just before breaking the fast to ensure recovery.
My personal opinion is to train fasted and start your session around 1.5 – 2 hours before you break your fast.
This way you can eat several times post workout to help recovery. Following a long fast and a good session your body will be craving energy, therefore the food you eat will be used to replenish glycogen stores in the muscles.
Training late in the day allows nutrition interventions after training to promote adaptations to the training stimulus, to promote recovery, and might help to reduce muscle damage.
See our recovery article here.
Have a Nap
Due to late night feeding hours, it is likely for athletes to be deprived of sleep during Ramadan. Sleep deprivation can have a number of adverse effects on well-being and performance, as physiologist Alan Ruddock explained here.
Having a 30-60 minutes nap in the day between or prior to training sessions can help the body recovery and help prevent sleep deprivation effecting performance.
Individual Monitoring
Due to the calorie deficits and sleep deprivation, a boxer is at a heightened risk of fatigue, overtraining, illness and injury. After the training methods highlighted in part 1, we can put a detailed plan in place to try to avoid this. However, we cannot guarantee it.
Therefore, individualized monitoring of athletes wellness plays an important role when training during Ramadan. This allows you to adjust the session to how the athlete is feeling so they don't become too run down.
Click here to see how session day wellness helped Sheffield Amateur Ryszard Lewicki.

Keep it Cool
Increased energy expenditure and body fluid can be lost in hot conditions. So it is best to try and keep cool through Ramadan by wearing light clothing during sessions and when indoors. You can also stay cool by having iced towels during and after training sessions to keep body temperature down. Also, a cool shower is advised over warm ones, as this is likely to increase body temperature and energy expenditure.
Enjoy our articles?
Then you should try………
Accelerated Performance Series
The Boxing Science team are proud to launch Accelerated Performance Series, our new FREE online learning program taking you on a journey to improve your knowledge and understanding so you can experience our world class training methods in your own gym.
Our weekly newsletters will be jam-packed with world-class content, sharing our methods for conditioning, nutrition and psychology in boxing. The Accelerated Performance Series will take your performance to the next level.
Accelerated Performance Series will give you an exclusive insight to our training methods with loads of free material to improve your sport science knowledge.
Sign up and you will receive 10 weeks of FREE, informative content delivered by our Boxing Science experts. What's stopping you from starting the journey TODAY?