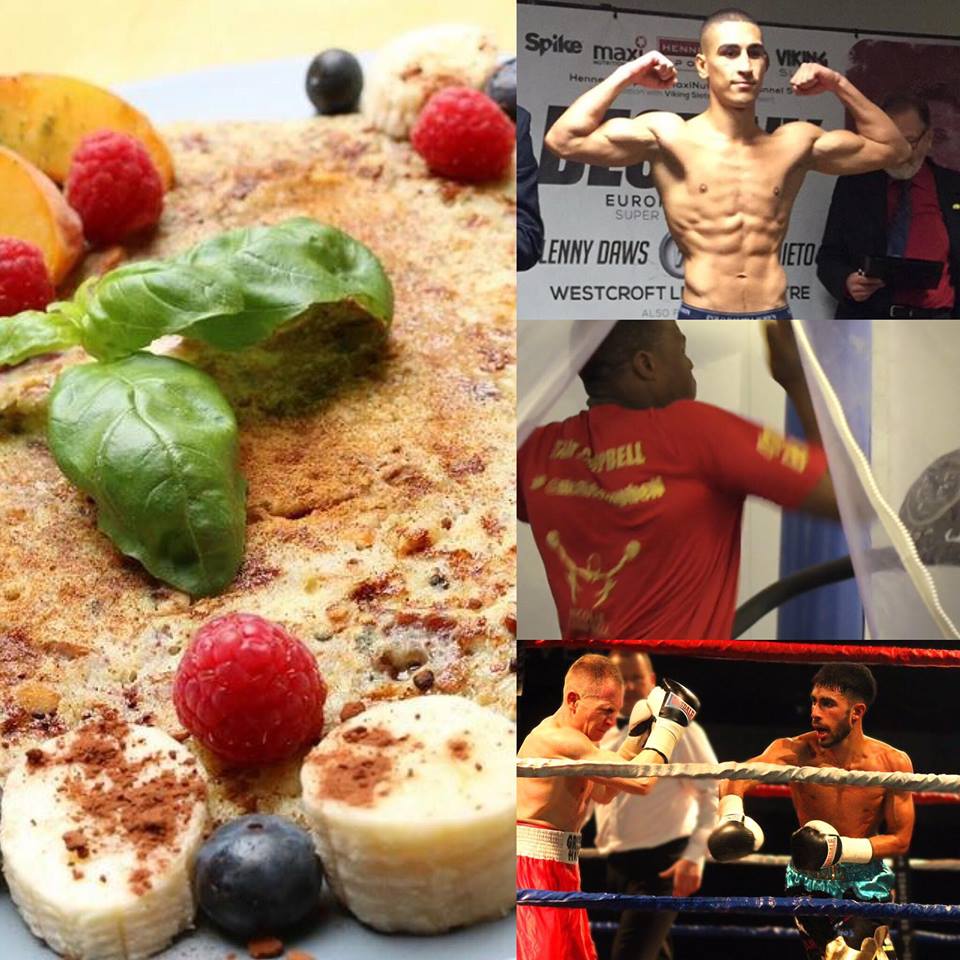 Boxing Science would like to wish everyone a happy pancake day.
All those boxers training hard and working towards making weight, you might be finding pancake tempting and frustrating. Well, not to worry, we have some healthy options to help fuel your training performance and help boost recovery.
Power up with Peanut Butter – Pre-Training
Pancake Mixture 2 eggs, 1 mashed banana one teapoon of baking powder.
Toppings 1 tablespoon of peanut butter.
Nutritional Info 339 Kcals. 26 g of Carbohydrates. 17 g of Protein. 18 g of Fat.
Pancakes for Total Recovery – Post-Training
Pancake Mixture 1 egg, 2 egg whites, 20 g of oats and one teaspoon of stevia.
Toppings Blueberries and Raspberries – a handful of each. 200 g of 0% Total Greek Yoghurt.
Nutritional Info 381 Kcals. 42 g of Carbohydrates. 38 g of Protein. 7 g of Fat.
Accelerated Performance Series – REMASTERED
The best FREE Boxing training program is BACK…… BIGGER and BETTER than ever before!
The Accelerated Performance Series – Remastered is a series of FREE weekly newsletters that will give you tips and guidance to help broaden your sport science knowledge to apply to your Boxing and Combat Sport programs. Take a look what we will cover…..
Strength and Conditioning
Athlete case studies
Physiology
Nutrition
Exercise tips
Psychology
What's so good this time?
Last year we had over 1000 boxers, coaches and personal trainers sign up to the program. We have requested feedback so we can make our service world-class. Here is what's happened as we 'Remastered' the Accelerated Performance Series
More content in a longer series
Bitesize articles with access to more information
More athlete case studies
More exercise tips and practical applications
"I have experienced Boxing Science's services as a boxer, a coach and online and I can safely say that there isn't a boxing program in the market that compares. Their programs use scientific evidence and are highly educational, that has helped me deliver better strength, movement and conditioning training for the boxers I work with
A lot of coaches are now integrating strength training into their fighters preparation, so The Accelerated Performance Series will help educate them on how to carry this out the smart and correct way to get the best results"
Shannon Lawson – Strength and Conditioning coach for MGM Scotland
Why should I sign up today?
If you're serious about success, you should not miss out on this opportunity. Whether you are a coach, boxer or personal trainer, you will gain so much knowledge from the Accelerated Performance Series.
We have spent THOUSANDS of hours and pounds on developing our knowledge, gaining experience, performing research and producing educational tools.
We are now sharing our expertise for FREE
We launch in February, and maybe you are buzzing to get started already.
To wet the appetite, we have put together a special PRE-LAUNCH BUNDLE to set you on your way…… Totally FREE!
Plyometrics for boxing webinar
Dare to be great – Kell Brook mega article
Punch Harder e-book
Leave your details below, and we look forward to sharing the journey with you