Description
A truly unique event of applied learning and practice
At Boxing Science, we have always been passionate about making an impact in boxing. We go the extra mile to help raise the standards of research, education and training practice by collecting data, sharing online content and delivering our coaching workshops.
Now we move onto a new chapter as we launch the Boxing Science Conference, the world's first sport science conference solely dedicated to boxing.
We have assembled a formidable team of practitioners that have accumulated over 100 years of experience at the pinnacle of elite sport. Over the course of one weekend, we will present ten workshops to help take your coaching expertise to the next level.
After two years of online webinars and CPD events, we can't wait to welcome you to the Boxing Science Performance Centre.
Coaching Theory and Practical Workshops
Our conference isn't hosted in a hotel conference room, but at the world-class Boxing Science Performance Centre. This will enable our workshops to be dynamic with a mix of theory and practical content, giving conference delegates a unique learning experience.
You will learn the science and application of a range of subjects, including advanced strength training methods, how to prevent upper-limb injuries, how to implement high-intensity conditioning training sessions and much more.
Roundtable Discussions and Q+A Sessions
Our motivation for the course is to provide a unique learning experience. We want it to be practically applied, interactive and bespoke to your current learning needs.
This is why we are hosting roundtable discussions and Q&A sessions on both days with the speakers.
There aren't many occasions where you get a collection of the leading experts in one place, so this is a fantastic opportunity to advance your knowledge and improve your practice.
VIP Pass + Pre-Conference – Friday 1st April
If you've ever attended one of our workshops, you'll know the energy from like-minded coaches connecting and learning with each other is off the scale. We believe that our courses are not only great for learning but also fantastic for building your coaching network.
We have organised the pre-conference to give you an opportunity to meet other coaches, as well as take part in workshops to extend your knowledge outside of the gym. This includes psychology, social media and business strategies, as well as a practical demonstration from PowerBreathe.
We'll also be hosting 'A Champions Mindset', a live interview with a world champion boxer and discuss their career, approaches to training and competition.
The pre-conference will also include workshops, free giveaways and refreshments. Please see the next tab for more information.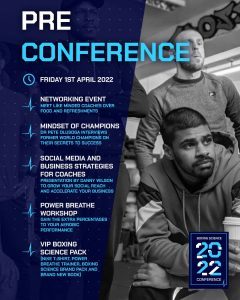 ---
World-Class Speakers
Dr Duncan French
Globally recognised as a leading expert in high-performance sport, Duncan has 24 years of experience working with elite professional and Olympic athletes. Presently, Duncan is the Vice President of Performance for the UFC Performance Institute. He is responsible for directing performance interfaces to approx. 600 UFC fighters globally, as well as managing two state-of-the-art high performance facilitates in Las Vegas and Shanghai. Prior to joining the UFC, Duncan was the Director of Performance Sciences at the University of Notre Dame, as well as working in professional football and integral part of three Olympic cycles for Team GB. As a researcher, Duncan has authored or co-authored over 60 peer-reviewed scientific manuscripts and nine book chapters and is the co-editor of the NSCA Essentials of Sport Science textbook.
Duncan will be presenting on his practices at the UFC Performance Institute over a LIVE online presentation and will be available for a 30 minute Q&A session.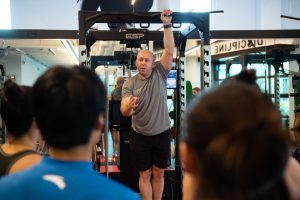 ---
Danny Wilson
Danny is a UKSA accredited strength and conditioning coach with a wealth of experience in high-performance sport, coaching 100's of boxers of all ages and abilities, from junior amateur to world champion professionals. He is the co-founder of Boxing Science and has spearheaded the development of Boxing Science into a world recognised organisation, with over 350k social followers and thousands of training programs sold worldwide.
Academically, Danny has a BSc (Hons.) and MSc degrees in Sport and Exercise Science, co-authored on several peer-reviewed articles and including 'Physical profile of junior and senior amateur boxers' – which validated the Boxing Science Testing Battery. This testing battery has been completed by over 300 professional and amateur boxers, creating standardised scores for strength, speed and fitness over multiple weight categories.
Danny will be presenting…
Social Media and Business Strategies for Coaches
The role of an S&C coach has evolved over the years, and a lot of freelance S&C coaches are developing their own online businesses. Sharing exercise videos and educational content may sound easy, however, coaches have to battle against algorithms, capture attention and stand out from the crowd in an ever-growing market.
To put it into context, there are over 480 million posts using the #Fitness hashtag on Instagram.
Without any formal training in social media, Danny Wilson has built a significant online presence. Boxing Science has 300,000 accumulative Instagram followers, 35,000 YouTube subscribers and over 1 million website page views per year.
In this workshop, Danny will share social media strategies to build a brand, grow your online audience and present his thoughts, knowledge and experience on how to improve your social media presence.
This workshop will take place pre-conference on Friday evening.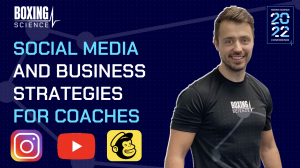 Advanced Strength Training for Boxing
There are many different factors to consider when a strength and conditioning coach is working with a boxer. Mainly trying to get them stronger and more explosive whilst contending with high training loads, movement limitations and making weight.
Basic strength and conditioning methods can be useful to beginner athletes; however, there are many tricks and tools that a coach can use to build strength and power.
In this workshop, Danny will guide you through a range of advanced strength training methods to unlock an athletes strength and power potential.
---
Dr Alan Ruddock
Alan has a PhD in sport science from Sheffield Hallam University, is a Fellow of the British Association of Sport and Exercise Sciences (FBASES), a Chartered Scientist (CSci) and a Fellow of the Higher Education Academy (FHEA). Dr Ruddock has worked with Olympians, Paralympians and World Champions in a range of sports for over ten years and provided sport science support to boxers in more than 15 world-title fights. In 2021 Alan was honoured with the prestigious BASES Applied Practitioner award that recognises outstanding and innovative delivery in applied sport and exercise science.
Alan has co-authored 30 peer-reviewed scientific manuscripts in leading sport science journals and has been invited by the British Association of Sport and Exercise Sciences, United Kingdom Strength and Conditioning Association and English Institute of Sport to present his work on high-intensity conditioning for sports performance.
Alan will be presenting…
Advanced Conditioning Methods for Boxing
In this presentation, Alan dissects what it takes to win at an elite level and presents the case for why high-intensity conditioning is crucial to high performance in combat sports. After Alan's presentation, you'll have the knowledge and understanding to apply the Boxing Science conditioning methods to your own coaching and training.
The Growth and Future of Science in Boxing
The goal of Boxing Science is to raise the standards of sport science practice in boxing. Since our launch in 2014, we've gone the extra mile to perform research projects, case studies and release content to help up-skill and educate the boxing community.
Sport science in boxing has come a long way in the past ten years. However, this has been with little funding and mainly through individual choices made by coaches and boxers. There is significantly less research and funding available for sport science in boxing in comparison to other sports. This is surprising when considering its popularity in the UK.
In order for sport science to grow, the community needs to come together to decide on strategies and best practices to elevate the training standards in boxing.
In this presentation, Danny and Alan will share their experiences, data and strategies before an interactive group discussion to help formulate strategies for the future of sport science in boxing.
---
Ian Gatt
Ian has been a sports physiotherapist for over 20 years, with considerable time spent managing the sports science & medical services for the Great Britain Boxing programme. He has attended all major events supporting elite athletes on their path to success through Athens 2004, Beijing 2008, London 2012, Rio 2016, Tokyo 2020, and current Paris 2024 Olympic cycles.
Ian is an upper limb injury specialist with the prestigious English Institute of Sport (EIS) providing an advisory role to Olympic and Paralympic sports. He provides private specialist consultations on upper limb injuries in the UK and overseas. Further, he is the physiotherapist/cutman with Team Anthony Joshua.
Ian has a passion for teaching and regularly delivers national and international workshops, webinars. He is a visiting lecturer at University College London (UCL) and Queen Mary University London (QMUL). Further, he is a published author a PhD candidate in upper limb biomechanics at Sheffield Hallam University (SHU).
Ian will be presenting…
Upper Limb Injuries in Boxing; Bridging the gap between the medical team and coaches
The hand, wrist and upper-limb are amongst the most common sites of injury in boxers. This isn't surprising given the repetitive trauma sustained by the upper limbs throughout camp and the acute trauma observed during competition.
Considering the high prevalence of hand and wrist injuries in boxing, how can strength training be used as a protective mechanism against hand and wrist injuries, what are some of the training considerations that need to be addressed to reduce the risk of hand and wrist injuries and what type of strength exercises can be included in a boxers program to increase stability and strength of the hand and wrist?
In this workshop – Ian will deliver an educational and practical coaching workshop with a range of exercises and strategies to strengthen and protect the upper limb for boxing.
---
Rob Madden
Rob is a physiotherapist with a special interest in spinal dysfunction, IMS acupuncture needling and sport-specific rehabilitation. Rob currently splits his time between his clinic at CHHP and working in elite sport as a performance coach. Over the years, Rob has worked in boxing, Formula 1, golf, football and Olympic winter sports.
Rob qualified as a Chartered Physiotherapist from Bristol UWE and also holds a diploma in sports massage and a Masters level certificate in acupuncture. Before joining the CHHP team, Rob worked in various high-level sports, private practice, NHS outpatients and inpatient rehab. Rob has undertaken a variety of additional postgraduate training, including spinal manipulation and diagnostic ultrasound imaging. He has written pieces on the topic of warm-up and stretching and currently runs and teaches sports taping courses around London and the UK.
Rob will be presenting…
Optimisation of the Boxer's Neck: Building a robust and high performing spine
Having a strong neck is essential for boxing. A stronger neck will help transfer the torque and force received when taking punches which can help to minimise the risk of concussion.
Most concussions occur when there is a sudden increase in torque around the head and neck. This can occur when a boxer is hit, without being braced or aware of the incoming punch.
This educational and practical workshop will give you the tools to build a robust, high-performance neck and spine. Rob shares numerous screening and practical exercises to help you integrate Neck training into your program.
---
Gary Hutt
Over the past 15-years, Gary has amassed experience across the length and breadth of the fitness industry. He has worked across all levels of sport, parasport, and physical activity in higher education and general population sectors, as well as supported NGB's directly to prepare athletes for elite performance. Gary joined the EIS as Senior Strength and Conditioning Coach with GB Boxing and multisport at the beginning of 2019, where he has been responsible for guiding the physical preparation strategy for elite amateur boxers in the Tokyo and Paris Olympic Games.
Gary will be presenting…
GB Boxing Strength and Conditioning for the 2020 Olympics
Gary will share his experiences of working with GB Boxing in the build-up to world championships and Olympic games. He will share training methods for high-intensity conditioning, strength training and mobility. These have been delivered in challenging circumstances, with large groups, congested competition schedule and Covid-19. This session will provide you with a unique insight into the preparations that helped GB Boxing win six medals at the Tokyo 2020 Olympics.
---
Dan Lawrence
Dan is Head of Performance at the Matchroom Boxing gym, working with Joe Cordina, John Ryder, Conor Benn and many more. He also is the strength and conditioning coach for Josh Taylor, being an integral part of the team leading to Taylor's undisputed light-welterweight title win in May 2021.
Dan has been a Strength & Conditioning coach in boxing for over 8 years and coached across the full spectrum of amateur national champions, all the way through to World Champions such as George Groves.
Dan will be involved with the group panel discussions.
View this post on Instagram
---