The Boxing Science Youth Athlete Initiative is LIVE for the 2018-19 season!
It's always been our mission to make the best sport in the world even better with the application of evidence-based sports science.
Our best way of doing this is to focus on the next generation of champions, and over the past four years we have shown our passion to develop a youth training system for boxing. We have delivered youth training workshops, youth sessions and developed our own tlac youth edition, which is being used in different boxing clubs around the world.
This coming season, we look to step it up with the launch of the Youth Athlete Initiative.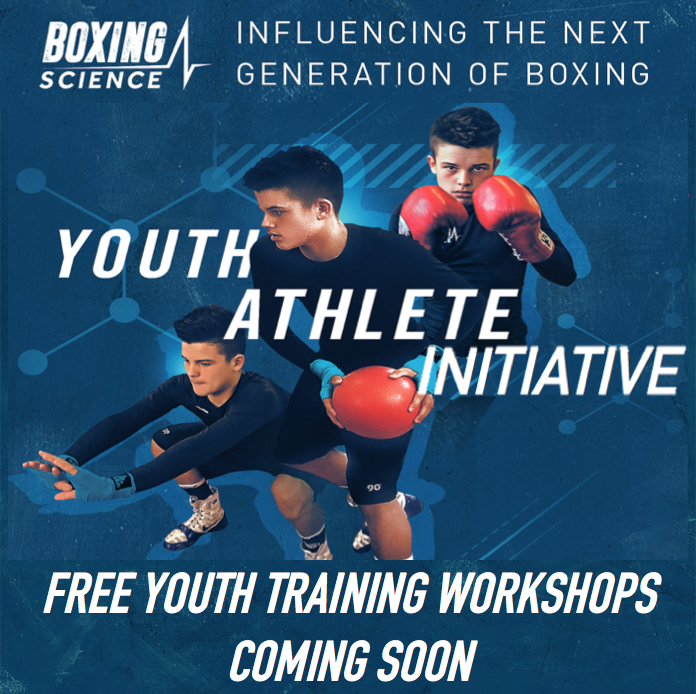 The Youth Athlete Initiative is designed to provide young athletes and coaches with access to up-to-date training methods, fit for the Future of boxing
We have acquired funds through donating 30% of profits from products such as The Combat Conditioning Conference 2018/19 and our Train Like a Champion programmes.
We will be now investing this into a range of free services to enhance youth training in boxing, to influence the next generation of boxing.
In the 2018-19 season, we will be travelling across the country to deliver FREE testing sessions and training workshops to amateur boxers under the age of 16 years. These sessions workshops will provide education and support with movement, mobility, strength and conditioning training, to educate, inspire and develop the next generation of future champions.
How to sign up
To register your interest for Boxing Science Youth Athlete Initiative Workshops, complete the short survey provided in the link below. This will provide you access to details of the locations, times and dates of the workshops over the course of the coming season.
Why is Youth Training Important?
With the proper training, guidance and education, youth athletes can massively improve their movement, strength, speed, punching force, fitness, and hugely reduce their injury chances. This gives them the best chance of success in boxing in the short term, but more importantly gives them a fantastic advantage as they move into the senior ranks, and throughout their entire careers.
For this reason, Boxing Science know the value of investing into youth boxers, to influence the next generation of Boxing.
An athlete who has received strength and conditioning support during their youth has a greatly increased capacity to develop as they move into adulthood.
Current State of Youth S&C in Boxing
When Boxing Science started in 2014, over 150,000 people took part in amateur boxing every week in the UK. However, only the 20 elite standard amateurs from Team GB had recognised sport science services to draw upon.
In other sports, such as football, rugby and hockey, young athletes have much more opportunity to access strength and conditioning and sport science support, due to higher amounts of funding and facility access. This access gives young athletes the best opportunity to develop their athleticism and sport performance, and giving them a great advantage as they move into senior or professional sport.
However, to this time, due to less funding and widespread knowledge, youth boxers have not had the same access to sport science services, compared to other sports. This has led to youth boxers having lower movement, strength and speed assessment scores, compared to other athletes in other sports. This prevents youth boxers from unlocking their athletic potential.
When assessed, Youth Boxers show some key movement and strength issues, which can lead to injury and limit boxing performance. Exposure to formal strength and conditioning can help to combat this, and improve athletic performance.
How has Boxing Science helped in the past?
We believe that youth boxers should have the same opportunity to improve their performance, through proper education, guidance and support. This will allow them the best opportunity to unlock their potential, and succeed in both the short and long term.
Over the past three years, we have run successful sport science workshops in Yorkshire, providing education on movement, strength and conditioning training to youth athletes. Not only this, but the young attendees also received support from world class nutritionists and psychologists, as well as visits from professional prospects to understand and develop a holistic approach to their training and lifestyle- a hugely valuable asset to any athlete. These workshops were met with great feedback from the youth athletes, who all learned new things to take away and immediately apply in their own gyms.
In 2017, we kicked off our sport science programme with England Boxing – supporting their schoolboy, junior, and youth squads. We providedwith education and programming for groups such as the 2017 European Youth Championships squad, where England returned with one gold and one silver medal. The educational workshops, and testing and training sessions received great feedback from athletes and coaches, including GB Boxing's Ben Stewart.
We have also supported youth athletes in south Yorkshire by putting on strength and conditioning sessions at Sheffield Hallam University, which were made free to under 16's, and funded by profits from our online programme sales, with massive success in developing athletic and boxing performance. Education on how to move and lift safely and effectively has created some great improvements in strength, speed and movement, which has translated well into the ring for these young athletes.
The Youth Athlete Initiative
This season, we look to massively expand the Youth Athlete Initiative. FREE Sport Science workshops will be made available for under 16's based around the country for under 16's. Not only this, but articles, e-books, video tutorials and more will be available to youth athletes and coaches. We are massively excited to launch the Youth Athlete Initiative, to give as many boxers all over England the absolute best opportunity to develop their performance for the 2018-19 season and beyond.
FREE workshops are taking place in Yorkshire, Midlands, the North East and North West Regions up unitl December 2018. These workshops will help under 16 boxers understand the demands of boxing, and give them the education and tools to develop themselves as young athletes, through movement, strength, speed and conditioning training.
The FREE opportunity to learn from Boxing Science, the world's leaders in strength and conditioning for boxing performance, should not be missed by under 16 boxers.
Information on strength and movement training, running and conditioning drills, warm ups, nutrition and much more, to give young athletes and their coaches the opportunity to learn from Boxing Science, and apply tools to their own training sessions and lifestyle, to have fantastic impact on improving performance.
Sign Up Today!
To be the first to know about our Youth Workshops, signing up to our mailing list TODAY via Google Forms will allow you to know the dates and locations of the upcoming workshops. You will receive updates and newsletters on the Youth Athlete Initiative, as well as free training articles and information from the Boxing Science website.
Boxing Science are hugely proud to launch the Youth Athlete Initiative for the 2018-19 season, with the goal of providing as many athletes as possible the best opportunity to improve their performance to the maximum level and unlock their potential, and positively influence the next generation of Boxing.
Not near these locations…. no worries, you can still benefit from our training…
Train Like A Champion – Youth Athlete Edition
Earlier this year, we released the Train Like a Champion- Youth Athlete Edition – the world's first online remote sport science programme for boxing, engineered specifically for young athletes.
This fantastic programme included complete and in depth guides for mobility and movement, strength and core training. Alongside this, conditioning circuits to complete in the boxing gym were included, plus a video nutrition workshop from world class nutritionist Lee Rickards.
The programme included printable posters which described the programmes, and are being used in boxing gyms around England.
To celebrate the launch of our new workshops – we are offering a massive 50% discount on our Youth Training Programme… 
This includes a 36-week programme on strength, conditioning and mobility….
Meaning you will cover your training for the full season for just £50…
You will receive
Handbook on the science behind youth training and different considerations coaches should make when delivering S&C with young athletes. 
A comprehensive, periodised program across all sport science disciplines for youth training
12 printable posters for your gym with over 100 visual demonstrations
40-minute video of a Nutrition workshop for young athletes by Lee Rickards.
PLUS: 30% of our profits from this programme are contributed to the Youth Athlete Initiative.
ACT QUICK: This sale ends FRIDAY 31st AUGUST
CLICK HERE TO DOWNLOAD YOUR PROGRAMME TODAY!