The world-boxing super-series has caught fire with two stunning cruiserweight semi-finals setting up a fantastic finale between Olexasnder Usyk and Martin Gassiev.
But there's one match-up that has the British boxing community's mouth-watering – Chris Eubank Jr. Vs George Groves.
Eubank Jr. and Groves dismantled Yildrim and Cox respectively, in their quarter-final contests and on Saturday 17th February, the two will go toe to toe in Manchester with the winner a step closer to the Muhammad Ali Trophy.
We are currently within a 'Golden Era' of boxing, however many still favour the 90's where Eubank Jr's father, Chris Eubank Sr, was part of timeless all-British super-middleweight title fights. Now the 'Next Generation' aims to emulate his father's epic encounters by stripping Groves of his WBA world title.
There's nothing quite like big fights that divide a nation's opinion.
Many favour the freshness and tenacity of Eubank Jr, whereas there are some that claim the size advantage, the power and experience of Groves will pull him through.
Whenever there's a fight of this magnitude and divided opinion, we always look deeper into the numbers, styles and training strategies of each fighter.
So, once again, let's take a look at the science behind the fight, and make a prediction on the outcome.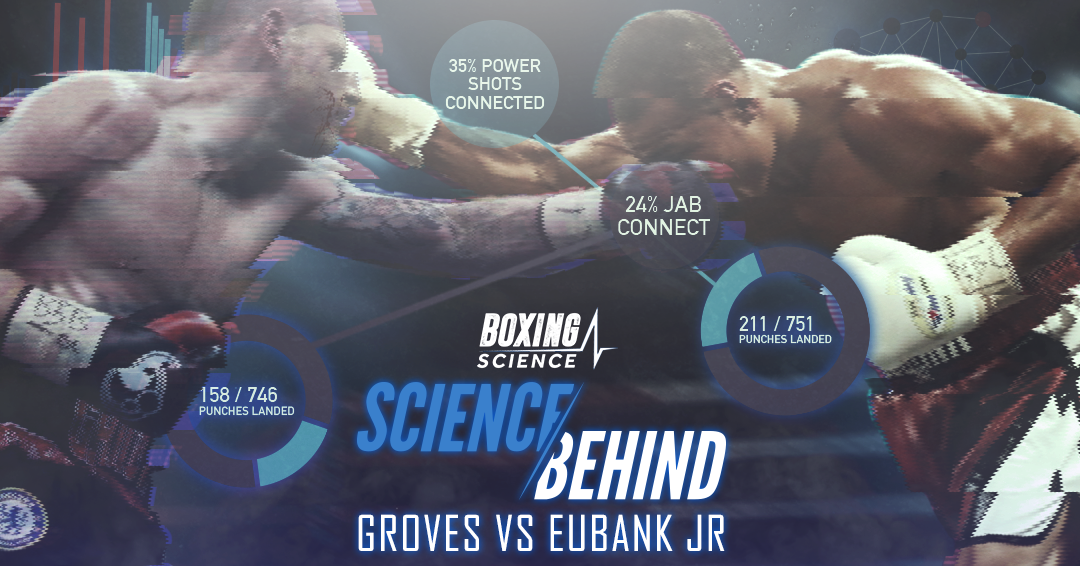 A Fight Of Two Halves
Despite their rise to world championship boxing, both fighters have been criticised for their performance across the 12-rounds.
Groves, 29, is known for blistering starts (like in the first Froch fight) but fades and either loses rounds or gets stopped (only by Froch). The Hammersmith boxer, however, has endured the 12-round distance six times. The first in 2011 against long-time foe James DeGale, in which he won via split points decision.
His new rival, Eubank, has only gone the full distance on two occasions, against Billy-Joe Saunders in 2014 and Arthur Abraham in 2017, the latter being a near-shutout on the scorecards.
Yet, it was his fight with Saunders that questioned the Brightoner's durability over the distance. It was his first 12-round contest, and despite his publically stated intentions to blast away BJS, Eubank Jr. was very cautious in his pacing strategy over the first half of the contest. Eubank Jr. only stepped on the gas when Saunders was pulling away with a huge lead, at that point it was too late.
Nearly three years past before Eubank was in his next 12-round contest against Arthur Abraham. It was a reverse of the Saunders fight, where Eubank developed a commanding lead after six rounds and seemed to step off the gas in the latter stages of the contest.
That being said let's delve into the numbers, provided by our performance analyst Chris Pitsikas. 
Eubank Jr's work-rate over the 12 rounds
According to his Dad, Boxing pundits and fans alike, Eubank Jr's work-rate is one of his best attributes.
For someone that's only boxed the 12 round distance twice, we're curious about how he'd be able to maintain his work-rate over 36 minutes of combat.
Our first step in this analysis is to investigate his initial 12 round fight against BJS.
As mentioned previously, Eubank seemed to have a cautious start against Billy Joe Saunders, and the numbers confirm this.
In the first six rounds, Eubank threw an average of just 30 punches per round, 57% of the average for super-middleweight (53 punches per round).
This might be because it was back in 2014 when Eubank had just XX fights. However, it's a significant difference to the claims from Eubank's team that his work-rate was easily "100 punches per round".
This figure shows that Eubank threw just the super-middleweight average of 53 punches per round for only in round 11 and 12.
How does this compare with his recent fight with Abraham?
Eubank Jr. made massive improvements in his fight against Arthur Abraham, in both punches thrown and landed.
His work-rate improved by 35% overall, throwing 63 punches per round against Abraham. His % success improved as well, showing that he improved both quantity and accuracy of his punches.
The biggest improvement was with the jab, increasing jabs landed and thrown by 74% and 58%, respectively. This is something we'll discuss later.
Eubank maintained his work-rate better in the Abraham fight, with only a 3 punch per round difference between first and second halves of the fight. This is much better than the Saunders fight, where there was a 23 punch per round difference.
Compared to the average Super-Middleweight, Eubank Jr. now throws 16% more punches per round but Groves is no average opponent. Let's see how his punches compare.
Does Groves Gas Towards The End Of The 12-Rounds?
We analysed Groves' punch stats over his last three 12-round fights against Jack (2015), Murray and Gutknecht (both 2016).
Due to previous performances, many fans expect Groves to gas out towards the end of the fight against Eubank Jr.
As you can see in both the Murray and Gutknecht fights, Groves did have a lower work-rate later on. He dropped the average punch per rounds by 19 and 10 between rounds 10 and 12, respectively.
Interestingly Groves improved his % success of these punches landed during rounds 10-12 in both the contests. This could be a cause for concern against Eubank Jr., who showed in his last fight that he was able to maintain his pace a lot better.
However, it should be considered that Groves had already established large point leads in both the Murray and Gutknecht fights. Whereas in the Jack fight, Groves increased work-rate in a more competitive fight – in which he lost via a split decision.
Can Groves match Eubank Jr's work-rate?
When comparing the punch stats, there isn't a massive difference in the total punches thrown on average per round – with Groves having a slender lead with 63 opposed to 62 for Eubank against Arthur Abraham.
The biggest difference is when Eubank stepped on the gas in rounds 4 to 6 landing 24% more punches than Groves' average.
In terms of punches thrown, the biggest difference is in the last three rounds where Groves throws 7% more punches than Eubank per round.
This is an interesting figure, especially when people consider this as one of Eubank's key advantages.
What does this mean for the fight?
Most people that are backing Eubank Jr. say that his work-rate and fitness would be too much for Groves.
However, the numbers suggest that their work-rates are similar, but Groves has the experience of maintaining this over 12 rounds – showing a much better pace in the last three rounds versus Gutenek.
This means:
Work-rate is not an issue for either boxer, so the one with superior boxing ability will be successful.
Either boxer could raise the intensity to take their opponent out of his comfort zone – this could be early to induce fatigue for the later rounds, or saved for a late onslaught.
Before the next section of this fascinating article, we'd like to share this amazing training opportunity with you…
Train Like A World Champion… For Just £10!
Are you craving for that world level fitness?
Let your fitness enable you to go faster and harder in sparring? Dominate every round at a high tempo on fight night?
Do you want a detailed running program that will push your body to the limits and get optimal results without running you into the ground?
If your answer is YES! Then the TLAC 2.0 Conditioning Handbook is ideal for you….
This handbook is the second instalment to our 'Train Like A Champion' series, including the 10-week high-intensity conditioning program.
The program has helped 100's of athletes worldwide to achieve the fitness levels they've always dreamed of…
A famous Boxing Science quote is "It doesn't get easier; it just gets faster".
The 'TLAC 2.0 – Conditioning Handbook'  is the next stage of the journey to world level fitness!
Act Quick: Offer EXTENSION… Ends Tonight @ Midnight
Click Here To Get Your Program Today
Is Eubank a TRUE Super-Middleweight?
Success depends on a fighter's preparation.
Making weight and how it might affect performance is a bit of an unknown quantity. A bad weight cut can have a negative impact on a fighters performance, punching power, durability and more importantly, health.
Despite this, boxers choose short-term weight cutting and refueling strategies to be as big and strong as possible for the weight class.
At Boxing Science, we put in place evidence-based and well-planned weight making strategies to ensure boxers are healthy and achieve optimal performance.
But many people think that Chris Eubank Jr. is more suited to Middleweight, the category he previously campaigned and won the British title in. These beliefs were affirmed as 'Next Gen' posted a video on social media six weeks prior to fight night of him being under the super-middleweight limit of 168 lbs.
This could have been taken post-training, where Eubank would've likely lost body mass through sweat. Our boxers have an average sweat rate of 2.5 to 3 L/per hour.  Let's say he trained for 90 minutes and didn't replace any of his fluid losses he might have lost up to 4.5 L or 4.5 kg.
NOTE: Without seeing this ourselves, we don't know whether these numbers are correct, it's just to give you an insight of what might be going on. Let's not eliminate the probability of this being a mind-game.
We think it's more likely that Eubank Jr. will be walking around at just 1.5% above his fighting weight.
At Boxing Science, we would encourage our boxers to be within 10-12% of their body mass during the key stages of training camp, steadily bringing this down to 5% for acute weight cutting strategies during fight week.
This will allow our boxers to make weight safely, along with other measures we put in place to monitor their health.
Eubank Jr. will have his reasons for being at this weight. We presume that he'll want to be light to have a speed advantage and maintain his engine over 12 rounds. Extra body mass can affect both of these if you haven't adapted.
However, there are some disadvantages to being on the weight too early.  
Refuelling for Fight Night – Being close to the weight or under the weight early can limit the increase in Eubank Jr's body mass, whereas Groves will be able to become the bigger man on fight night.
Calorie Intake – When an athlete reduces body mass / body fat, it's likely that their metabolic rate may reduce. If Eubank is purposefully maintaining his body mass at 166 lbs, he will be on a low calorie diet. This may limit how much he can fuel up for sessions, affecting his performance and, in turn, reducing the physiological adaptations.
Strength – At Boxing Science, our athletes record bigger lifts when they are heavier – this is quite common across strength sports. Our challenge then is to maintain that strength in relative and absolute values. Being on the weight too early will effect the adaptations from his strength and conditioning training.
Risk of Illness and Injury – Being on a calorie deficit to be on a lower body mass for an extended amount of time can increase the likelihood of illness and injru.
What does this mean for the fight?
We expect Groves to be MUCH bigger on fight night. This will give Groves a big advantage in punching force, strength on the inside and durability against his smaller opposition.
Furthermore, Eubank might struggle with his fitness during the fight as being on the weight too early might have affected his ability to optimise physical adaptations during camp.
Being on the weight this early is a clear tactic from Eubank Jr to optimise his speed, so he'll look to make that his advantage on fight night. Expect him to throw 'punches in bunches' when he's within close range of Groves.
Groves may look to tie Eubank up and hold him to stop these combinations, this tactic and his superior weight advantage will tire Eubank Jr. out.
Is over-confidence an issue?
Watching interviews and the recent ITV documentary, it seems that both boxers are extremely confident going into the fight. Both Groves and Eubank have been convincing the public that this is going to be a 'walk in the park'…
But haven't we heard this before?
Confidence and self-efficacy are important to successful sports performance, but it all depends on where they are getting it from.
Groves' confidence comes from… more experience, superior weight advantage, knowledge of Eubank's faults and the skills he has to exploit them.
Eubank's confidence comes from… His hand speed, freshness, and his rock-solid chin.  He also claims that Groves won't be able to keep up with his work-rate, and his 'durability' is questionable following his 'one-punch' knockout defeat to Carl Froch in 2014.
So both show that they gain confidence from their own skills, past experiences and the weaknesses they see in their opponent.
However, the total disregard for each other could mean that both boxers risk becoming overconfident. You've seen this before in both fighters, when Eubank Jr. came up against Billy Joe Saunders and when Groves fought Froch, both times they come unstuck.
Self-confidence and self-efficacy are both massively important for successful sports performance. However, it can be an athletes downfall when it becomes excessive.
What does this mean for the fight?
If this isn't just your normal trash talk, and both fighters enter the ring over-confident, expect some complacency from both boxers. It could turn this fight into an absolute barn-burner!
Eubank may disregard Groves' jab and forcefulness at distance, he might not be afraid to take a punch to work on the inside.
Groves believes he's too big and too strong for Eubank, he may decide to go toe to toe when Eubank is on the inside… this is something that Groves did when facing Jamie Cox in his quarter-final fight.
Groves' Jab vs Eubank's Inside Game…. 

According to Compubox, Groves has one of the best jabs in the business with a 24.5% connect average; this places Groves just outside the top 10 in the business which includes Gennady Golovkin (33.5%) and Kell Brook (27.5%).
Interestingly enough, former Eubank foe Billy Joe Saunders has a great jab rate, connecting 28% of the jabs he throws.
So, Eubank's sole defeat and last close fight came against someone who has a fantastic jab. Let's have a look at how Eubank dealt with this in comparison to his performance against Abraham.
Eubank Jr. opted to prioritise his power punches when coming up against Billy Joe Saunders, and seemingly neglected his jab.
However, it should be noted that Billy Joe is a southpaw fighter, this may have deterred Eubank Jr. away from utilising the jab.
He threw and landed a lot more against Abraham, but the connect % was still low at 19%.
With the increased amount of jabs against Abraham and the neglect of the jab against Saunders suggests that Eubank Jr. may struggle to throw / land jabs against highly skilled operators.
Without an effective jab, you can't see Eubank Jr. attempting to box Groves at long range.
Pundits claim that Groves' jabbing ability took a dip following his split with Adam Booth, however, there seems to be a resurgence of this key attribute with new trainer Shane McGuigan.
In the fights that we've analysed, Groves landed 21% of jabs thrown, 3% lower than the impressive numbers from Compubox. However, the number suggests that he still prioritises his jab taking up 55% of his punches.
Against Eduard Gutknecht the jab was re-established, landing a massive 36% of the 449 jabs thrown. Gutknecht constantly came forward, something that we think Eubank Jr. will look to do on February 17th.
Groves also used his Jab well against Fedor Chudinov and countered well against Jamie Cox, both come forward fighters with high guards. Eubank Jr., on the other hand, is probably more aggressive with a pretty low guard, meaning he may be more susceptible to Groves' punches, especially his jab.
The Boxing Science Prediction
Before making the final prediction, we'd like to commend both boxers on what they have achieved in boxing so far and look forward to them continuing their great careers following this fight.
This is a hard one to call, due to the momentum and athleticism of Eubank against the experience and forcefulness of Groves.
Following the analysis, we…..
Expect Groves to ….. Work at range and on the back foot, look to throw stinging jabs and land the right-hand counter. He will use his size on the inside to stop Eubank Jr's attacks.
Expect Eubank to…. Boxing on the outside and keep his distance, then look to make quick moves to work on the inside. Expect him to throw 6, 8 maybe even 10 punches at a time.
The outcome… our scientific prediction is that Groves will win on points, maybe even a late stoppage.
We believe that the work-rate will not be an issue; therefore we favour the size advantage and ring craft possessed by George Groves.
Groves will maintain better work over the three minutes to win the rounds, and his size advantage will become telling on Eubank Jr. later on.
We recognise that there are many different contributors to performance and that this article has only scratched the surface. We can break the numbers down offering analyses and the science, but we know that the sweet science is the one that prevails.
Hopefully, you've enjoyed this article, and will enjoy the fight even more!
Find out more about Boxing Science…
Boxing Science are excited to launch our new special feature on YouTube 'Boxing Science Profiles'.
This series of 10-minute videos will feature individual boxers on the program, giving you an insight into their training, upcoming fights and career aspirations!
First up is Jordan Gill, as we build his explosiveness during the strength-speed phase of his training and put him through his paces in the Altitude Tent!