Bantamweight Brit Jamie McDonnell is on the verge of his biggest fight to date as he travels to Tokyo, Japan, to defend his WBA Bantamweight Title against the highly rated Naoya Inoue.
The Doncaster man proceeds his "road warrior" reputation once again with his sixth appearance overseas. This time provides a heightened challenge, as Inoue is rated in the pound for pound list following world titles at two different weight divisions; knocking out 13 opponents in his perfect start to a 15-fight career.
McDonnell also an impressive record to boast, although it seems to go under the radar amongst the Boxing world. In a 10 year undefeated spell, the Bantamweight has earned British, Commonwealth and European honours before picking up WBA and IBF world titles.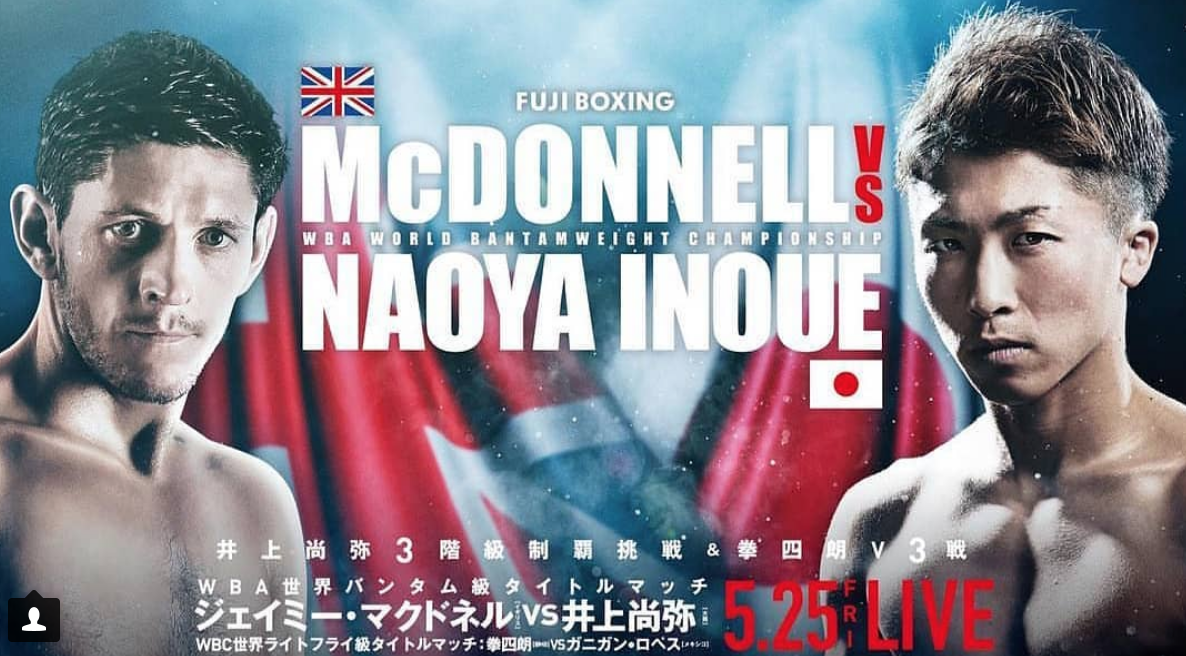 This fight provides a huge challenge, a reward of the much deserved recognition and a potential spot in the lucrative World Boxing Super Series.
With such high stakes, Jamie has taken no stone unturned in a meticulous training camp under head trainer David Coldwell and the Boxing Science team.
"We're almost there, fight week and I'm buzzing. My training camp has been spot on, I'm fit, I'm strong and I'm loving it."
"I'm so motivated for this fight.  I look forward to coming into the gym and doing my work because I want to be the best that I can be and I want to win badly."
The good times have been rolling at Coldwell Boxing gym, with big wins coming for Jordan Gill, Anthony Fowler, twin brother Gavin and most recently Tony Bellew dispatching David Haye for the second time.
"The gym is on fire, and I feel that the momentum of good results has motivated me even more.. Trainings been spot on under Dave and I've had top sparring. I am feeling better than ever and ready for this challenge"
Alongside his boxing training, Jamie has utilized the team of sport science experts – Boxing Science from Sheffield Hallam University. Strength and Conditioning coach Danny Wilson, physiologist Dr. Alan Ruddock and Sport Nutritionist Dr. Mayur Ranchordas.
"Working with Boxing Science has got me in the best shape possible.  With them around me I feel confident because they know what they're talking about.  Anyone who's fighting at my level needs to be training like this, and I've got the best team out there."
The Boxing Science team normally offer strength training, physiological testing, high-intensity interval training and effective weight-making strategies. However, travelling almost 6000 miles to a country with an 8-hour time-difference provided an extra task for the team.
To help effective Boxing Science put together an effective time-zone shift strategy, which included a two-week training camp in Dubai en-route to Japan.
"Being in Dubai for two-weeks has really freshened things up in camp. I have been getting up early to get on Tokyo-time so jet-lag shouldn't be a problem – and I have managed to keep my training intensity high – which I wouldn't have been able to do if I travelled straight to Japan"
"We did some great training, the facilities are bang on over there at Real Boxing Only and Gymnation – I took the rest of the camp there and we're buzzing'
McDonnell is looking to establish himself as the world's top Bantamweight and a victory over the undefeated Inoue would go a long way towards that.
Experience is on McDonnell's side, with the Englishman having 32 professional fights to Inoue's 15, including six previous defences of his World Title.
"Inoue is proven.  He's a two-weight world champion and they're all expecting big things from him.  He's got it all – speed, power, confidence, but he's never been in the ring with someone as good as me."
When asked what would make the difference in the fight, Jamie told us:  "When he squares up to me in the ring and sees the size of me, I think that will be a huge factor.
"You also need the will to win and I want it bad.  I think Inoue thinks that he will walk through me and he won't prepare as hard as I will.  His fights never go the distance, but I'll be preparing for 12 hard rounds.
"As long as I'm smart and do what Coldwell tells me to do, I think I'll box a smart fight and win on points."
McDonnell has fought abroad a number of times throughout his career and is unfazed at the prospect of flying to Japan for the bout.
"It makes it easier, if anything – There's no pressure.  You're out of your comfort zone and a lot of people find it hard, but I buzz off it.  It gives you more motivation fighting away to go and get the win."
"I think I could break him in the later rounds because he's never been in that deep before.  I'd like a late stoppage but a comfortable points decision is good enough for me."
"This fight means the world to me, I believe that it will be a career-defining fight. The World Boxing Super Series has just been announced and I am keen to get in that. But I know in order to be involved I must beat Inoue – so I'm solely focused on the task in front of me.
"This is the most confident I have ever been that I'm going to go and get the win.  Prepare for a great fight on Friday afternoon."
Watch Jamie McDonnell vs Naoya Inoue Live on Sky Sports 1 from 1pm UK Time